Trump Hosting G7 at His Doral Golf Resort Is 'Even More Unbelievable' Given Impeachment Inquiry, Ethics Watchdog Says
President Donald Trump holding the 2020 G7 summit at his own golf resort in Doral, Florida, is a blatant "use of his office for personal gain" and "even more unbelievable" given he faces an impeachment inquiry, according to a watchdog group that had previously requested an investigation on the matter.
Citizens for Responsibility and Ethics in Washington (CREW) blasted Trump on Thursday after White House acting chief of staff Mick Mulvaney announced that the summit would be held at Trump National Doral Miami because it was "far and away the best physical facility for this meeting."
"Given that President Trump is facing an impeachment inquiry for misuse of office, it is even more unbelievable that he would so blatantly and corruptly use his office for personal gain," CREW spokesman Jordan Libowitz told Newsweek. "As president, he decided it was in the best interest of the country to use the G7 summit as an advertisement for his struggling golf business."
Libowitz concluded: "It is clear that he acts primarily in the best interest of himself."
CREW requested records from the city of Doral and the Secret Service after Trump in August said the agency was partial to having the summit at his resort.
"When my people came back," Trump said at the time, "They went to places all over the country. And they came back and they said, 'This is where we would like to be.' Now we had military people doing it. We had Secret Service people doing it."
In mid-September, CREW filed a request for investigation with the State Department's Office of Inspector General for possible corruption with the then-likelihood the summit could be held at Trump National Doral Miami.
"President Trump's involvement in this procurement raises serious concerns about conflicts of interest, loss of impartiality, and violations of the Constitution's two Emoluments Clauses," CREW stated in the request.
On Wednesday, CREW senior adviser Walter Shaub wrote that Trump hosting the annual Group of 7 leaders summit with the heads of seven industrialized nations at his resort could jeopardize the president's nondisclosure agreements.
But in the announcement the following day, Mulvaney said, "We used the same set of criteria that previous administrations have used." He added that Trump will not profit from hosting the summit at his property in "any way, shape or form."
CREW executive director Noah Bookbinder also called the move "unbelievable."
"Given the potential consequences the president is facing for abusing the presidency for his own gain, we would have thought he would steer clear of blatant corruption at least temporarily; instead he has doubled down on it," Bookbinder said in a statement. "The president is now officially using the power of his office to help prop up his struggling golf business."
The White House and the Trump Organization did not immediately respond to requests for comment from Newsweek.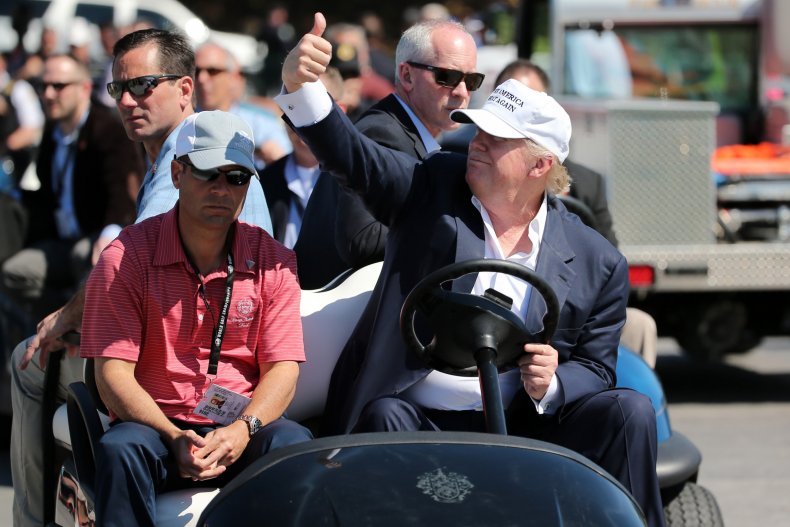 Trump Hosting G7 at His Doral Golf Resort Is 'Even More Unbelievable' Given Impeachment Inquiry, Ethics Watchdog Says | Politics