Is Trump Gaining in the Polls? Race Against Biden Is Tight in These Key States
Democratic candidate Joe Biden is ahead going into Election Day, according to national polling. But pollsters also say President Donald Trump is still in play in the battleground states he must secure to win a second term.
Depending on which poll you look at, Biden leads Trump nationally by between four and 10 percentage points. Poll aggregator FiveThirtyEight puts the Democrat ahead by 8.4 points overall—51.8 to 43.4 respectively. Real Clear Politics also has the former Vice President ahead, but at by a narrower margin of 6.7 points—50.7 to 44.0 respectively.
However, even with the FiveThirtyEight forecasting model giving a Biden a 90 percent chance of winning the election, Trump has a chance in the key battleground states crucial to securing the 270 electoral college votes needed to take the presidency.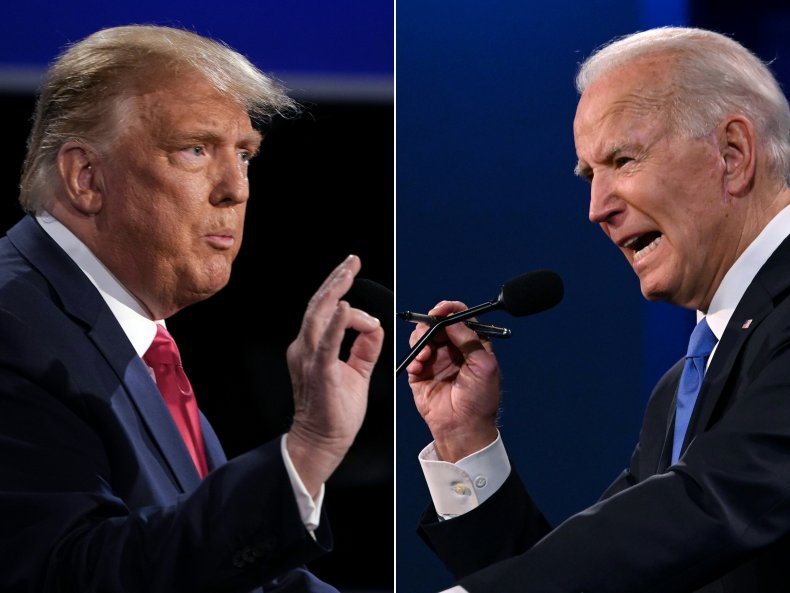 Florida
The state offering 29 electoral college votes and where Trump's Mar-a-Lago resort is located, is crucial to the incumbent president retaining the White House. Biden is ahead of Trump in the state, by 1.8 percentage points, according to the latest RealClearPolitics average.
Other surveys have the Democrat further in the lead, such as Monday's Quinnipiac University poll, which suggested Biden was 5 points clear, 47 percent to 42 percent. Although Trump had trailed Biden by 4.5 percentage points on October 7, the Republican was briefly ahead of the Democrat by 0.4 percentage points on October 27, according to Real Clear Politics.
Democrats had been worried about where the allegiance of Florida's Latino community lies. The party could take hope from an NBC News-Wall Street Journal-Telemundo poll, released on Sunday, which found 62 percent of Latino respondents backed Biden for president, compared with 29 percent who supported Trump.
Pennsylvania
Both candidates spent the weekend campaigning in what FiveThirtyEight has described as the "most tipping point state," with Trump holding four rallies in Newton, Reading, Butler and Montoursville on Saturday. First lady Melania Trump visited Luzerne County. Biden held two events in Philadelphia on Sunday.
Much of Biden's chances of winning hinges on the state, where he has tried to appeal to white working-class voters. The former Vice President is ahead there by 2.6 percent (49.3 to 46.7) according to an average of Real Clear Politics polls. However, whoever will claim the Keystone State's 20 electoral votes may not be known for a few days due to the amount of mail-in absentee ballots.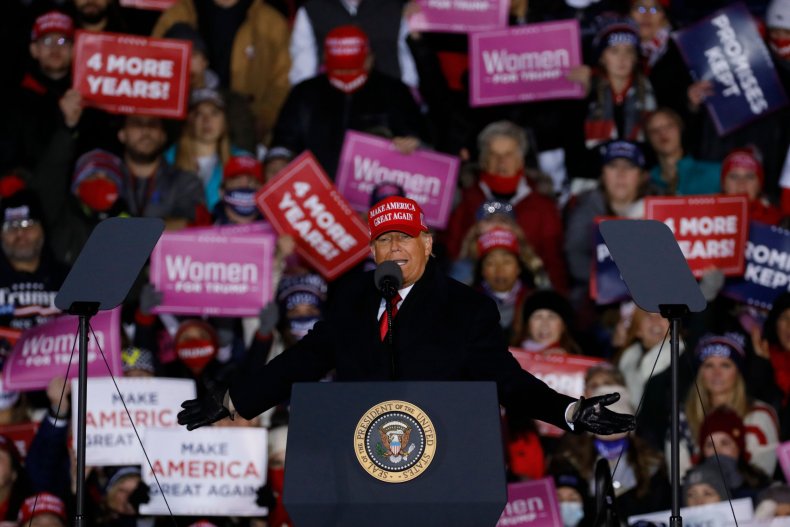 Ohio
No Republican has ever won the presidency without Ohio and the state's 18 electoral college votes could be crucial to taking the White House.
Biden added a last-minute campaign stop in Cleveland, after being urged by Ohio Senator Sherrod Brown to make a final pitch in the Buckeye State.
Trump had consistently trailed Biden in the polls for the state until October 16. Trump's appeal to the rural and white working-class population netted him the state by eight points in 2016, but whether he can hold on to the state could go down to the wire. The RealClearPolitics polling average showing him ahead of Biden by just 1.4 points.
Arizona
Another race in which Trump has made major inroads on Biden's lead over the last few weeks. On September 10, he trailed by 5.7 percent, but this has shrunk to only 0.9 percent, according to Real Clear Politics. An NBC News-Marist poll on Monday had the pair tied at 48 percent each.
However, Democrats are confident that the mail-in votes will hold Biden in good stead in the state that Trump took in 2016. Biden campaign manager Jen O'Malley Dillon told reporters on Monday that in the majority vote-by-mail state "we've seen nearly 80 percent of ballots cast already, Trump would need to get 60 percent of the remaining votes to win."
North Carolina
The fight is tight for the Tar Heel state, which Trump took in 2016 when he claimed its15 electoral college votes.
The president is ahead of Biden by only 0.2 percent (47.8 to 47.6) according to an average of polls by Real Clear Politics. However, one survey last week by Emerson College had the candidates tied, while a Reuters-Ipsos poll put Biden up by 1 percentage point.
Iowa, Nevada, Wisconsin
Until October 31, Trump had trailed Biden in Iowa for much of the election campaign. But he stormed into the lead over the weekend in one poll for the Des Moines Register which put the president seven points clear of Biden, 48 to 41.
Pollster J. Ann Selzer said men and political independents continued to support Trump, telling the paper over the weekend: "The president is holding demographic groups that he won in Iowa four years ago, and that would give someone a certain level of comfort with their standing." However, many in the Hawkeye State have already cast their ballots, which will be expected to favor Biden.
Nevada has swung from Republican to Democrat presidents this century and was taken by Clinton in 2016. This week, Biden has a 3.6 point lead over Trump after a campaign in which he has been clear of the Republican.
Meanwhile, in Wisconsin, which Trump flipped in 2016, the Democrats look strong, with Biden ahead by 6.6 percent. FiveThirtyEight has given Biden a 94 percent chance of winning the Badger State.