Trump Gains 1.1 Million Twitter Followers in Past Four Days Amid Election Turmoil
Donald Trump has seen a net gain of more than 1.1 million Twitter followers in the past four days during the race for president.
Beginning on November 3, Election Day, Trump gained more than 100,000 followers per day, according to SocialBlade, a site that tracks social media statistics and analytics. The president saw the most new followers on Wednesday, with over 538,000 additions.
Altogether, Trump gained 1,134,166 new Twitter followers between Tuesday and the time of this story's publication Friday. The numbers are out of the ordinary for the president, who received only 6,542 new followers during the same four-day period last week.
In a Friday tweet, freelance journalist Yashar Ali pointed to the sharp rise, speculating that the increase could be attributed to people who weren't following Trump before Election Day and became interested in seeing how he was reacting to the voting.
One of the hallmarks of Trump's presidency has been his Twitter usage, where he has often delivered late-night rants or offered sharply worded criticisms of other politicians.
He is not the only presidential candidate who has seen a massive increase in followers this week. Ali pointed out in a separate tweet that Democratic candidate Joe Biden has gained a net 2,174,875 new followers on Twitter in the same time frame.
Biden's running mate, Senator Kamala Harris of California, has gained 614,129, according to SocialBlade. Both Biden's and Harris' follower counts have had steady increases throughout the past two weeks, however.
Since Election Day, Biden has used his Twitter account to encourage supporters to have patience and "keep the faith." He has projected an overall message of confidence that he will win the presidency and an assurance that the democratic process of counting votes and determining a winner would be upheld.
"I ask people to stay calm. The process is working," Biden tweeted Thursday afternoon, receiving nearly 550,000 likes. "The count is being completed."
Harris has made similar statements to her 7.8 million followers since Tuesday, encouraging supporters to donate to the Biden Fight Fund—where the money will presumably be used by the Biden campaign if it decides to enter legal battles over tight vote margins.
Meanwhile, Trump, true to his character, has tweeted at least 40 times since Election Day. Twitter has flagged at least 12 of those tweets, placing a disclaimer over the content as part of its recent civic integrity policy.
"Some or all of the content shared in this Tweet is disputed and might be misleading about an election or other civic process," the disclaimer reads.
Most of Trump's Twitter feed since Election Day has focused on assuring supporters that he is performing well in the race, which has yet to be decided, or sowing doubt in the democratic process of counting ballots. He has alleged fraudulent activity, without evidence, in several of the states he appears to be losing, including Georgia, Nevada and Pennsylvania.
Once, on Thursday morning, he tweeted simply, "STOP THE COUNT!," receiving more than 729,000 likes.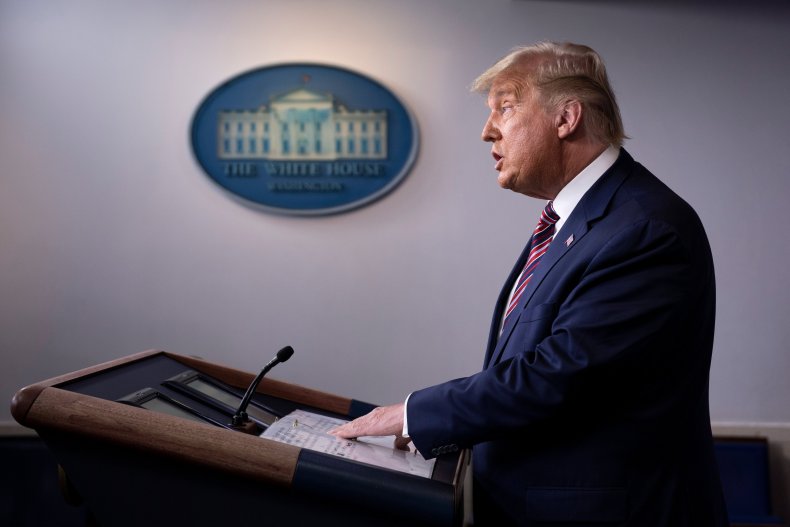 Elections officials in several states continue to tabulate votes as they handle an influx of mail-in ballots. States that have yet to declare a presidential winner include Alaska, Georgia, Nevada, North Carolina and Pennsylvania. Trump leads by significant margins in Alaska and North Carolina, while Biden holds narrower leads in Georgia, Nevada and Pennsylvania.
Biden currently has the majority of the popular and electoral votes, at 73.86 million and 264, respectively, according to the Associated Press. Trump has 214 electoral votes and 69.91 million popular votes.
Taking into consideration only Georgia, Nevada and Pennsylvania, Biden has seven paths to securing the 270 electoral votes necessary to win the White House, whereas Trump has only one, according to The New York Times.