Trump Gains on Biden Less Than Three Months From Election Day: Polls
President Donald Trump's national voter support jumped two points between June and August, narrowing Joe Biden's lead over the incumbent presidential candidate less than three months ahead of November's election.
Biden, the election's presumptive Democratic nominee, continued his months-long lead over Trump in national polling data released on Tuesday. However, his advantage was slightly slimmer than it was earlier this summer.
Results of a recent survey conducted by Monmouth University, Biden currently leads the president 51 percent to 41 percent among registered voters nationwide. The survey collected responses from 785 voters across the U.S. between August 6 and August 10. The margin of error is plus or minus 3.5 percentage points.
Monmouth University's latest survey results pointed to a tighter race between Biden and Trump, whose campaigns have entered their final stretch as the general election draws nearer. A pair of earlier polls, administered by the university in late June, showed Biden leading the president by 12 and 13 percent among voters nationwide. The former number considered responses from about twice as many participants—733 total voters, similar to August's new survey—as the latter.
Figures reflected in Monmouth University's broader late-June poll showed 53 percent of U.S. voters planned to support Biden in November, compared to an unchanged 41 percent who planned to support Trump. More survey respondents noted firm support for the Democratic challenger than they did the president, with 39 percent of participants saying they were sure to vote for Biden and 35 percent saying the same about their vote for Trump. Those numbers represented a modest decrease in voter certainty among Biden's supporters, and comparable increase in certainty among Trump's, since June.
Patrick Murray, director of the Monmouth University Polling Institute, suggested the gap in support fell slightly during the past two months because Trump's numbers steadied after a downturn observed throughout the earlier part of the COVID-19 pandemic and anti-racism protests in May and June.
"Trump has stopped his slide in the poll, but Biden maintains a lead among all registered voters nationally," Murray said in a statement that accompanied the university's August poll results.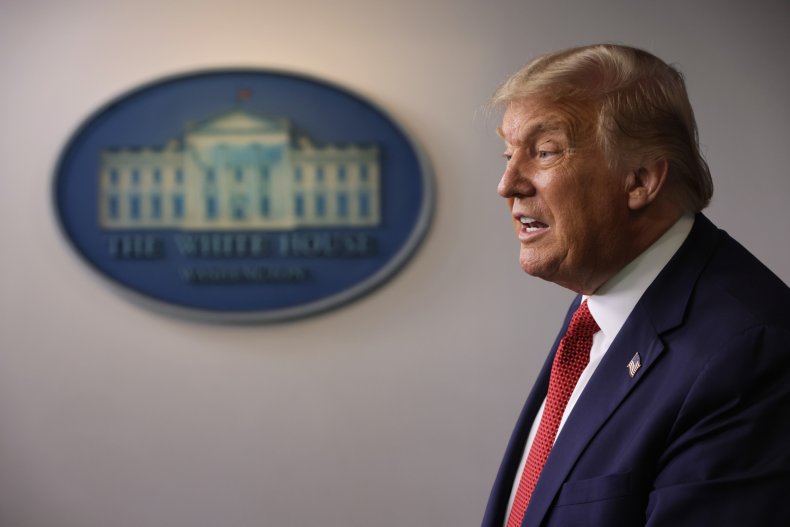 Ongoing data published by FiveThirtyEight reinforces his evaluation. The site, which charts daily national polling averages related to the election, placed Biden roughly 8 points ahead of Trump in its most recent Tuesday update.
Its averages indicated about half of registered voters across the U.S. support the Democratic challenger, while 42 percent support Trump. The president polled 1 point lower in late June, according to FiveThirtyEight. Biden, comparatively, polled nearly 1 point higher. Trailing a consistent decline in voter support for Trump throughout most of June, the president's numbers turned upward moderately after reaching their lowest point during the final week of the month.