Trump Gains on Biden in Polls Despite Majority Saying He Doesn't Care Much or At All About Them
Some Americans don't think President Donald Trump cares about the issues they are facing, according to recent polling data, but that hasn't stopped Trump from narrowing the gap between Democratic Presidential candidate Joe Biden and himself.
With 55 days until the presidential election, Trump has positioned himself as a strong supporter of law enforcement while decrying Biden and his running mate, California Senator Kamala Harris, as members of the radical left. Biden has emphasized a perceived lack of leadership on Trump's part, especially the president's response to the coronavirus pandemic.
During his acceptance speech at last month's Republican National Convention, Trump said that Biden's coronavirus response plan was "not a solution to the virus, but rather it's a surrender to the virus."
According to a Wednesday poll by the Economist and YouGov, Americans polled said by 42 percent that Trump did not care about the issues facing them. Women particularly felt snubbed by Trump with 48 percent saying Trump did not care about them at all.
President Trump garnered 23 percentage points of adults who said he did care a lot about them, with 35 percent of those aged 65 and over agreeing with that point of view.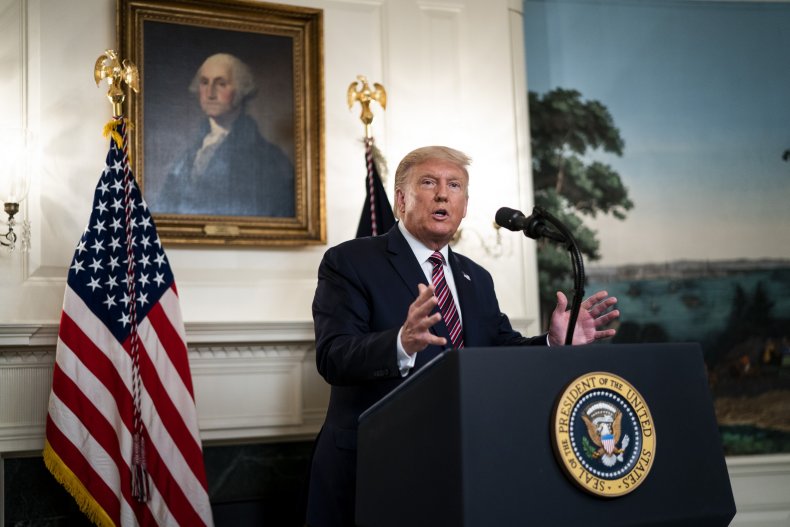 Biden also had 23 percent of U.S. adults say he cared about their needs a lot. Out of the Black community, one of Biden's main voting demographics, 33 percent claimed the Democratic candidate cared about their issues a lot.
27 percent of U.S. adults surveyed said Biden didn't care about their problems at all. Americans who had a high school education level or less agreed that Biden did not care about their issues by 32 percent.
Biden claimed during his acceptance speech at the Democratic National Convention that the upcoming election would "determine America's future for a very long time."
"If you entrust me with the presidency, I will draw on the best of us not the worst," Biden said. "I will be an ally of the light, not of the darkness."
The Economist/YouGov's poll included both registered and likely voters out of a total pool of 1,500 participants. Results from 1,183 registered voters carried a margin of error of plus or minus 3.7 percent while responses from the rest of the participants carried a margin of error of plus or minus 3.4 percent.
Even though some believe President Trump may not be concerned with issues that matter to them, data from a Morning Consult poll released on Wednesday shows that Biden's strong lead over Trump among likely voters is shrinking.
Biden held a 52 percent lead over Trump on the first day of the Republican National Convention in August while Trump trailed by 10 points. On Monday, polling data showed that Biden's advantage had dropped by two points to 50 percent while President Trump had gained two points to obtain 44 percent.
Newsweek reached out to the Biden campaign for comment.