Trump, Eyeing General Election, Softens Proposed Muslim Ban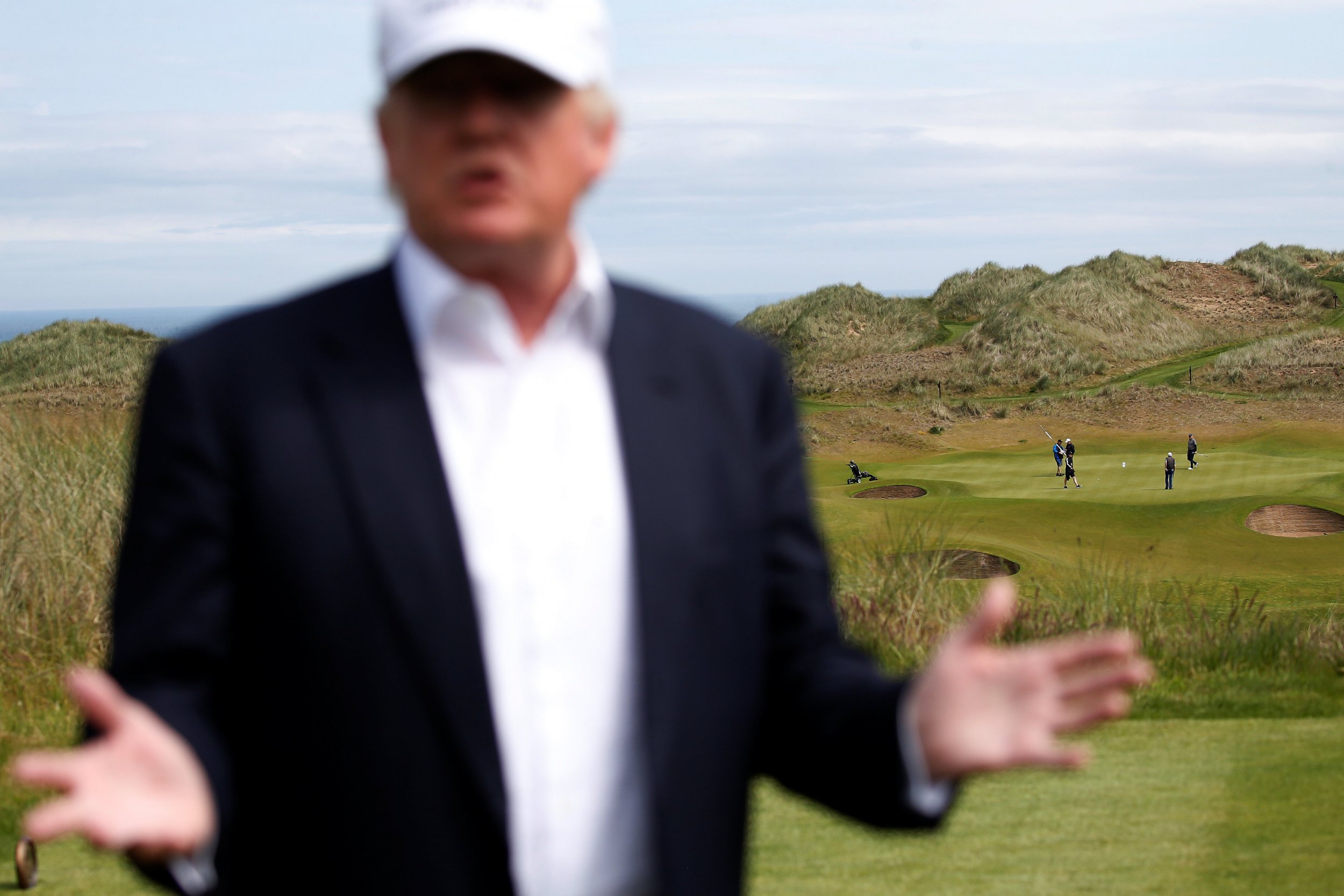 Donald Trump continued to walk back his proposed ban on Muslims entering America while on a golf course in Scotland this weekend, clarifying that he's no longer calling for a blanket interdiction on the 1.6 billion Muslims around the world but only those coming from "terrorist" countries.
Trump didn't clarify which countries would qualify, but his remarks over the weekend echo those he made in a June 16 speech, where he pledged to use the power of the presidency to suspend entry into the country "any class of persons that the president deems detrimental to the interests or security of the United States." He would stop immigration from "areas of the world when there is a proven history of terrorism against the United States, Europe or our allies, until we understand how to end these threats." In that speech, he didn't specify that Muslims would be the ones banned from those countries, but he did say that each year the U.S. "permanently admits more than 100,000 immigrants from the Middle East, and many more from Muslim countries outside the Middle East."
Taken together, the comments represent a somewhat softened stance against Muslim immigrants as Trump looks toward November's election. In December, he called for a "total and complete shutdown of Muslims entering the United States." That proposal is popular with a majority of GOP voters—two-thirds of those polled last week in a Bloomberg Politics/Purple Strategies survey said they supported a ban on Muslims — but it's a controversial one among some Republicans and many moderates. Only 37 percent of general election voters support the plan.
Thus, Trump's repositioning. "Trump has a general election problem, that is complicated by his problem with the Republican Party," Mac Stipanovich, a Republican lobbyist in Florida, tells Newsweek. Those who support the Muslim ban are already solid Trump supporters, "locked in concrete. As he says, he could murder somebody on 5th Avenue and it wouldn't change their minds. They are cult followers." But there are plenty of Republicans who don't support Trump, so he's trying to find a way to reach them. At this point, Trump can backtrack all he likes from more extreme positions without alienating his base, Stipanovich suggested. "He could stand up today and say 'I think we should let every Muslim in the world into America with no background checks,' and his supporters would just be winking at each other," he said.
Trump's problem now is that he's polling below 80 percent among Republicans. He needs to climb significantly above 90 percent to win in November. There are plenty of GOP voters who view freedom of religion as important a principle as the Second Amendment "right to bear arms," Richard Outzen, a Republican blogger in Pensacola, Fla., tells Newsweek . In the swing state of Florida, "we have a lot of people who call themselves 'constitutional conservatives,'" Outzen says. "When someone starts to identify people based on religion, that rankles them, even though people tend to believe freedom of religion is about Christianity."
Expect Trump's statements to shift precipitously in the coming months, as he tries to woo more moderates. "He's got to back off of some of these more extreme positions," Outzen says. Or, as Stipanovich puts it, "he just continues to flail. This is not a change in position. It's a change in presentation, and it's not even a persuasive change in presentation. My 10-year-old grandson could see through it."