Trump Official Refuses to Answer When Ilhan Omar Asks if He'd Support Genocide in Venezuela
Minnesota Democratic Congresswoman Ilhan Omar lit into United States special envoy to Venezuela Elliott Abrams over his record of dismissing and supporting human rights violations in Latin America, asking him pointedly if he'd support "genocide" and "crimes against humanity" in Venezuela.
The fiery line of questioning took place Wednesday, during a hearing of the House Foreign Affairs Committee. Referencing Abrams's record of lying to Congress, to which he pleaded guilty and was later pardoned by former President George H. W. Bush, Omar started her questioning by saying, "I don't understand why members of this committee or the American people should find any testimony that you give today to be truthful."
Visibly angry, Abrams tried to cut her off by classifying the comments as "an attack." But Omar shut him down, continuing with her questioning. She highlighted how he'd supported and spoken favorably of U.S. efforts to affect regime change in El Salvador during the 1980s, despite rampant war crimes and human rights violations by American-trained militants.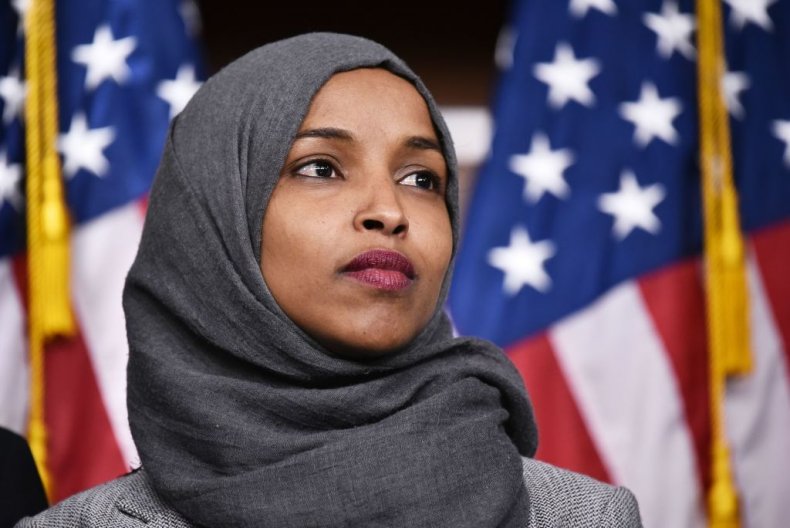 "More than 800 civilians, including children as young as 2 years old, were brutally murdered," Omar reminded those at the hearing. "During that massacre, some of those troops bragged about raping a 12-year-old girl before they killed her. You later said that the U.S. policy in El Salvador was a 'fabulous achievement.' Do you still think so?"
Obviously frustrated by the question, Abrams replied by saying that it was a "fabulous achievement" that El Salvador had become a functioning democracy. Omar then highlighted how Abrams had backed a government that committed war crimes in Guatemala because it had supported U.S. interests.
"Would you support an armed faction within Venezuela that engages in war crimes, crimes against humanity or genocide, if you believed they were serving U.S. interests, as you did in Guatemala, El Salvador and Nicaragua?" she asked.
"I'm not going to respond to that question, I'm sorry," Abrams said. "I don't think this entire line of questioning is meant to be real questions."
After Omar pressed further, Abrams finally said that it is "always the position of the United States" to protect people against war crimes and genocide.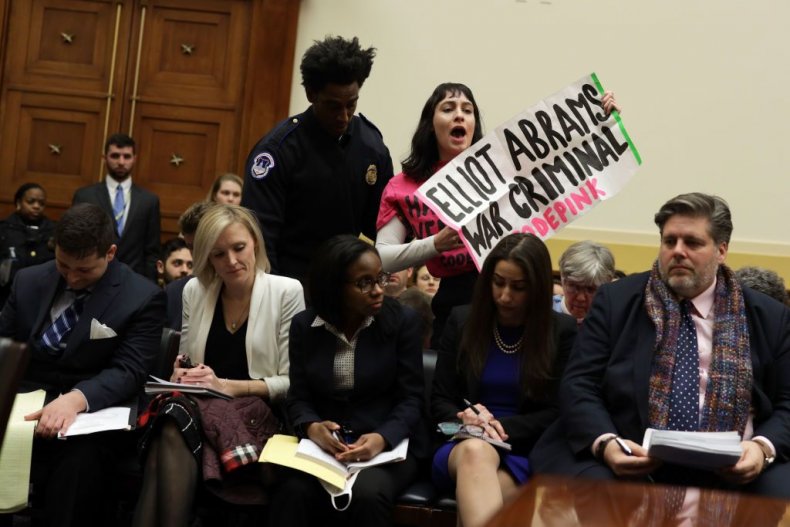 The civil war in El Salvador of the 1980s led to the deaths of an estimated 75,000 people, the majority of whom died at the hands of the government and its kill squads, according to The Intercept. Under former President Ronald Reagan, Abrams spearheaded the U.S. effort to support the El Salvadoran government, despite its blatant human rights violations and extrajudicial killings.
As Guatemala suffered through a bloody civil war in the 1980s, Abrams urged the U.S. to lift an arms embargo to the country's government. Efraín Ríos Montt, the Guatemalan president at the time, was later convicted of genocide by his country's own judicial system. A United Nations report also estimated that the Guatemalan government was responsible for more than 90 percent of the human rights violations carried out during the conflict.
In Venezuela, the Trump administration officially supported the political opposition leader Juan Guaido, who has declared himself interim-president and pushed for new elections. Venezuelan President Nicolas Maduro has called the move a "coup," accusing the U.S. of attempting to destabilize his country and steal its resources. Abrams currently leads U.S. policy efforts toward the South American nation. Trump has maintained that "all options are on the table" when it comes to Venezuela, suggesting that a military invasion to remove Maduro is possible.
The Wednesday hearing with Abrams was also disrupted by CODEPINK protestors who heckled the special envoy over his past actions toward Latin America. One demonstrator held a sign calling Abrams a "war criminal," while others wore shirts that said "hands off Venezuela."
"Look at the history of Eliot Abrams throughout Central America and the Middle East, creating wars, chaos and mayhem on behalf of U.S. corporations," Kei Pritsker, one of the activists, said in a statement emailed to Newsweek. "He should be tried for war crimes, not testifying in the U.S. Congress."