Trump Says Geoff Diehl Will Rule Massachusetts With 'Iron Fist' If Elected
Donald Trump called on Republican voters to back Geoff Diehl, his choice for governor in Massachusetts, in Tuesday's GOP primary, while promising the former state representative will "rule with an iron fist."
Speaking during a tele rally as part of Diehl's campaign on Monday night, the former president praised the man hoping to replace Gov. Charlie Barker, who isn't standing for reelection, as an "incredible champion for your rights and your values and your jobs."
Trump also called Diehl, who is up against more moderate Republican Chris Doughty in Tuesday's GOP gubernatorial primary, as the "only conservative" running for Massachusetts governor.
"Geoff is a proven fighter who successfully pushes back on the ultra liberal extremists, and who has driven them a little bit wild too because they can't figure him out, and he'll rule your state with an iron fist and he'll do what has to be done," Trump said.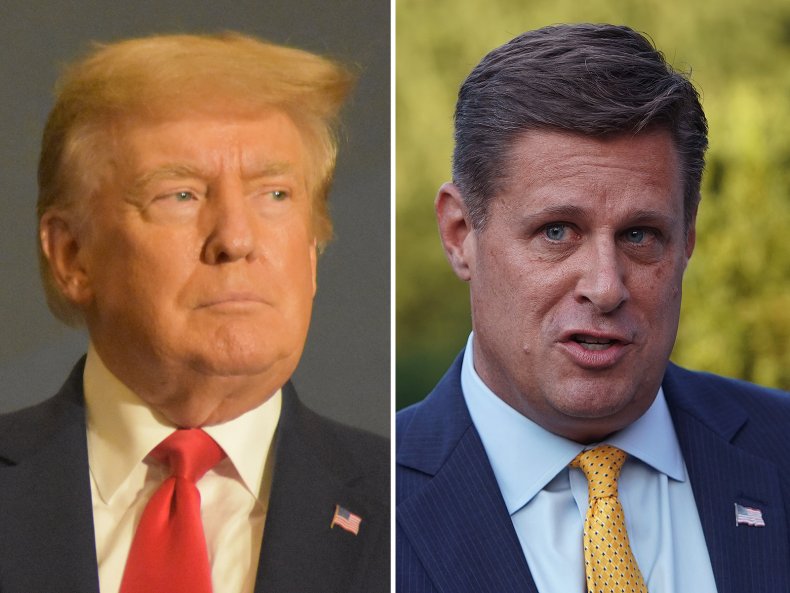 Diehl, who previously served as co-chair for Trump's Massachusetts 2016 presidential campaign, supports the claim that the 2020 election was rigged against Trump. Diehl has also spoken out against restrictions imposed during the COVID-19 pandemic and supported the Supreme Court's decision to overturn Roe v. Wade.
By comparison, Doughy, a businessman and political newcomer from Wrentham, has said Joe Biden legitimately won the 2020 Election, considers himself to be "pro-life," and vowed to lower taxes if he becomes governor, the Associated Press reported.
During the tele call, Trump said that Diehl will remove any remaining COVID mandate and restriction "where you have suffered from them greatly" under Governor Baker, as well as ensure Massachusetts remains "open for business."
Trump also criticized Doughty as being an "establishment RINO [Republican in name only] who will "do nothing but surrender to the left wing extremists" if elected.
Diehl is the favorite to win Tuesday's primary having already been shown to be popular with Republican activists, securing the party's endorsement with 71 percent of the votes cast at the state party convention in May.
However, if elected as the GOP nomination for governor, he will face a bigger challenge in November's midterms in a state that heavily favors Democrats.
It remains to be seen how much influence Trump's endorsement of Diehl will have on midterm voters, seeing as the former president only achieved 32 percent of votes there in the 2016 and 2020 elections.
In a Suffolk University poll published in July, Democratic gubernatorial candidate Maura Healey held a 31 point lead over Diehl, and a 30 point lead over Doughty in a hypothetical match up.
Diehl has been contacted for comment.