With GOP Senate Majority at Risk, Donald Trump Puts His Interests above Republican Unity in Georgia
The Republican majority in the U.S. Senate may hang in the balance of Georgia's crucial runoffs, but President Donald Trump continues to drive a wedge between two sides within his own party over the failing attempts to overturn his election defeat in the state.
Trump and his legal team continue to openly and aggressively pressure Georgia's Republican Governor Brian Kemp and other top GOP officials in the state to upend President-elect Joe Biden's win, repeating faulty or outright false claims of fraud during counting.
The president is still talking about the 2020 election but has one eye on 2024 as he fundraises hard for his fight against this year's result, using his dubious legal and political battles in states such as Georgia to build momentum for another potential White House run.
Even as he stumped for the GOP senate candidates David Perdue and Kelly Loeffler at a rally in Valdosta, Georgia, on Saturday, the president unleashed his rhetorical fire at the state's Republican leaders, cutting across efforts to keep control of the Senate.
As his supporters chanted "stop the steal," Trump said: "Your governor could stop it very easily if he knew what the hell he was doing...Your governor should be ashamed of himself."
Perdue's press secretary Lizzie Gregory told Newsweek in a statement: "President Trump has said repeatedly that every Georgian should vote for David Perdue and Kelly Loeffler—because the future of the country depends on it.
"He's shared that message via Twitter and directly to voters right here in Georgia, where he held a rally last weekend."
The president's message on Georgia appears contradictory. On the one hand, he repeats his false claim that he lost the presidential election due to massive Democratic voting fraud in a system overseen by Republican officials who vehemently deny Trump's allegations.
On the other hand, Trump is urging Republicans to go out and vote in the Senate runoffs because they have it within their power to decide which party controls the upper chamber, despite his claims the election process is so compromised that it cost him the White House.
"You must go vote and vote early starting December 14. You have to do it. They cheated and they rigged our presidential election, but we will still win it," Trump told the rally.
At the Georgia debate on Sunday night, Loeffler found herself caught between the two sides, reflecting the awkward position Trump has put the Republican candidates in by continuing to pursue his abortive attempt to overturn President-elect Joe Biden's win.
Lawmakers and candidates who stray too far from Trump's narrative, or upset the president in some way, are left wide open to the retributive backlash of his base and a potential primary challenge. But by entrenching too far with Trump they risk alienating other Republicans and moderates who do not agree with the president.
Loeffler faces this conundrum. Kemp appointed her as a U.S. Senator against Trump's wishes at the end of 2019 following the resignation of Sen. Johnny Isakson. She has since allied herself closely with Trump. Now her loyalty to either side is under the spotlight.
The debate moderators repeatedly pressed Loeffler for her view of Trump's attacks on Kemp, but she sidestepped their questions each time.
"I appreciate the president's support of me and I appreciate the governor's support of me," said Loeffler. "They both understand what's at stake in this election. That's why they're encouraging Georgians to get out and vote for David Perdue and myself."
Kemp has pushed back gently against Trump's pressure to disrupt the election results in Georgia, reiterating state law in the face of multiple requests to break it by the president and his allies.
Georgia's Secretary of State Brad Raffensperger, a Republican, and Gabriel Sterling, the state's Republican voting system implementation manager, have spoken out more forcefully against Trump, putting them in the president's line of fire.
"Someone's going to get hurt, someone's going to get shot, someone's going to get killed. It's not right," Sterling said at a press conference in Atlanta on December 1 after there were threats of violence against election workers and officials.
The red-on-red clash was seized upon by Lin Wood, a Trump-supporting conspiracy theorist and attorney in Georgia who has taken up the fraud issue and has urged Republicans not to vote in the runoffs, claiming the system is too corrupted.
Speaking at a pro-Trump rally, Wood said of Perdue and Loeffler: "They have not earned your vote. Don't you give it to them. Why would you go back and vote in another rigged election for god's sake! Fix it! You gotta fix it!"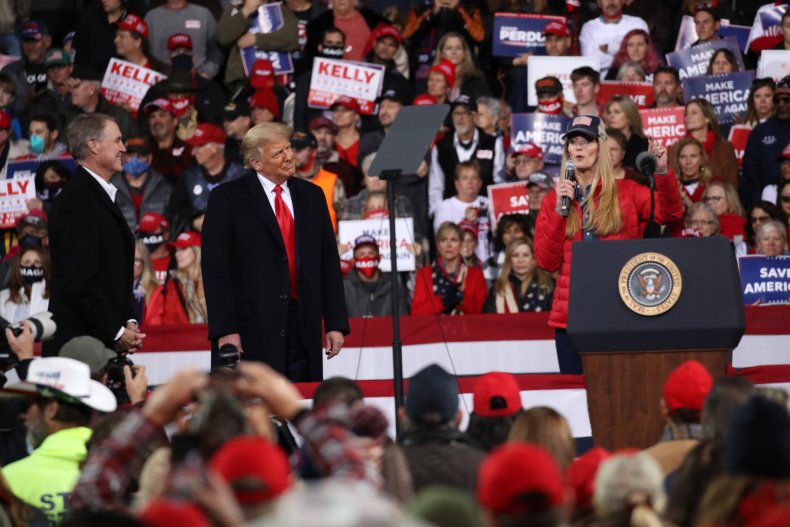 The Trump Campaign has made statements highlighting Wood's past support of Democrats, trying to limit the potential damage he could cause to voting intentions among Trump-backing Republicans in the state who believe the president's claims about fraud.
Brian Robinson, a Republican strategist in Georgia, outlined concerns about the current GOP Senate campaigns on WABE's Political Breakfast podcast.
He noted that many voters are "threatening to sit out this runoff because they don't think that the election system has integrity, or because they think that the Republican establishment and officeholders aren't doing enough to fight for President Trump's arguments."
"If we do that then we are basically having a strategy built on the hope that Democrats are fat and happy," he told the podcast on Friday morning, "that Democrats...are settled in for a long winter's nap because they've already captured the prize that was most important to them. That's a dangerous place to be."
Robinson said the Republicans should have several advantages in the runoffs, including that their voters tend to turn out in higher numbers for runoffs, Perdue and Loeffler are both the incumbents, and Republicans should feel mobilized by a Democrat winning the White House.
"The internal fighting is eroding all of those advantages and Democrats are smelling blood," Robinson said.
"That's why these Democratic groups are putting up billboards in Republican areas saying Loeffler and Perdue didn't stand up for Trump, don't stand up for them.
"They're echoing the message of Lin Wood that he was driving here in Georgia on Wednesday."
Recent polling suggests a tight race remains in Georgia between the Republicans and the two Democratic candidates, Raphael Warnock and Jon Ossoff.
RMG Research had Warnock at 48 percent and Loeffler at 46 percent in polling of 1,377 likely Georgia voters conducted between November 19 to 24, within the 2.6 percent margin of error. Ossoff led Perdue by one point, 48 percent to 47 percent, in the same poll.
Perdue declined to debate Ossoff, who faced an empty chair on Sunday. As Loeffler prepared to debate Warnock, Trump attacked Kemp on Twitter. A couple of hours later, he tweeted praise for Loeffler's performance: "Great debate for Kelly!"
Newsweek has asked the Trump and Loeffler campaigns for comment.
This article was updated with a statement by the Perdue campaign.