Trump Gets 58% Support of Republicans, Pence 13%, DeSantis 9% in 2024 Primary Poll
A new primary poll indicates that more than half of Republican voters would give former President Donald Trump another chance in 2024.
According to a Harvard CAPS-Harris Poll survey, released exclusively to The Hill on Monday, 6 in 10 Republican voters or 58 percent said they would vote to put Trump back on the ballot in the next election.
Compared with the other GOP candidates, Trump is the favorite for the presidential nomination. Former Vice President Mike Pence is the second choice for Republicans, earning 13 percent of the support from voters. Florida Governor Ron DeSantis, who's grown in popularity among Republicans for fighting mask and vaccine mandates, received 9 percent of the vote and landed in third place.
Tied for fourth place with 3 percent support each is Senator Marc Rubio from Florida, who ran against Trump in the 2016 Republican primary, and former U.S. Ambassador to the United Nations Nikki Haley.
"While defeated candidates rarely come back, Trump has a strong lead in the Republican primary especially among the most dedicated Republicans," said Mark Penn, the co-director of the Harvard CAPS-Harris Poll survey.
Although it was unclear if Trump would try to return to the White House, in recent weeks, his decision to run for president again seems more likely according to some.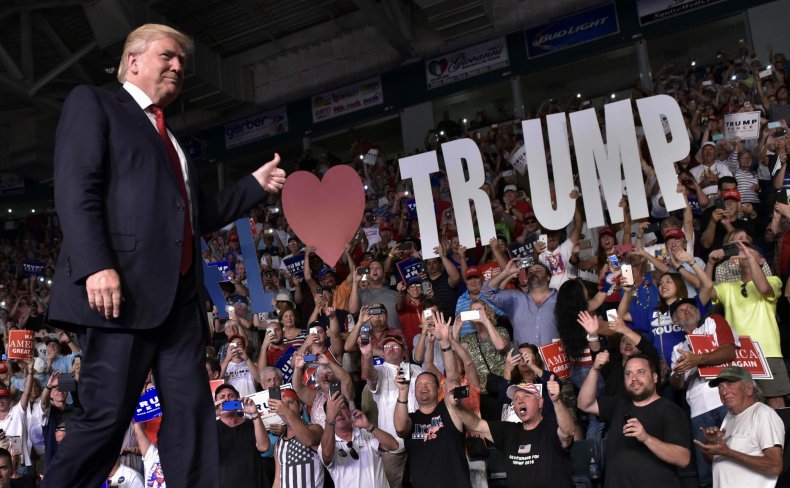 In early September, former Trump adviser Jason Miller told Cheddar that the former president is between 99 and 100 percent likely to run. And in May, Politico reported that Trump was confiding in allies that he planned to run again as long as his health was good.
However, the former president himself was a bit coyer when discussing a possible run with conservative author and talk show host Candace Owens the same month.
"As you know, it's very early," Trump told Owens. "But I think people are going to be very, very happy when I make a certain announcement."
There are still 1,141 days until the next presidential election so it's possible Trump may decide to not run.
If the former president doesn't appear on the primary ballot, Pence took over the No. 1 spot with 32 percent of Republican support, according to the poll. DeSantis also rose in percentage and position, acquiring 20 percent of the vote and moving into second place.
Neither Rubio nor Haley would move up to third place if Trump doesn't run. Instead, Senator Ted Cruz acquired 14 percent of support to surpass them.
While the majority of Republican voters surveyed favor the former president, it's more conflicted among the broader electorate. Forty-eight percent of respondents said they have a favorable opinion of Trump while 47 percent have an unfavorable view.
The poll also asked voters if Trump was a better leader than current president Joe Biden. According to the survey, 51 percent said Trump is the superior commander in chief while 49 percent picked Biden.
Penn says Trump's numbers are improving simply because he is no longer in the White House and doesn't have the same public platform.
"Facebook may have done Trump a favor as since he is out of the daily social media traffic his numbers have risen to an unprecedented 48 percent favorable," Penn said. "But the polarizing opinions on Trump make him today as likely to sink the Republican Party as help its return."
According to The Hill, the Harvard CAPS/Harris Poll survey is of 1,578 registered voters including 490 Republicans, and has a margin of error for the Republican sample of plus or minus 4 percentage points.