Trump Gets Another 2024 Challenger in Vivek Ramaswamy
Former President Donald Trump got a new GOP challenger for the 2024 presidential race on Tuesday night, as tech entrepreneur and conservative author Vivek Ramaswamy has announced his campaign.
Ramaswamy entered the race Tuesday night through a video aimed at opposing social activism. "We're in the middle of a national identity crisis," he said at the start of the video. "Faith, patriotism and hard work have disappeared, only to be replaced by new secular religions like Covidism, climatism and gender ideology."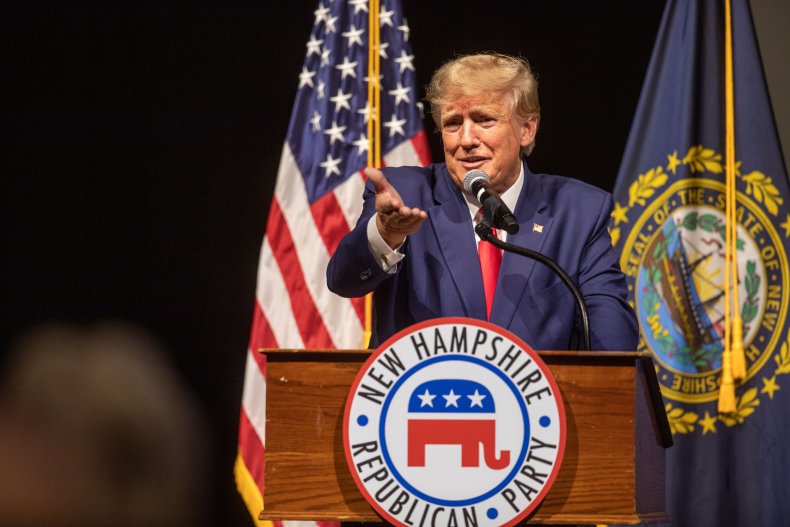 During a Tuesday night interview with Tucker Carlson on Fox News, Ramaswamy, the 37-year-old author of Woke, Inc.: Inside Corporate America's Social Justice Scam, reiterated his stance on Americans.
"We are in the middle of this national identity crisis, Tucker, where we have celebrated our difference for so long that we forgot all the ways we are really just the same, as Americans bound by a common set of ideals that set this nation into motion 250 years ago," Ramaswamy said.
He added on Twitter that "Faith, patriotism & family are disappearing. We embrace one secular religion after another—from wokeism to climatism—to satisfy our deeper need for meaning. Yet we cannot even answer what it means to be an American."
"The GOP can fill that void. E pluribus unum: from many, one. That is the dream that won the American Revolution; that reunited us after the Civil War, that won us two World Wars & the Cold War. That is the dream that still gives hope to the world. That is American exceptionalism," Ramaswamy wrote.
He went on to lay out further objectives for his candidacy.
"Eliminate affirmative action. Dismantle climate religion," he tweeted. "8-year limits for federal bureaucrats. Shut down worthless federal agencies. Declare Total Independence from China. Annihilate the drug cartels. Make political expression a civil right. No CBDCs. Revive merit & excellence.
"America's strength is not our diversity but the ideals that unify us across our differences. Merit. Free speech. Truth. Accountability. I believe deep in my bones these ideals still exist, and I am running for President to revive them."
Ramaswamy joins Nikki Haley, former South Carolina governor and United Nations ambassador for the Trump administration, in challenging Trump for the 2024 GOP presidential nomination.
Newsweek has reached out to Ramaswamy, Trump's campaign and Haley's team for comment.