Trump Attacked by Law Enforcement Over Anti-FBI Tweets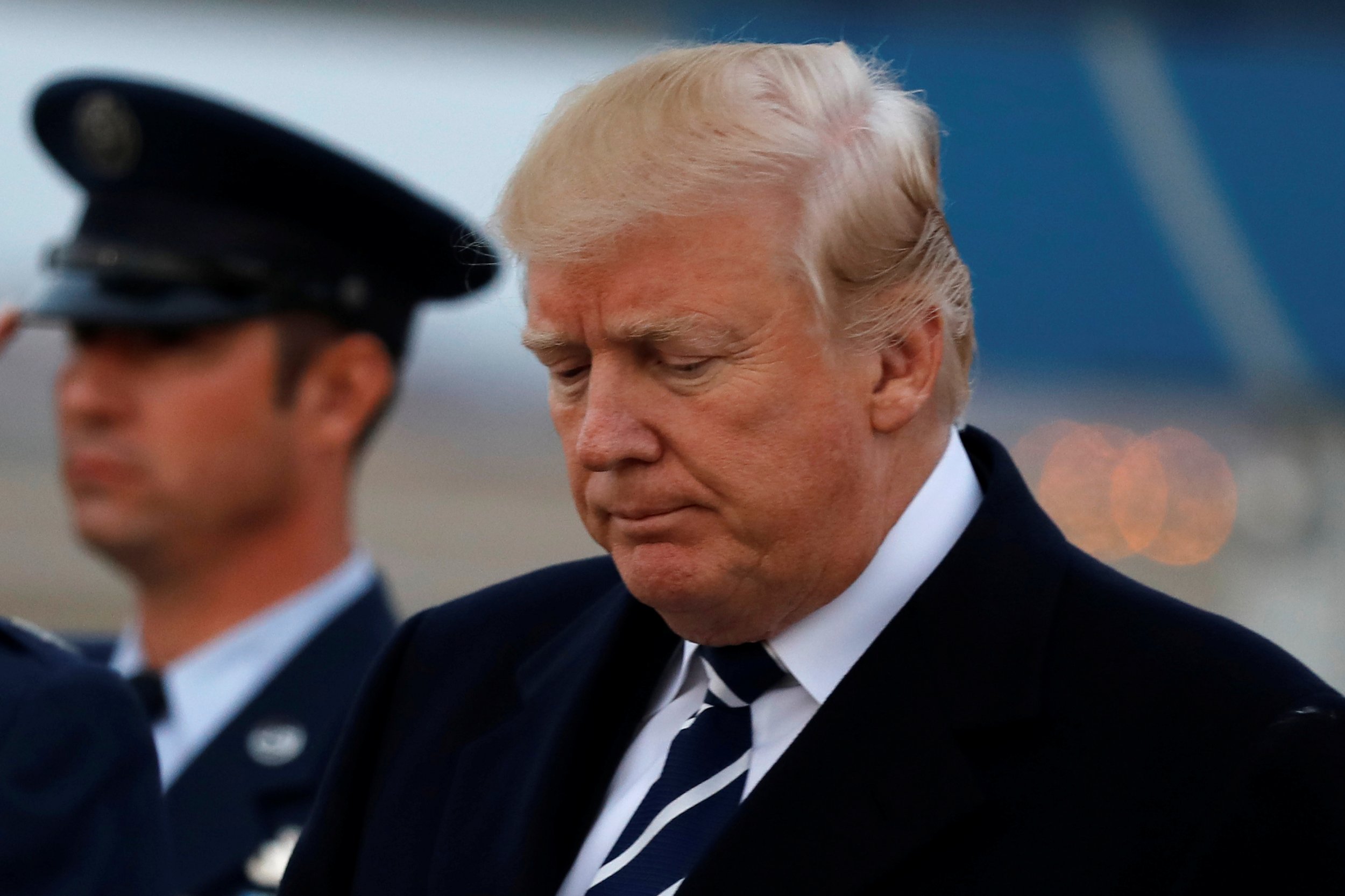 Former and current law enforcement officials have condemned President Donald Trump's accusation that his FBI's reputation is in "tatters."
In a dozen Tweets over the weekend Trump attacked America's top law enforcement agency, saying its reputation is "in tatters—worst in history!" and vowed to "bring it back to greatness."
Trump's attacks followed a guilty plea Friday by his former national security adviser, Michael Flynn, for lying to the law enforcement agency. The president retweeted a message that the FBI Director Chris Wray "needs to clean house." Trump fired the former FBI director James Comey in May.
Flynn is the fourth Trump campaign official to be indicted in special counsel Robert Mueller's investigation into whether Trump's team worked with Russia to interfere in the 2016 election to tilt it toward the billionaire.
Law enforcement officials quickly shared their criticism of the president's tweet about the FBI. "The FBI is in 'tatters'? No. The only thing in tatters is the President's respect for the rule of law. The dedicated men and women of the FBI deserve better," wrote former acting Attorney General Sally Yates on Twitter.
In January Yates warned White House Counsel Don McGhan that Flynn was vulnerable to blackmail by Russia. She was fired January 30 when she refused to defend Trump's travel ban.
In his attacks Trump zeroed in on a report in The New York Times that FBI counterintelligence investigator Peter Strzok was taken off the Russia investigation by Mueller in the summer after he potentially sent a series of anti-Trump texts.
The content of the messages is not public. Strzok helped lead the investigation into Hillary Clinton's handling of classified emails on her private server while Secretary of State.
Read more: Trump doesn't verify what he tweets, says White House Press Secretary Sarah Huckabee Sanders
"Report: 'ANTI-TRUMP FBI AGENT LED CLINTON EMAIL PROBE' Now it all starts to make sense!" Trump wrote in his final tweet in his tirade against the law enforcement agency Sunday.
Suggesting FBI agents are anything but impartial "is simply false," said Thomas O'Connor, president of the FBI Agents Association—a group representing 13,000 active and former special agents—in a statement responding to Trump's tweets.
Agents, he said, perform their "duties with unwavering integrity and professionalism and a focus on complying with the law and the Constitution."
Former Obama administration Attorney General Eric Holder wrote on Twitter he wouldn't let Trump's denigration of the FBI go. The agency, he wrote, is "composed of the same dedicated men and women who have always worked there and who do a great, apolitical job."
"You'll find integrity and honesty at FBI headquarters and not at 1600 Penn Ave right now," Holder wrote, giving the White House address.
In November Trump accused the former leaders of the CIA, FBI, and NSA of being "political hacks" after he met with Russian President Vladimir Putin. Early this year America's intelligence agencies found in Russia interfered in the 2016 election in an attempt to throw it in favor of Trump. Putin, Trump said, maintained that was not true.
Early this year Trump compared the CIA to "Nazi Germany" because of its findings that Russia interfered in the election.
Former FBI director Comey defended the bureau against the president's accusations Sunday, quoting a letter he wrote in June. "The FBI is honest. The FBI is strong. And the FBI is, and always will be, independent," Comey wrote on Twitter.
"I'm with you, Director," wrote Mark Hertling, the retired Commanding General of the U.S. Army in Europe, in support of Comey's message. "Anyone who says different about the FBI, IC, Justice Department, Military, or the free press should be held accountable as not speaking the truth."