Trump Gets Booed, Crowd Chants 'Vote Him Out' While He Pays Respects to Ruth Bader Ginsburg
President Donald Trump paid his respects to the late Supreme Court Justice Ruth Bader Ginsburg Thursday while a crowd gathered at the base of the building, booing him and shouting "vote him out."
Ginsburg, who died on September 18 from complications of pancreatic cancer, is lying in repose on the steps of the Supreme Court building in Washington, D.C., where she served for more than 27 years. The late justice is celebrated as a feminist icon and a champion for women's rights.
Trump visited her casket Thursday morning, during the second day of services honoring the justice. The public is allowed to pay their respects to Ginsburg outside the Supreme Court until 10 p.m. Thursday, NBC News reported. Ginsburg's casket will be moved to the U.S. Capitol Friday, where she will be the first woman in American history to lie in state.
Other mourners who were waiting in front of the Supreme Court delivered a loud message to Trump. The president and first lady Melania Trump, who were both wearing masks, stood near Ginsburg's casket while the crowd could be heard loudly chanting "vote him out."
CNN reporter Kevin Liptak shared a video on Twitter capturing the moment, writing: "It's rare for this President to see his opposition this up-close and in-person." In the video, Trump appeared unmoored by the chants, standing silently near the casket.
By late Thursday morning, "#VoteHimOut" was trending on Twitter, with users across the U.S. retweeting videos of the exchange.
"What an incredible moment. I am so grateful for these crowds. So grateful for every single voice that shouted in unison," one user wrote. "I have a feeling that somewhere, RBG is too."
Newsweek contacted the Trump campaign for comment, but did not hear back in time for publication.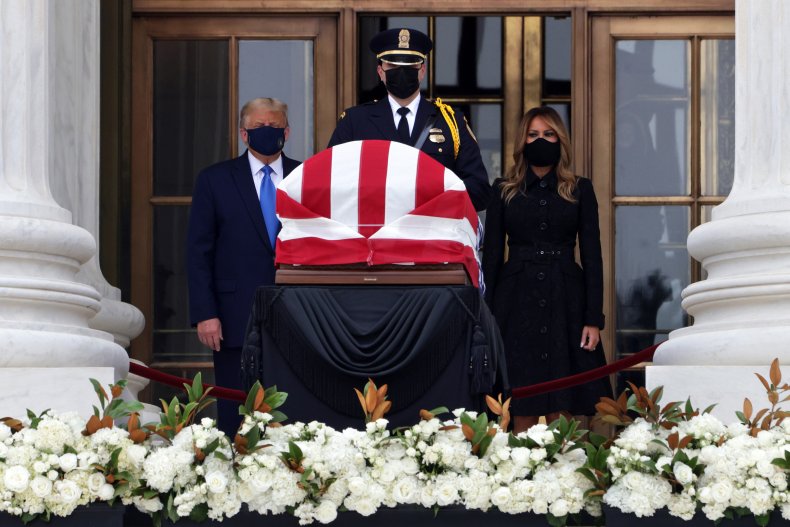 Political opinion polls continue to show Trump trailing Democratic presidential nominee Joe Biden ahead of the November 3 election. A national Economist/YouGov poll conducted September 20 through 22 among 1,124 likely voters found that 49 percent said they would vote for Biden, compared to the 42 percent who chose Trump.
The same poll also measured Trump's job approval rating, with 55 percent of registered voters saying they disapproved and 43 percent saying they approved of his job as president.
The poll was conducted earlier this week amid mounting tension as the election date looms nearer. Lawmakers across both sides of the aisle have reacted strongly to Ginsburg's death and the question of whether the Senate should confirm whomever Trump nominates to fill her vacant seat.
Shortly after hearing the news of Ginsburg's death, Senate Majority Leader Mitch McConnell vowed that Trump's nominee would get a vote on the Senate floor—a decision that has angered many Democrats who claim the move is hypocritical. McConnell took the opposite stance back in 2016, when then-President Barack Obama moved to fill the late Justice Antonin Scalia's seat months before the election.
"The American people should have a voice in the selection of their next Supreme Court justice," McConnell said four years ago when rejecting Obama's nominee Judge Merrick Garland. "Therefore, this vacancy should not be filled until we have a new president."
Trump confirmed his intent to nominate Ginsburg's replacement, tweeting Saturday morning: "We were put in this position of power and importance to make decisions...the most important of which has long been considered to be the selection of United States Supreme Court Justices. We have this obligation, without delay!"
More recently, Trump has upset members of his own party after declining to commit to a peaceful transfer of power if he were to lose on the November 3 election. Speaking to reporters Wednesday, Trump instead reiterated his concerns that the election will be marred by voting fraud—despite a lack of evidence.
"Get rid of the ballots and you'll have a very peaceful—there won't be a transfer, frankly. There will be a continuation," Trump said. "The ballots are out of control. You know it, and, you know, who knows it better than anyone else? The Democrats know it better than anyone else."
Senator Mitt Romney, a Utah Republican who has clashed frequently with the president, tweeted Wednesday evening following Trump's comments.
"Fundamental to democracy is the peaceful transition of power; without that, there is Belarus," he wrote. "Any suggestion that a president might not respect this Constitutional guarantee is both unthinkable and unacceptable."
Belarus has faced protests since August following contested election results. Both the European Union and the U.S. have said the country's presidential election was "neither free nor fair."
Freedom House, a Washington, D.C.-based watchdog organization dedicated to promoting freedom, issued a warning in response to Trump's comments Wednesday.
"A key tenet of democracy is that politicians respect the electoral process and the will of the people," it wrote. "There is nothing more anti-democratic than a leader who refuses to concede defeat."
Trump's comments came hours after The Atlantic published its November cover story outlining potential scenarios of what might happen following Election Day, reporting that the Trump campaign has been discussing "contingency plans to bypass the election results and appoint local electors in battleground states where Republicans hold the legislative majority."