Trump Gets Military Salaries Wrong, Falsely Claiming They Had Their First Pay Rise In a Decade
American troops were left perplexed when U.S. President Donald Trump incorrectly claimed that his administration had overseen their first pay rise in a decade.
He told an audience of military spouses at the White House on Wednesday that he was "proud" of the 2.4 percent raise for 2018 which was the "first time in 10 years" troops had received a salary boost.
The Military Times reported the comment drew laughter from the crowd but confusion from military advocates.
Service members have had a pay rise of at least 1 percent a year for more than 30 years, although the 2018 raise was the highest for eight years.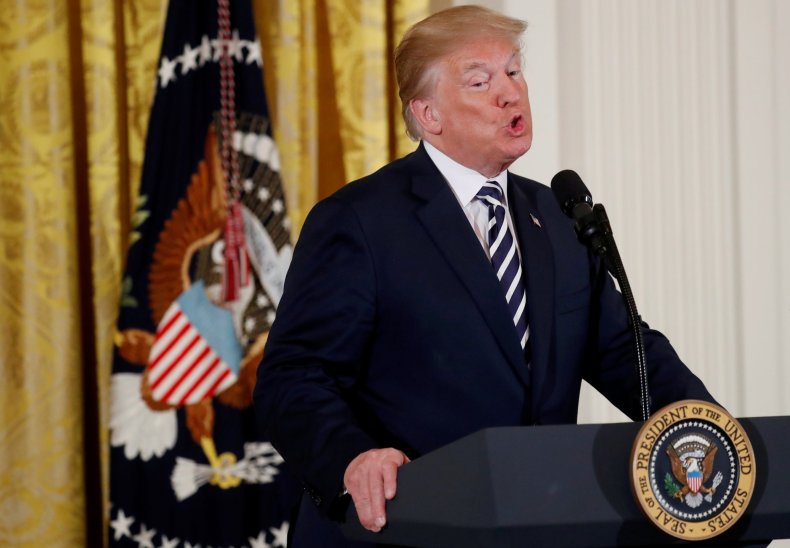 Trump said: "Today, I'm here to tell you that my administration is totally committed to every family that serves in the United States armed forces that is why, earlier this year, I was proud to sign that big pay raise that I've already spoken about. And I am proud of it.
"And I guess there will be others, too. Would you like one sooner, or do you want to wait another 10 years? I don't know," he said.
It was the second gaffe in recent weeks that Trump has made about the military. He tripped up last month in a news conference with Nigerian President Muhammadu Buhari. When referring to the sale of the A-29 Super Tucano light attack aircraft, he mistakenly described them as "helicopters", Defensenews.com reported.
He was also ridiculed on Twitter in March, when he mistakenly spelled Marine Corps "Marine Core", in a tweet that was later corrected.
The Republican administration has touted pay hikes in the military as evidence of its commitment to service members. Trump's speech came as a debate continues on the 2019 defense budget by House Armed Services Committee members.
Trump also signed an executive order aimed at helping military spouses to get federal jobs and curb the 16% unemployment among them, which is four times the national average for female adults.
"Your support is essential to making our military the mightiest fighting force in the world and getting stronger all the time," Trump told the military spouses on Wednesday.