Donald Trump Is Getting Closer 'Every Day' to Being Impeached, Just a Matter of 'When and How,' Says Incoming House Democrat Ilhan Omar
Incoming congresswoman Ilhan Omar said that Donald Trump was getting closer "every day" to impeachment amid Robert Mueller's advancing investigation into Russian election interference and possible conspiring between Trump's 2016 presidential campaign and the Kremlin.
"If this report comes out and we keep having the breaking headlines every single day, I'm pretty sure that it's going to call for itself," Omar said, as she spoke about impeachment to CNN on Tuesday.
"We know that this president, this administration, every day has gone a little bit closer to being impeached," Omar said. She added that Democrats believe the investigations involving Trump and his administration in the next few months could be "very revealing."
"We won't be having these conversations on whether to do it, but it's going to be when and how," Omar said.
Her comments came as Democrats gear up to take control of the House of Representatives in January, after history-making successes in the recent midterm election. Democrats flipped 40 seats to regain majority control of the chamber, overturning more than 15 districts where Trump defeated Hillary Clinton in 2016.
Once the Democrats are sworn in next month, they will have the power to launch investigations into Trump's business empire, his taxes and his relationship with Russia during and after his presidential campaign.
And while established Democrats like Nancy Pelosi have tried to quell their party's calls for impeachment, arguing that lawmakers should let the investigations work themselves out, newly elected Democratic reps continue to talk about removing Trump from office.
"Yes, the American people want us to legislate...but they also want us to resist and make sure that we exercise our oversight powers and hold this administration accountable," Omar told CNN in response to Pelosi's efforts to stop impeachment discussions.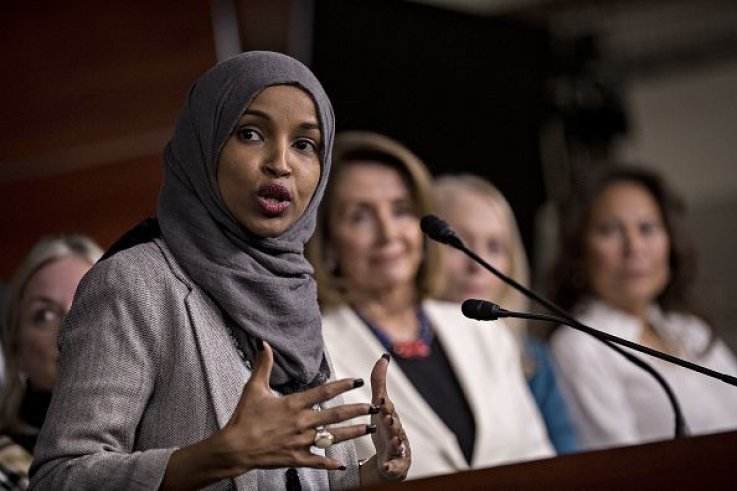 Trump is under fire yet again after his former personal lawyer Michael Cohen told federal prosecutors that he acted "in coordination with and at the direction" of Donald Trump to pay hush money to two women before the 2016 election. Cohen was sentenced to three years in prison last week for crimes that included campaign finance violations and lying to Congress.
Omar, an elected representative from Minnesota, will be the first Somali-American woman to serve in Congress. Since her election victory in November, Omar has made headlines for challenging Trump on his travel ban and for challenging a federal rule banning headscarves in Congress. She has also been a vocal advocate for impeachment.
Trump told Reuters last week that he was not concerned about impeachment, and that he believed "the people would revolt if that happened."
Donald Trump Is Getting Closer 'Every Day' to Being Impeached, Just a Matter of 'When and How,' Says Incoming House Democrat Ilhan Omar | U.S.