Trump Getting Flipped Off by George Washington and Founding Fathers Goes Viral
Social media users have fallen in love with a series of photoshopped images shared on Twitter that show George Washington and other founding fathers flipping off President Donald Trump in the White House.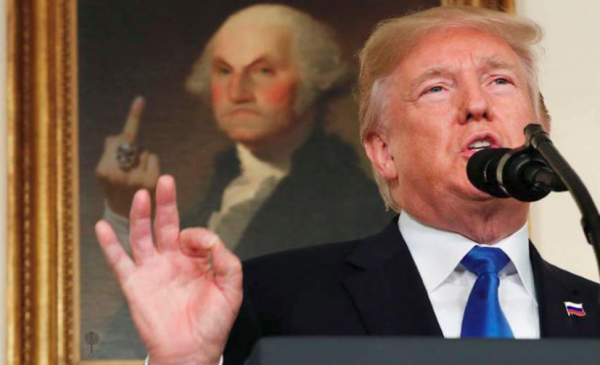 The pictures have been shared more than 20,000 times and liked more than 40,000 times on the social media site and show President Trump being mocked by Washington, Andrew Jackson, Thomas Jefferson and Alexander Hamilton.
Related: Clinton Calls Russian Uranium Reports 'Baloney,' Says Republicans Scared of Moscow Links
In the first of the shots, the first president of the United States and leader of the continental forces during the revolutionary war George Washington can be seen flipping Trump the bird.
In other details changed from the original picture, Washington's normally demure expression has morphed to one of outrage and Trump's lapel pin, usually an American flag, has been replaced with the flag of the Russian Federation.
Jackson, who served as the seventh president of the United States, appears in his Oval office portrait giving a face palm while Trump can be seen below enthusiastically talking on the phone.
In his picture with Jefferson, Trump is once again wearing the Russia pin. Meanwhile the author of the Declaration of Independence and the third President of the United States can be seen shaking his fist. In the same picture Trump can be seen pointing at a bust of U.K. Prime Minister Winston Churchill. The bust of the British wartime leader, returned by Trump to the White House after it was removed by his predecessor Barack Obama, has not been changed by the internet prankster.
The last of the four images shows Alexander Hamilton miming shooting himself with a fake gun made from his thumb and forefinger.
The internet may agree that the founding fathers would have had a problem with Trump's style of governance but the president has regularly said he believes they would back him.
In February, he said the founding fathers would have approved of his battles against the media.
"Thomas Jefferson, Andrew Jackson, and Abraham Lincoln: Many of our greatest Presidents fought with the media, and called them out, often-times, on their lies. In fact, Thomas Jefferson said: 'Nothing can be believed which is seen in a newspaper,'" Trump said at a rally in Florida.
In August Trump compared George Washington to Confederate General Robert E. Lee following the fractious race riots in Charlottesville Virginia.
"Many of those people were there to protest the taking down of the statue of Robert E. Lee," Trump said. "This week, it is Robert E. Lee and this week, Stonewall Jackson. Is it George Washington next? You have to ask yourself, where does it stop?" he said, referring to the fact that the first U.S. president was a slaveowner.
{{#isDisplay}} {{/isDisplay}}