Trump Getting Outvoted in Time's Person Of The Year Poll By Taylor Swift, #MeToo, And San Juan Mayor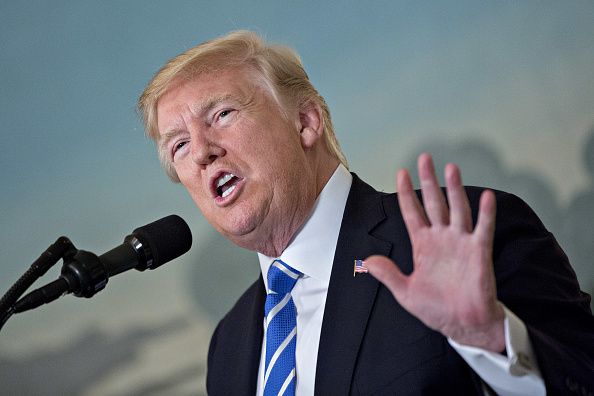 Donald Trump is unlikely to repeat his 2016 success as Time's Person of the Year, according to early polling for the accolade – which puts him below Taylor Swift, the #MeToo movement, and the mayor of San Juan.
The reader's choice poll, which closes on December 3, currently has Trump with 29 percent of the vote, while San Juan Mayor Carmen Yulín Cruz has 31 percent, #MeToo has 38 percent, German Chancellor Angela Merkel has 11 percent, Robert Mueller 18 percent, and Taylor Swift 33 percent.
Cruz's popularity in the poll is also a telltale sign that Trump's popularity is waning – with the San Juan mayor gaining notoriety after a public spat with the president following the hurricane in Puerto Rico.
The president lashed out at the mayor after she publicly asked him to "take charge and save lives," in a speech that prompted the president to refer to her as "nasty."
"The Mayor of San Juan, who was very complimentary only a few days ago, has now been told by the Democrats that you must be nasty to Trump," the president said in a tweet following her comments – sparking a war of words between the pair.
And Trump's 2016 win of the title was not without its critics. Knowing the president's place as Person of the Year would elicit criticism, the magazine referred to Trump on its cover as the "president of the Divided State of America."
Although Trump said at the time that he was pleased to have won the title, describing it as a "tremendous honor" that "meant a lot," he also hit back at the suggestion he had divided the country.
"When you say divided states of America, I didn't divide them. They're divided now. I mean, there's a lot of division," Politico reported Trump saying.
"And we're going to put it back together, and we're going to have a country that's very well healed, and we're going to be a great economic force, and we're going to build up our military and safety, and we're going to do a lot of great things. And it's going to be something very special," he added.
Announcing Trump's 2016 win on NBC, the magazine's editor Nancy Gibbs described the president as operating in an unconventional way.
"When have we ever seen a single individual who has so defied expectations, broken the rules, violated norms, beaten not one but two political parties on the way to winning an election that he entered with 100-1 odds against him?" she said.