Trump Goes After Former Ally Chris Christie for Saying GOP Needs to 'Move On' From 2020
Donald Trump is taking aim at his former ally, Chris Christie, over the former New Jersey governor's statement that the Republican party needs to "move on" from claims that the 2020 election was fraudulent.
Christie, who supported Trump last year, urged the GOP to present a "plan for tomorrow, not a grievance about yesterday" during the Republican Jewish Coalition conference in Las Vegas over the weekend.
But as Christie pressed the party to leave Trump's theory that the election was stolen from him in the past, the former president came for the Republican in a statement of his own.
"Chris Christie, who just made a speech at the Republican Jewish Coalition (RJC) in Las Vegas, was just absolutely massacred by his statements that Republicans have to move on from the past, meaning the 2020 Election Fraud," Trump said.
He continued, "Everybody remembers that Chris left New Jersey with a less than 9% approval rating – a record low, and they didn't want to hear this from him!"
Around this time last year, Christie had been a close ally to Trump and even helped him prepare for a presidential debate in October. But as the former president touted baseless claims that the 2020 election was fraudulent, Christie distanced himself from Trump and encouraged him to accept defeat and recognize Biden's win.
And over the weekend, Christie offered a similar message to other members of the GOP.
He advised them that in order to win more elections like Republican Glenn Youngkin in Virginia's gubernatorial race, the party needs to move forward from the previous administration.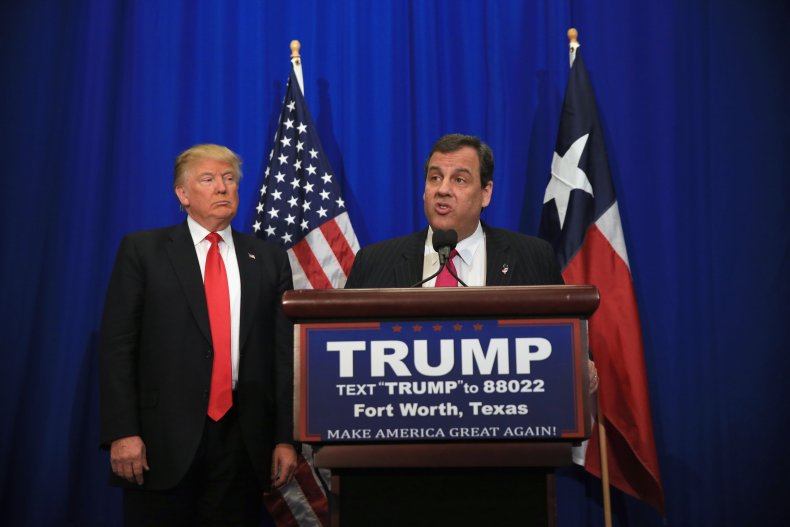 "We can no longer talk about the past and the past elections—no matter where you stand on that issue, no matter where you stand, it is over," Christie said. "Every minute that we spend talking about 2020—while we're wasting time doing that, Joe Biden, Kamala Harris, Nancy Pelosi and Chuck Schumer are laying ruin to this country. We better focus on that and take our eyes off the rearview mirror and start looking through the windshield again."
Christie also emphasized that without Trump in the spotlight, Republican candidates are able to connect with voters more easily.
"People want us to be direct with them. They want someone to fight for them. But they want them to fight in a way that doesn't hurt their ears," Christie said. "We have to speak to their dreams, their hopes, their aspirations for the future. If we don't do that, then we won't once again win back the votes that we began to win back in Virginia and New Jersey last Tuesday night."
In a later interview with CNN, the former governor also said that with the midterm elections next year, Trump must decide what kind of leader he wants to be. Christie said that the former president could be a "very positive force for Republican candidates" if he's willing to tell the truth, specifically about the election, and look ahead to the future.
But Christie's comments were met with uncertainty from members of the GOP over the weekend. The reaction was mixed as Trump remains a party favorite to run again in 2024.
Christie himself ran for the Republican nomination for president in 2016 but told CNN he would wait until the 2022 midterm elections to determine if he would campaign for 2024.
The Republican took office as governor of New Jersey in 2010 and became popular as a "tell-it-like-it-is" politician. He won re-election in 2013, but a number of controversies like the Bridgegate scandal and a trip to a closed state beach during a government shutdown caused Christie to leave his second term with the lowest approval ratings of any of his predecessors.
Newsweek reached out to the Republican Jewish Coalition for comment.