As Trump Takes Cover on the Golf Course, Dems Bash Paul Ryan as a Failure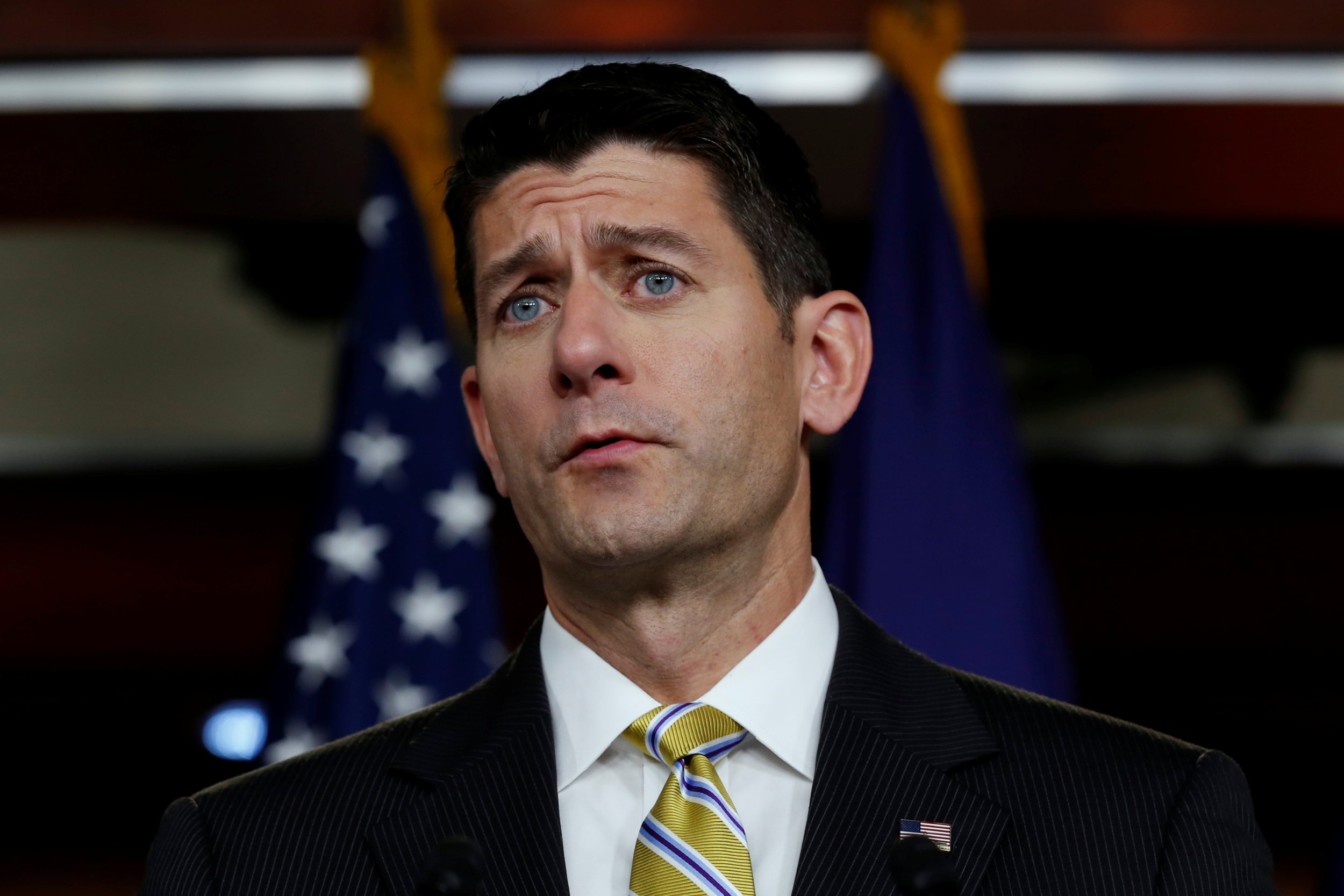 Democrats bashed Republican House Speaker Paul Ryan for having "zero legislative successes" Monday as President Trump defended his administration's record while vacationing at his private golf course in New Jersey.
Monday marks Trump's 200th day in office. But despite a Republican majority in the House, he "has achieved almost nothing" since Trump's inauguration on January 20, said the Democratic Congressional Campaign Committee (DCCC) in its 200-day analysis.
Days after Trump's inauguration, Ryan and Senate Majority Leader Mitch McConnell laid out ambitious plans to reform taxes, repeal and replace Obamacare and build Trump's wall on the U.S.-Mexico border within 200 days. House Representatives are now back in their districts for August recess with little success to show from those plans.
At the 100-day mark of the Trump administration, at the end of April, Ryan said it would take at least 200 days to deploy the "agenda that we're attempting to put together here," and so it couldn't be evaluated by the traditional benchmark. The agenda also included proposals to fund an infrastructure package, pass two budgets, avoid a debt default and rebuild the military.
Failure on all of those fronts, said the DCCC—which recruits party candidates and helps raise funds to contest House seats—makes Republican seats more vulnerable in the 2018 midterm elections.
Ryan's "biggest policy and political failure," it said, was the Republican health care bill to repeal and replace Obamacare that passed the House but died in the Senate. The "repeal bill will haunt every single vulnerable Republican regardless of how they voted," the DCCC said. "With Ryan at the helm, the entire House Republican majority is at risk."
Read more: Was the Republican attempt to repeal Obamacare a sham?
That's not how the president saw it in a series of tweets late Sunday and early Monday morning during his 17-day vacation at the Trump National Golf Club in New Jersey.
"The Fake News refuses to report the success of the first 6 months: S.C., surging economy & jobs, border & military security, ISIS & MS-13 etc." Trump tweeted after 10 p.m. Sunday.
Early Monday, the president was back, tweeting that "record Stock Market, border security, military strength, jobs, Supreme Court pick, economic enthusiasm, deregulation & so much more have driven the Trump base even closer together." New polling numbers last week showed Trump has lost ground with key voters who supported him during the 2016 election.
Trump has been successful at rolling back many environmental regulations passed by the Obama administration, along with withdrawing from the Paris climate agreement, but has passed few of his own ideas into law.
Even Trump Republican ally Senator Orrin Hatch, who is chairman of the Senate Finance Committee, seems skeptical about getting tax reform—the next big thing in the GOP agenda—done by the end of the year.
It "would be miraculous," Hatch told Fox News Sunday Morning Futures, if Trump could achieve his goals for tax reform. To get a bill passed this year, he said, is going to take Democrats and Republicans "putting aside their stupid differences."
The DCCC laid these failures at Ryan's feet, stating he has fallen short on outlining priorities that appeal to Americans and delivering the leadership that gets things done.
As a result, the Democrats said, "Ryan has put "vulnerable House Republicans at further risk of losing their seats and damaged the entire Republican brand ahead of the 2018 midterms."