Donald Trump's New Jersey Golf Course Allegedly Gave Fake Green Cards, Social Security Numbers to Undocumented Employees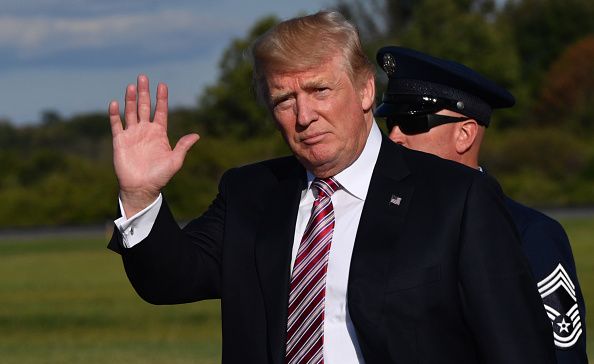 New Jersey's attorney general allegedly has evidence that President Donald Trump's Garden State golf club may have committed immigration crimes by handing out fraudulent green cards and Social Security numbers to undocumented employees.
Anibal Romero, counsel to several undocumented immigrants who worked at the Trump National Golf Club, told the New York Daily News about the evidence in a report published on Saturday. He said that special counsel Robert Mueller and the FBI are also aware of the evidence and have been involved in the state's probe into the golf club.
Romero is the attorney for Victorina Morales and Sandra Diaz, two women who worked at Trump's golf course as undocumented immigrants. They made headlines earlier this month for coming forward and revealing their illegal status, showcasing the hypocrisy in the president's antagonistic immigration remarks. Morales is still an undocumented immigrant, but Diaz became a U.S. resident after working for the Trump golf course.
Morales told the New York Times that she recalls the golf club hired many illegal workers. She said she and Diaz came forward because they were "tired of the abuse, the insults, the way he talks about us when he knows that we are helping him make money. We sweat it out to attend to his every need and have to put up with his humiliation."
Romero told the Daily News that he has been in contact with prosecutors from the New Jersey attorney general's office. Romero said he gave the prosecutors fake green cards and Social Security numbers that golf club employees had allegedly given to the two women when they worked there.
Before meeting with state prosecutors, Romero said that he contacted Mueller's office to inform federal prosecutors of the evidence. He told the Daily News that he did not contact the Justice Department directly because it was still being directed by former Attorney General Jeff Sessions, who was appointed by Trump at the start of his administration.
Romero said that Mueller's team responded that the matter was out of their jurisdiction. But weeks later the FBI contacted Romero, saying they had been briefed on the situation by Mueller's office. The attorney met with federal agents in New Jersey.
Both Mueller's office and the FBI declined to give comment to the Daily News but Romero said that he's "confident that federal and state authorities will conduct a complete and thorough investigation."
After Morales and Diaz spoke to the New York Times, the Trump Organization immediately denied that they knowingly hired undocumented workers.
"We have tens of thousands of employees across our properties and have very strict hiring practices. If any employee submitted false documentation in an attempt to circumvent the law, they will be terminated immediately," the Trump Organization wrote in a statement to multiple news outlets.