Trump Golf Outing Obscured by Mystery White Truck as CNN Tries to Cover President's Game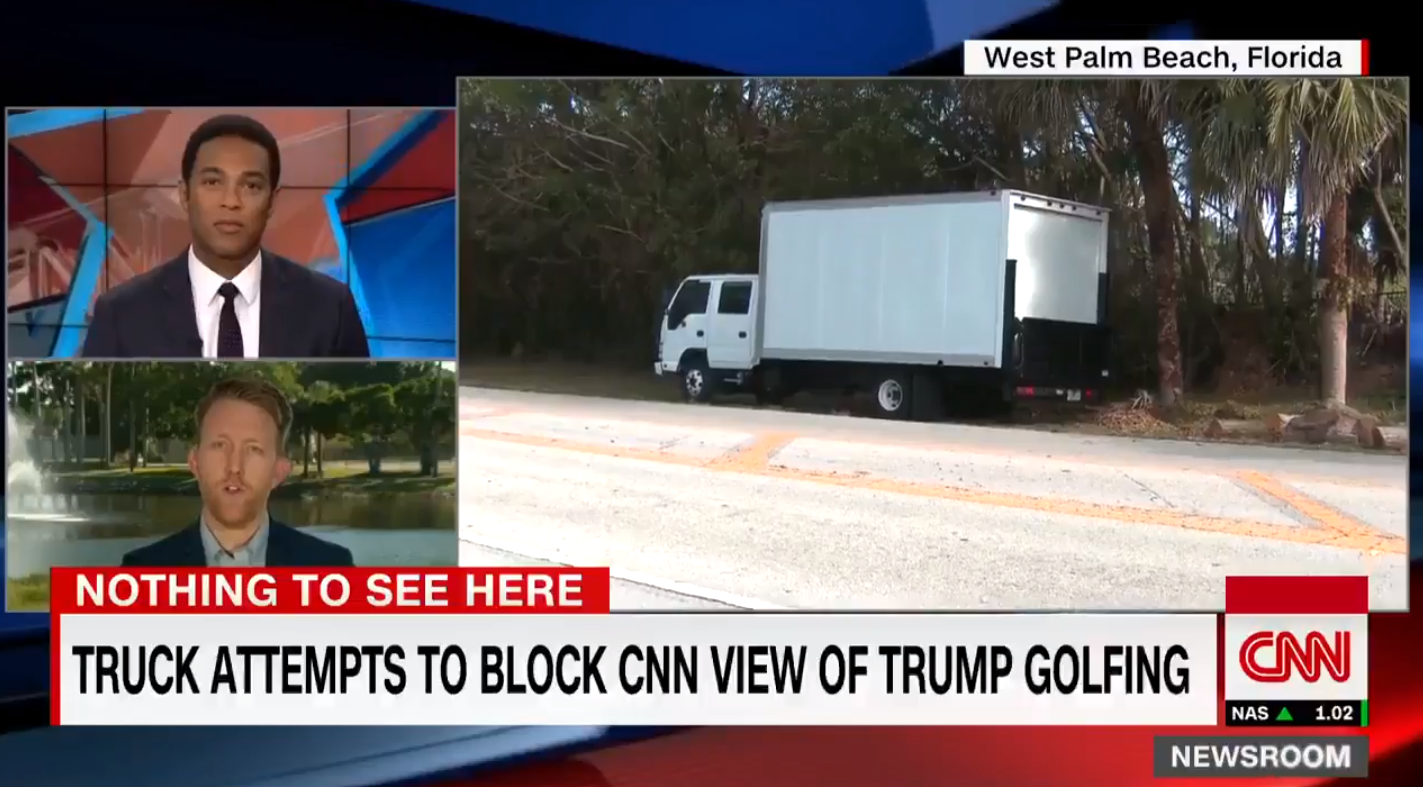 Talk about being teed off!
Reporters were fuming Wednesday after a mysterious white box truck blocked camera crews from filming President Donald Trump hitting the links for the second consecutive day after tweeting that he was getting "back to work."
It's unclear who hired the truck, but CNN reported that the driver knew exactly where to position the unmarked vehicle to make sure reporters could not properly document the president's round.
"The president and his staff doesn't really tell us when he's golfing and we have taken to...filming him through a break in hedges," reporter Dan Merica said. "Today a big white box truck parked in front of those hedges trying to obscure our shot of President Trump golfing."
Merica said it "may seem trivial," but suggested that the perfectly placed van made a larger point about press access, history and news.
"The president and the White House have tried to obscure the fact that the president golfs on a regular basis," he said, citing CNN's count that the Leader of the Free World has been at one of his golf courses 87 times since the inauguration, despite his own campaign criticisms of his predecessor for playing golf too often.
The actual number of times that Trump has played a round is unclear—for obvious reasons, Merica suggested.
"This box truck is yet another example of the White House trying to obscure that he is golfing," Merica said, though added that it is not clear who provided the truck or why it was positioned in such a manner.
A CNN White House reporter later tweeted that the Secret Service denied any role in what could easily be called Golfgate.
"The USSS is in the business of protection and investigations not in commissioning vehicles to block the media's view of the President's golf swing," the agency said in a statement to CNN's Kevin Liptak.
The Washington Post also covered the vantastrophe on Wednesday.
"Mysterious white truck blocked TV news crew from getting shots of Trump playing golf in Fla., I'm told," tweeted media reporter Paul Farhi. "As photojournalist moved the camera, he said, truck moved w/him to block the picture. The unmarked truck parked when Trump was apparently at hole, then drove off after."
Trump is reportedly a top-notch golfer, but some observers have called him a hypocrite when it comes to his favorite game. Before and during the 2016 campaign, Trump criticized President Barack Obama for playing what he suggested was too much golf.
"Can you believe that,with all of the problems and difficulties facing the U.S., President Obama spent the day playing golf.Worse than Carter," he tweeted in 2014. And on the campaign trail, Trump promised that if elected, he would be working so hard that he would not "have time" for a round.
Yet by NBC News's count, Trump has spent one-third of his presidency at one of his properties and has golfed far more than Obama. As of November 13, Trump spoiled a good walk 35 times compared to Obama's 24 at that point in his first term, according to Politifact.