Trump Golf Trips Have Cost Nearly $150,000 in Cart Rentals for Secret Service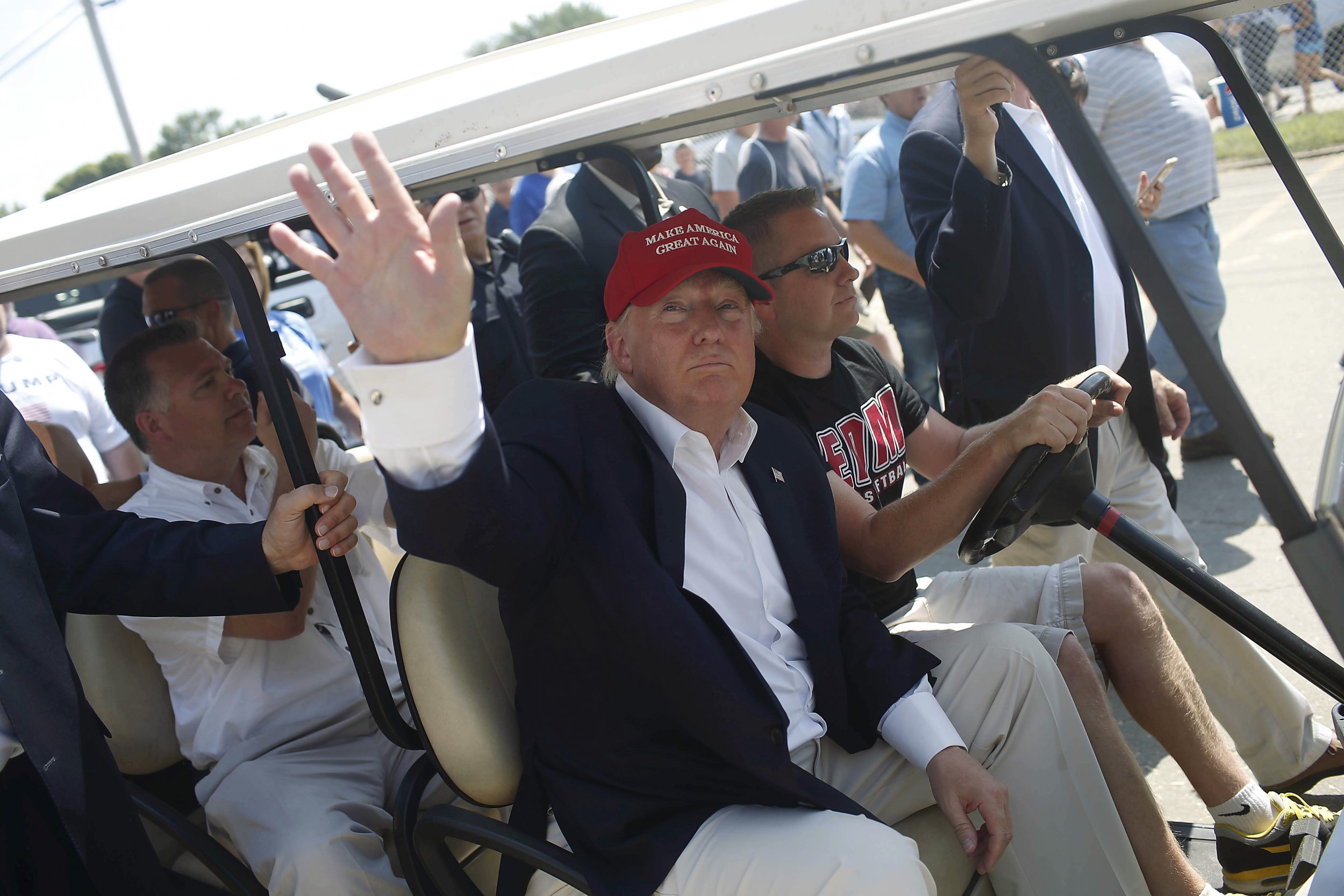 President Donald Trump's frequent golf trips have cost the Secret Service close to $150,000 in golf cart rentals to protect him. Federal purchase orders obtained and reported by USA Today on Wednesday revealed that the Secret Service has spent at least $144,975 to rent golf carts since Trump took office, including $7,470 for outings during his stay at his private Mar-a-Lago resort in Florida over Thanksgiving.
The Secret Service is tasked with protecting the president, and the law prohibits Trump from paying for or providing equipment or services in order to prevent potential conflicts of interest for the agency.
Trump's Thanksgiving golf trips around Palm Beach increased a contract that the Secret Service has with Florida-based Golf Cart & Utility Distributors to $69,430. The contract, signed in September and effective through May 2018, is the largest purchase order the Secret Service has made since the beginning of Trump's tenure.
The president's recurring visits to his private clubs and his big family size have stretched the Secret Service's resources. By August, the agency could not afford overtime for hundreds of employees and more than 1,000 agents hit federally mandated salary caps and overtime allowances for the year.
In light of the Secret Service's financial shortcomings, critics have called on Trump to cut down on his trips and vacations and stay in the White House.
"There's a question about how fast Trump is racking up bills that the taxpayers have to pay, which are largely trips to his hotels and his golf courses," Harrell Kirstein, a spokeswoman for progressive PAC American Bridge, told USA Today. "Instead of wasting so much time and money on his vacation, he should do his job."
But Trump has repeatedly said that his trips to the "Winter White House," as he calls Mar-a-Lago, and to golf courses he owns in Bedminster, New Jersey, and Sterling, Virginia, are productive.
"Will be having meetings and working the phones from the Winter White House in Florida (Mar-a-Lago)," Trump tweeted the morning before Thanksgiving.
Since he was inaugurated, Trump has spent 103 days at properties he owns, including 81 days at four of his golf courses, according to an NBC News tracker.
The Secret Service reportedly paid Mar-a-Lago more than $63,000 over a few months for hotel costs ranging from $1,300 to $11,050.
Richard Painter, who was White House ethics lawyer under former President George W. Bush, told CNN that Trump risks violating the domestic emoluments clause if his company is profiting off the agency and that "Mar-a-Lago should either charge Secret Service a rate federal employees are authorized to pay for a hotel room under ordinary circumstances or not charge at all."