Donald Trump Golf Course Destroyed 4,000-Year-Old Scottish Sand Dunes, Conservationists Claim
President Donald Trump has been accused of breaking promises made to develop the local economy in Scotland around his Aberdeen golf course, as the area that hosts it looks set to lose its conservation status due to environmental damage.
The Trump International Golf Links in Aberdeenshire opened in 2012 and is partly located on the Foveran Links, which is classified as Site of Special Scientific Interest (SSSI) by Scottish Natural Heritage due to its 4,000-year-old sand dune system.
But conservationists believe that the site is due to lose that status because of habitat loss and changes caused by the construction of the 18-hole golf course. The Trump Organization said that its environmental approach had been "first-class."
A Scottish Natural Heritage spokesperson told a BBC Scotland documentary that "as expected, there are areas where there has been some permanent habitat loss—for example, where tracks, tees, fairways and greens have been constructed."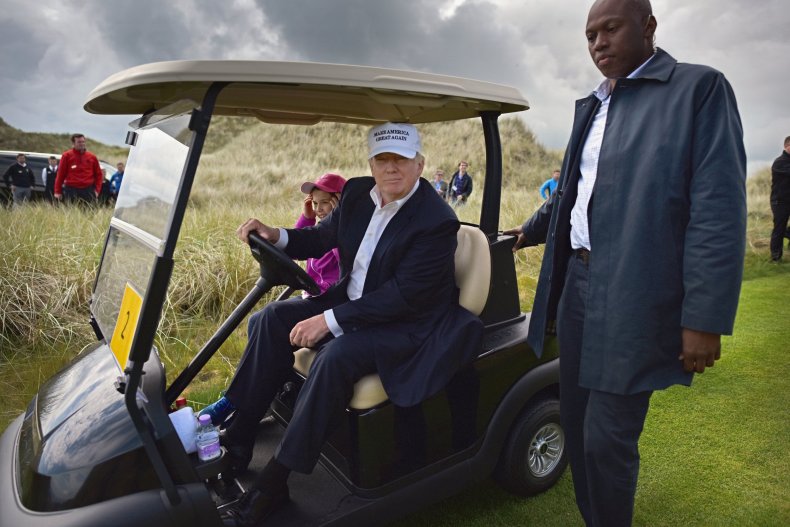 The spokesperson added that some habitats had been changed—such as moving sand dunes being stabilized by the planting of marram grass—and that the agency would assess the changes before making a decision whether to strip the site of its SSSI status.
But Jim Hansom, an expert from Glasgow University, said he would be "absolutely surprised" if Foveran Links did not lose its status. "It's been ruined from a virgin undeveloped wilderness site into something that's relatively manicured," he told the BBC.
Read more: Trump completely missed Abe stumbling and falling into a golf bunker during their game
The Scottish government granted the Trump Organization outline planning permission for the resort in 2008, which was estimated to cost £1 billion ($1.3 billion). The decision was opposed by environmentalists, but Trump pledged to create a boon for the local economy and create 6,000 jobs by building a five-star hotel, two golf courses, shops, timeshare flats, housing and a sports complex, the Guardian reported.
But so far, the Trump Organization has only built a single golf course, practice range, and a clubhouse that includes a restaurant and shop. A manor house on the estate has been converted into a 16-room hotel, but plans for the 450-room, five-star hotel have been scrapped.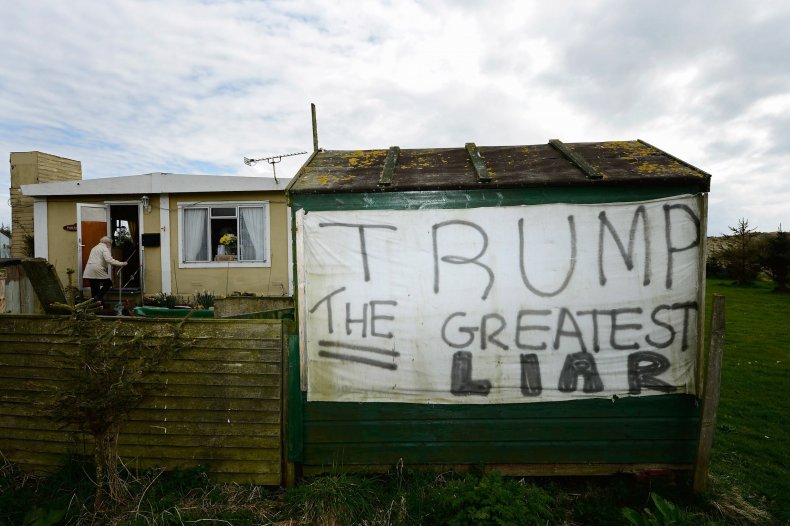 Alex Salmond, former Scottish first minister—who initially supported the project—told the BBC that the Trump Organization would have a hard job convincing Aberdeenshire authorities to greenlight new developments due to its current track record. The Trump Organization has applied to build a second 18-hole golf course, but the plans are being held up due to a dispute over sewage and irrigation on the site.
"I think the Trump Organization will have a huge credibility problem in persuading this generation of planners and councilors in Aberdeenshire to believe the commitments they're now making given the track record of the last 10 years," said Salmond.
The executive vice-president of Trump International Golf Links Scotland, Sarah Malone, told the documentary that the organization had invested £100 million ($131 million) on the site and that 150 people work there. She said that the resort was a "long-term investment opportunity" and that "year on year we keep spending money, adding new services, adding new facilities, investing in our resources, investing in our people."
On the site's environmental status, Malone said that it did not matter to the Trump Organization if the site lost its SSSI status. But she insisted that the company had "bought the site" because of the sand dunes. "Why would we do anything to damage them?" she said.
Trump has two golf resorts in Scotland—the one in Aberdeenshire and another in Turnberry on the west coast. The resorts posted losses of £17.6 million ($23 million) in 2016, the third year in a row that they have made a loss.
Donald Trump: Scotland's President will be broadcast on BBC One Scotland at 21:00 BST on Thursday 9 November.