Trump Golfs, Tweets on Thanksgiving Eve, While Obama Fed Homeless Veterans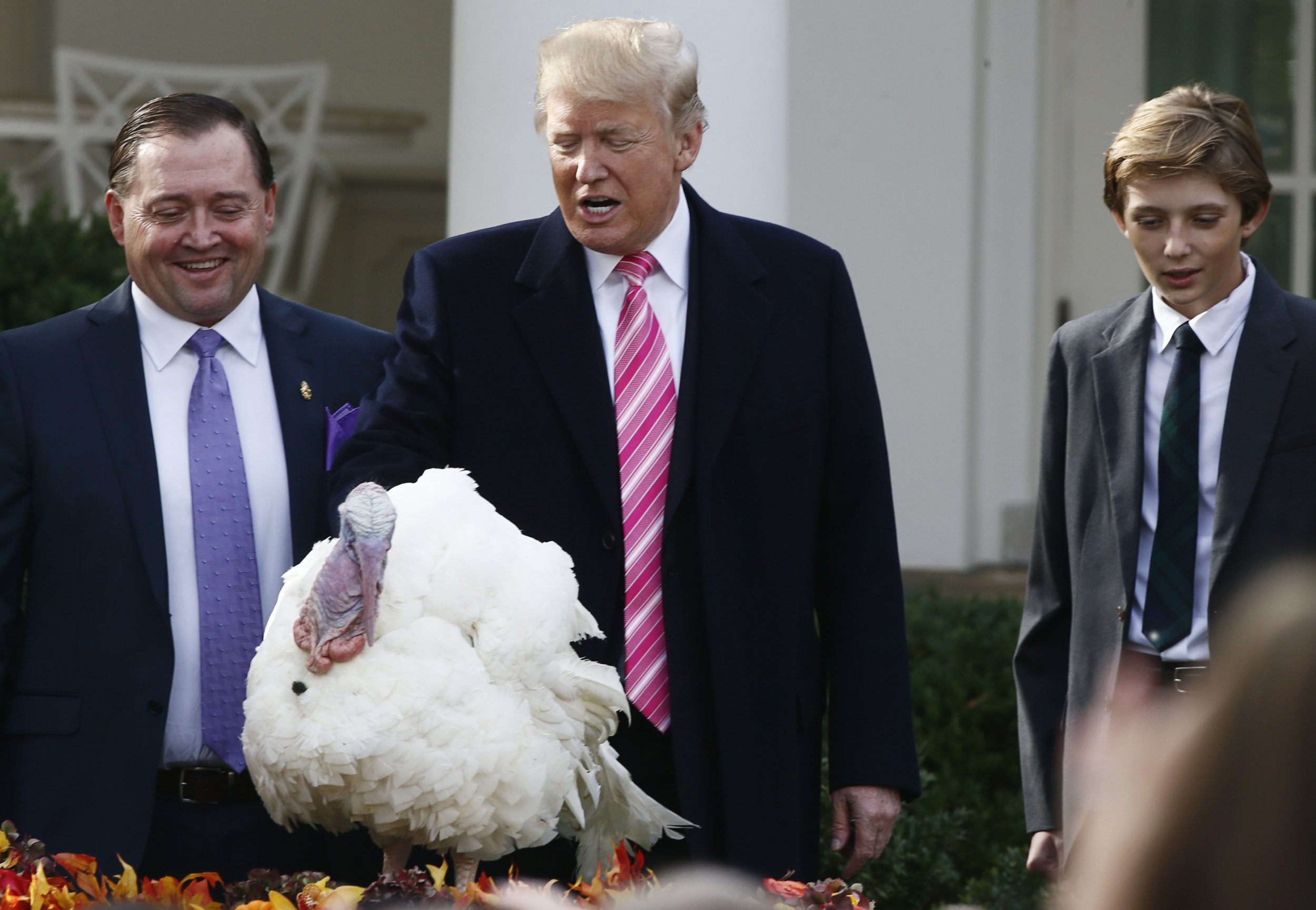 President Donald Trump, who spent Thanksgiving Eve sending angry tweets and golfing, might want to take a lesson from his predecessor Barack Obama, who has observed the holiday in years past in a far humbler fashion.
While president, Obama served Thanksgiving dinner at a soup kitchen among other places, to less fortunate people including homeless veterans.
Last Thanksgiving, Obama manned the turkey and gravy stations at the Armed Services Retirement Home in Washington, D.C. He did the same on Thanksgiving Eve 2015, for veterans and homeless individuals at St. Luke's Methodist Church near the capital.
"You want some white meat or dark meat? How you been?" Obama said, while filling plates in 2015. "Thank you, sir. We appreciate you guys."
On Thanksgiving Eve 2014, the Obamas passed out food for Bread for the City, an organization that helps the needy, and the following day called U.S. troops from the White House and ate a holiday dinner there.
Meanwhile, Trump so far has spent his first Thanksgiving Eve as president engaging in some of his most scrutinized activities.
At the break of dawn, Trump fired off on Twitter at LaVar Ball, the father of one of three UCLA basketball players the president helped free after they were detained in China for allegedly shoplifting designer sunglasses.
"You could have spent the next 5 to 10 years during Thanksgiving with your son in China, but no NBA contract to support you," Trump tweeted. "But remember LaVar, shoplifting is NOT a little thing. It's a really big deal, especially in China. Ungrateful fool!"
Trump also tweeted a stab at the NFL and its idea to keep teams inside locker rooms during the National Anthem next season, fanning the ongoing controversy over football players kneeling.
The president then took a break from Twitter—for golf. He left the White House for what he calls the "Winter White House," his pricey, private members-only Mar-a-Lago resort. And while in the neighborhood, he headed to the Trump International Golf Club in West Palm Beach, which is less than five miles away. White House aides did not say whether he would play a round at the course.
Trump tweeted that he would be "having meetings and working the phones" from the Winter White House and that the stock market "hit new Record High yesterday."
The only positive message Trump posted on Twitter on Thanksgiving Eve was a message quoting the U.S. Navy stating it was conducting a search and rescue after an aircraft crash.
"Prayers for all involved," Trump tweeted.
A bit of philanthropy never hurt nobody, Mr. President. Take it from the 44th president.