As Trump and His GOP Allies Lob Attacks, Top Republican Advocates for Whistleblower's Protection
A prominent Senate Republican came to the defense Tuesday of the whistleblower who sounded the alarm on President Donald Trump pressuring a foreign leader to investigate a political foe, as Trump and his GOP allies have continued to criticize the anonymous individual and make false claims.
Sen. Chuck Grassley (R-Iowa), a decades-long lawmaker with experience writing whistleblower protections and who is the chairman and co-founder of the Senate Whistleblower Protection Caucus, said the whistleblower has followed the appropriate laws and that their identity should remain confidential to best ensure their protection.
Grassley's remarks indirectly rebuked recent comments made by Trump and his Republican allies on Capitol Hill that the whistleblower may have broken protocol in reporting Trump's July phone call with Ukrainian President Volodymyr Zelensky—in which Trump pressed Zelensky to investigate former Vice President Joe Biden and his son Hunter—and that the whistleblower's identity should be exposed.
"This person appears to have followed the whistleblower protection laws and ought to be heard out and protected," the Senate Finance Committee chairman said in a statement. "We should always work to respect whistleblowers' requests for confidentiality."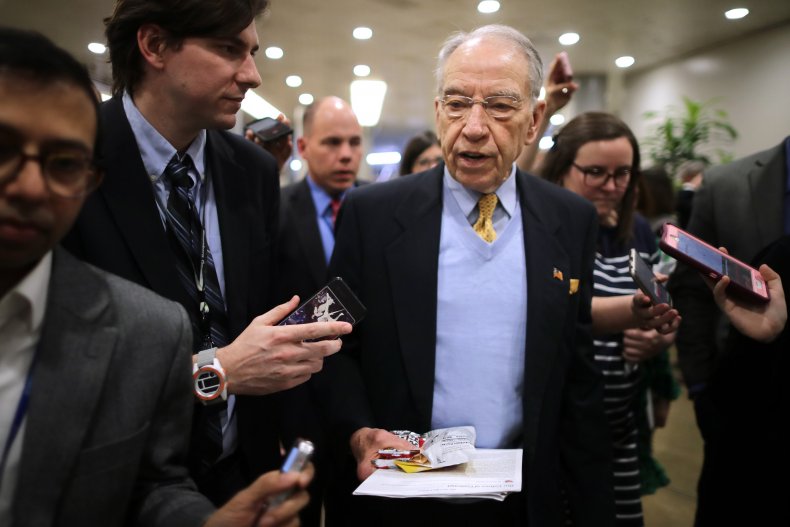 Trump has said this week that the White House was "trying to find out" about the whistleblower, in addition to other unknown people who provided that person with information.
The whistleblower's revelations have prompted House Democrats to launch an official impeachment inquiry into Trump, something that has drawn the ire of the president and the Republican Party.
Trump's defenders—including his personal attorney Rudy Giuliani, Rep. Jim Jordan (R-Ohio), Sen. Lindsey Graham (R-S.C.) and House Minority Leader Kevin McCarthy (R-Calif.)—have taken to cable news airwaves and Twitter in recent days to make the false claims that the rules for filing a whistleblower complaint were recently changed and that the whistleblower was solely relying on "hearsay evidence" and had "no first-hand knowledge" of the allegations. Trump tweeted similar falsehoods on Monday.
"When it comes to whether someone qualifies as a whistleblower, the distinctions being drawn between first- and second-hand knowledge aren't legal ones," Grassley said. "It's just not part of whistleblower protection law or any agency policy. Complaints based on second-hand information should not be rejected out of hand, but they do require additional leg work to get at the facts and evaluate the claim's credibility."
The inspector general of the Intelligence Community—Michael Atkinson, a Trump-appointee—has also rebuked the false claims levied by Trump and his allies, saying that no rules were changed regarding whether the whistleblower's complaints rely on first-hand knowledge. Atkinson added that, while there are no requirements for a whistleblower to have first-hand knowledge, the person did have some "direct knowledge of certain alleged conduct."
"No one should be making judgments or pronouncements without hearing from the whistleblower first and carefully following up on the facts," Grassley continued. "Uninformed speculation wielded by politicians or media commentators as a partisan weapon is counterproductive and doesn't serve the country."
Grassley also knocked House Democrats' ongoing impeachment inquiry, which further escalated on Monday after several committees issued a subpoena to Giuliani for documents involving Ukraine. Grassley said, "inquiries that put impeachment first and facts last don't weigh very credibly."
In large part, Grassley's Tuesday statement contradicted a letter that he and other GOP senators sent the day prior to Atkinson. In the letter, which was released by his office on the day he underwent hernia surgery, the Republicans requested answers from the inspector general regarding the supposed rules change for whistleblower complaints.