Republicans, Donald Trump Cash In On Impeachment Talk By Raising $1 Million in One Day For 'Impeachment Defense Task Force'
President Donald Trump and the Republican Party managed to turn Tuesday's impeachment debacle into a positive fundraising effort, raking in $1 million in donations in just one day for the 2020 election.
The Republican National Committee and Trump's re-election campaign teamed up in the fundraising effort, sending off a flurry of emails asking conservatives to help the "Official Impeachment Defense Task Force," according to a report from Politico.
The majority of the money will go directly toward Trump's re-election bid, but some of the proceeds will contribute to the GOP effort to take back majority control of the House of Representatives. The emails sent out by the Republican National Committee asked donors to give to the Republican who will be running against Michigan Representative Elissa Slotkin, a freshman Democrat who won over a Trump district in 2018.
The fundraising "task force" was described in emails of being "made up of only President Trump's most LOYAL supporters, the ones committed to fighting for him, re-electing him, and taking back the House."
Donors were also told that if they gave money to the cause they would "be a leader in defending the President against these baseless and disgusting attacks" and that they'd "be responsible for defending American greatness."
The House launched a formal impeachment inquiry against Trump on Tuesday, setting up what is likely to be a dramatic showdown on Capitol Hill just one year ahead of the presidential election.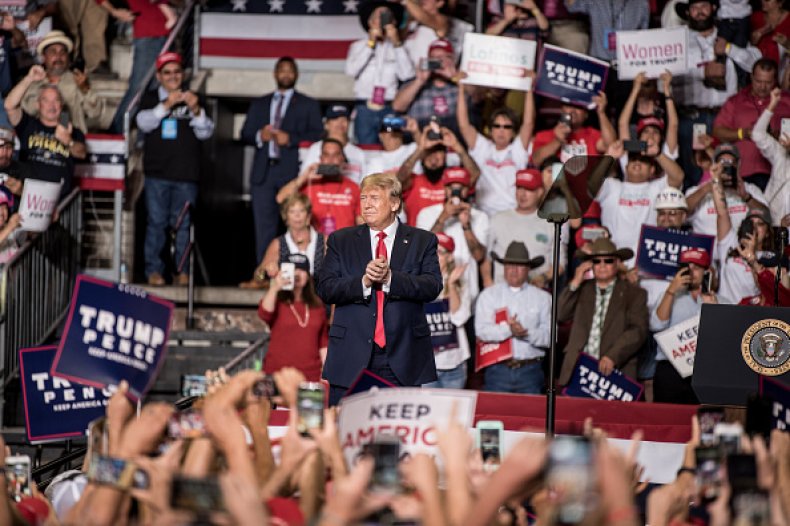 Speaker Nancy Pelosi announced the inquiry in a press conference late Tuesday afternoon, marking just the fourth time in U.S. history that a president has faced possible impeachment.
"The actions taken to date by the president have seriously violated the Constitution," Pelosi said, adding that Trump "must be held accountable — no one is above the law."
Pelosi noted that the House committees that are already investigating the president's conduct would continue to do so but now "under that umbrella of impeachment inquiry." If lawmakers determine after the investigations that there are enough reasons to remove the president, they will draw up articles of impeachment for the House to vote on.
The breaking point for Democrats, who have been avoiding impeachment talk for months, seems to be Trump's questionable communication with a foreign leader. Trump has admitted to discussing political rival Joe Biden with the president of Ukraine in July. At the center of the debate are allegations that Trump pressured the Ukrainian leader to launch a corruption probe against the former vice president and his son.
Trump responded to the impeachment inquiry in a series of tweets, in which he accused Democrats of "PRESIDENTIAL HARASSMENT!"
Republicans, Donald Trump Cash In On Impeachment Talk By Raising $1 Million in One Day For 'Impeachment Defense Task Force' | U.S.