U.S. Government's Ethics Enforcement No Match for Trump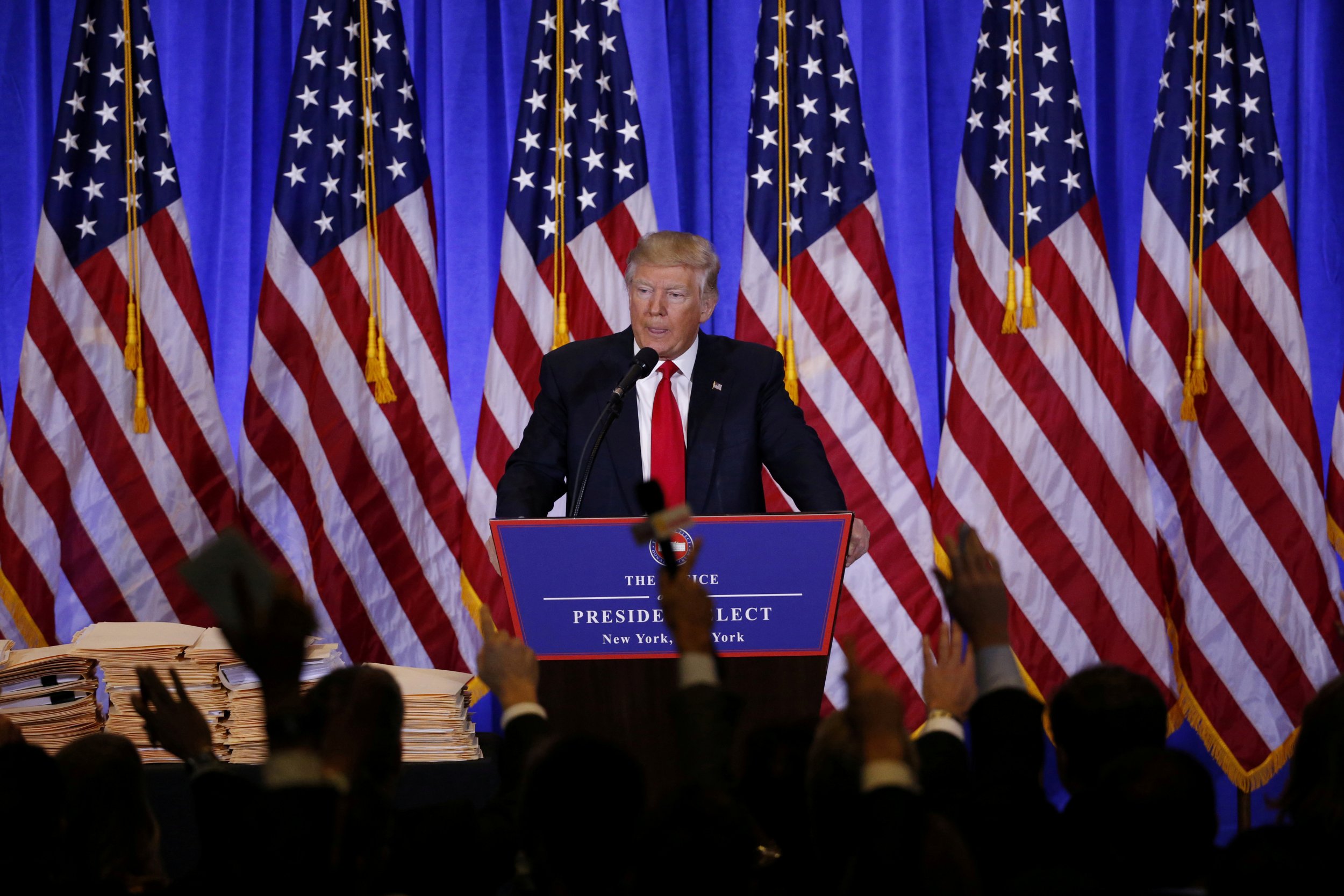 One realization that has emerged during a chaotic week in our nation's capital is that America's system for preventing ethical conflicts in government is supremely overmatched by President-elect Donald Trump and his cadre of billionaire advisers. As they prepare to sweep into the White House in a little more than a week, the offices, officials and standards designed to promote so-called good government are being overwhelmed and, in many cases, shunted aside. Critics are finding they have few immediate recourses, aside from public shaming—and that has worked only in scattered instances.
Related: Trump says he'll maintain ownership, but hand off control of business to sons
The leading authority charged with promoting ethics in the executive branch is the Office of Government Ethics (OGE), a 75-person agency with a $15 million annual budget (the Pentagon budget, in comparison, is nearly $600 billion). While it oversees a broader network of 4,500 ethics officials stationed in agencies across the executive branch, none of them enforce ethics rules. Instead, they merely guide executive branch officials on how to comply with them and avoid conflicts of interest. Neither does the Office of Congressional Ethics, the legislative branch ethics overseer, although unlike the OGE, the independent congressional office is tasked with investigating violations. The work of the OGE, in contrast, "sort of starts from the premise that everybody wants to be in compliance," explains Noah Bookbinder, executive director of the watchdog group Citizens for Responsibility and Ethics in Washington. "This idea of, 'What if they're not interested in getting into compliance?' has not really been tested."
Trump and his Cabinet nominees seem to be probing just that. Despite months of outreach and cajoling—private and, in the case of one highly publicized OGE Twitter outburst, public—the president-elect has ignored the office's counsel to fully divest his business holdings. In his first press conference since July, Trump on Wednesday did affirm that, as expected, he will put his ownership stake in his multinational company into a trust and hand over control to his two adult sons. "They're not going to discuss this with me," he promised. Trump also suggested he would return to the helm of the Trump Organization when he leaves office.
This doesn't line up with the practices of past presidents, who have either sold off—i.e., divested—their assets or put them in a blind trust, where a trustee sells the existing holdings and puts the revenue into a bank account controlled by the trustee. Ethics watchdogs were quick to criticize Trump's refusal to follow that precedent. "The plan the president has announced doesn't meet the standards that the best of his nominees are meeting and that every president in the past four decades has met," OGE Director Walter Schaub said in remarks at the Brookings Institution, a Washington, D.C., think tank, on Wednesday afternoon. "Having Trump's adult children lead the operational control of his business, while he still retains full ownership, is not an acceptable solution," chimed in Trevor Potter, president of the Campaign Legal Center, a group that advocates for limiting money's influence in politics. Trump, critics have pointed out, is intimately aware of his business dealings and ownership stakes, and as president he will be in a position to make policy decisions that have a direct effect on their bottom lines.
OGE officials were in touch with Trump staffers months before the election, and then, after he won, were proactive about trying to connect with the president-elect's advisers, according to emails the office released last week as part of a Freedom of Information Act request from news outlets. The Trump transition team was not always responsive. In addition to more mundane tasks like training Trump staffers to submit required public disclosures for their Cabinet nominees, the office's leaders also encouraged the transition staffers to consult with them on nominees' financial disclosures and to help them set up blind trusts. "Our goal is to help you by preventing problems before they arise," Schaub wrote the Trump team on November 18. "I will consider OGE successful if we get the new administration off to a great start, wholly free of conflicts of interest."
Schaub also wrote a series of tweets, published on OGE's account, on November 30 urging Trump to divest. "Divestiture is good for you, good for America!" read one. But they also seemed to suggest that the president-elect was, in fact, planning to divest, which proved overly optimistic.
On Wednesday, Trump tax attorney Sheri Dillon argued it was neither fair nor practical to expect Trump to sell off the company. "Selling his assets without the rights to the brand would greatly diminish the value of the assets and create a fire sale," she said at the press conference. "President-elect Trump should not be expected to destroy the company he built." Both Dillon and Trump pointed out that federal conflict-of-interest laws don't apply to the president.
Those laws do apply to Cabinet appointees and other federal officials, but even here the enforcement mechanisms are not airtight. The OGE and agency ethics officials have little in the way of investigation powers and no role in enforcement. That falls to an agency's inspector general, the Department of Justice or Congress. Inspector generals have normally been more focused on rooting out waste and fraud than enforcing agency ethics. "My sense is that, in general, they are not super active in that area because it's usually taken care of elsewhere," says Bookbinder. "But I can imagine a situation where there appear to be widespread abuses and no one else stepping up where you find inspectors general being a whole lot more interested in these issues than they otherwise would be."
It's an open question whether a Trump Department of Justice will pursue conflict-of-interest issues in the next four years. At his confirmation hearing Tuesday, attorney general nominee Jeff Sessions refused to endorse Democratic proposals for a special prosecutor to investigate any potential Trump conflicts of interest that arise, saying he would have to examine the issue if and when it comes up. The Republican-controlled Congress, meanwhile, has shown little early interest in investigating ethics concerns that have arisen regarding Trump, his family and his political appointees' extensive business interests. And they have sought to buck other ethics safeguards.
For example, Congress traditionally has not scheduled hearings for Cabinet nominees until their required disclosures were submitted and certified as compliant by the OGE. But the Republican Senate scheduled several confirmation hearings this week for Trump nominees whose disclosures were not certified. Legally, that is allowed: The Ethics in Government Act of 1978 requires Cabinet nominees to file those forms, but since Trump has not yet been sworn in as president, his nominees are not technically nominees in the eyes of the law. Still, it broke with precedent and sparked an outcry among Democratic senators and the OGE. "This schedule has created undue pressure on OGE's staff and agency ethics officials to rush through these important reviews," Schaub wrote in a letter to Senate Democrats released last Friday. "More significantly, it has left some of the nominees with potentially unknown or unresolved ethics issues."
In this case, the pushback appears to have had an impact. The Senate has since delayed three of the confirmation hearings, including for two nominees—Betsy DeVos (education secretary) and Wilbur Ross (commerce secretary)—whose ethics reviews are still pending. Congressional Republicans also backed down earlier this month after their plan to gut the Office of Congressional Ethics's enforcement powers elicited a storm of criticism. Watchdog groups say that in the face of a resistant government, this kind of scrutiny remains one of their best weapons. " I think in the short term, public outcry or public shaming is probably the most effective tool," says Aaron Scherb, director of legislative affairs at the Common Cause, a good-government advocacy group.
But they are also looking into legal options if Congress, the Department of Justice or inspector general offices don't hold the Trump administration's feet to the fire. "If they don't, I think we and others will be looking to see if there are ways to enforce those [government ethics] laws from the outside," warns Bookbinder.