President Donald Trump has vowed to shut down the government if Democrats do not agree to include billions of dollars in funding for a border wall in the spending bill by the end of Friday.
If the shutdown does happen, it will be a partial one, because Congress has already allocated funds to about 75 percent of federal offices. Trump has previously signed legislation for nearly $900 billion of the $1.2 trillion total in operating expenses for the federal government. Even so, a partial shutdown would still affect hundreds of thousands of federal employees.
Government employees in departments considered essential would be required to work during the shutdown and would not be paid until the end of the shutdown or legislation gets passed for retroactive pay. That would pertain to about 420,000 workers, including those serving in the Department of Homeland Security—54,000 border patrol staff and 53,000 U.S. Immigration and Customs Enforcement workers.
The total figure includes more than 41,000 correctional and federal law enforcement officers serving with the Drug Enforcement Agency, the FBI, and the Bureau of Alcohol, Tobacco, Firearms and Explosives, according to Democrats on the Senate Appropriations Committee. The shutdown would also impact 53,000 Transportation Security Administration agents and 42,000 Coast Guard workers.
As many as 5,000 Forest Service firefighters and 3,600 National Weather Service forecasters will also keep working without paychecks.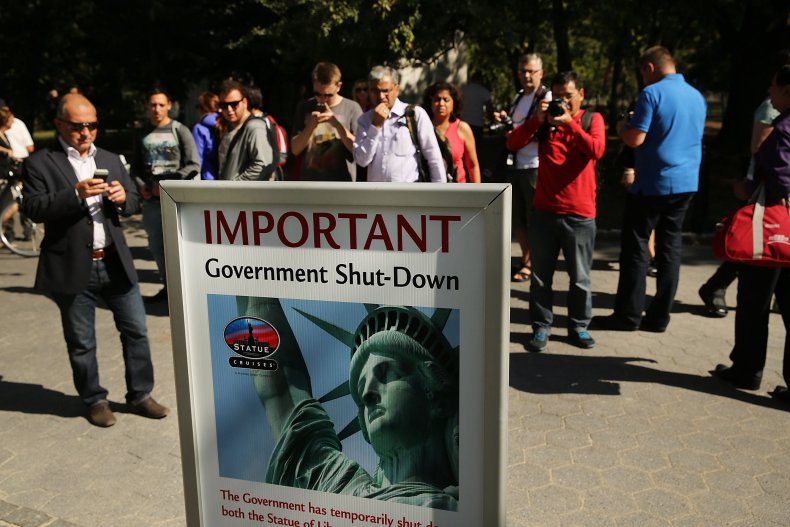 In addition, more than 380,000 employees would be given furloughs, or unpaid time off. Congress could pass legislation to compensate the employees for pay they were not given due to furloughs.
Republican Representative Mark Meadows—chairman of the House Freedom Caucus and a leading conservative encouraging Trump to hold fast to his demand for border wall funding—said Friday that working without compensation or getting a furlough is a risk that comes with serving the public.
"It's actually part of what you do when you sign up for any public service position," Meadows told reporters. "And it's not lost on me in terms of, you know, the potential hardship. At the same time, they know they would be required to work and even in preparation for a potential shutdown those groups within the agencies have been instructed to show up."
Meadows, who has been floated as a potential candidate for chief of staff to Trump, would still get paid in the event of a shutdown.
Trump has demanded $5 billion to construct the border wall and stated earlier this month he would be "proud" to shut government down if he does not get that. Congress has until midnight on Friday to approve spending bills for seven federal agencies or pass a stopgap measure to take a shutdown off the table for several months.