Trump Shutdown Threat Creates No-Win Situation for Republicans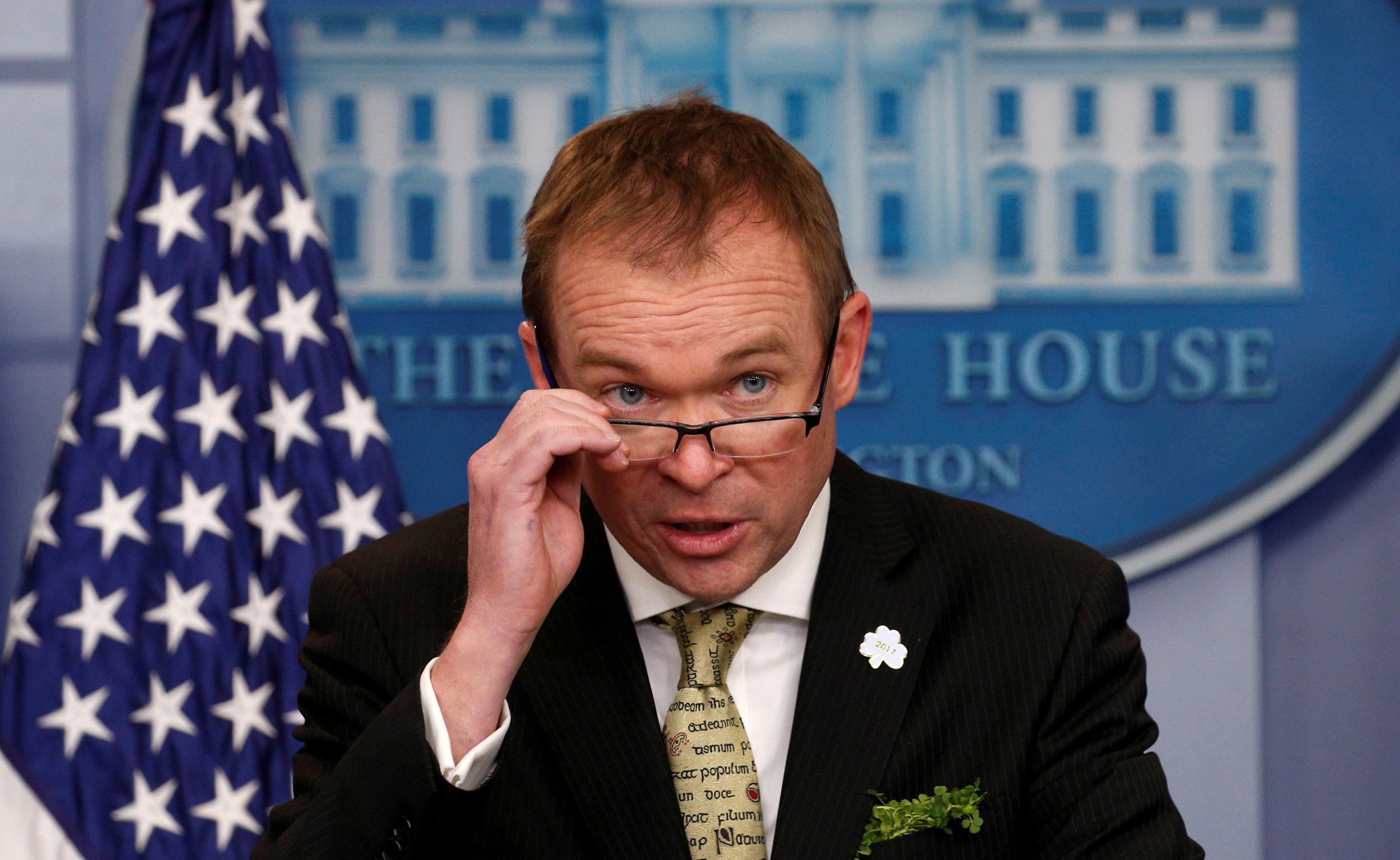 Republicans, Democrats and outside experts agree that there's little political logic to the Trump White House's threat to shut down the government this week because it insists that funding for a border wall be included in the budget. Yet that's exactly the scenario the White House appears to be entertaining as it holds a hard line on funding negotiations. In the process, the president and his budget team may be setting up Republicans for a bigger defeat than if they'd just gone along with a slimmer than desired spending bill in the first place.
An existing short-term government spending bill expires on Friday. It's not the first time a must-pass spending bill needed to keep the federal government up and running has been used as leverage by hard-liners who are looking to pursue controversial policies. As was the case with the two most recent government shutdowns—in 1995 and 2013—partisans are now playing a game of chicken, betting that the other side will cave and vote for a spending bill it doesn't like, rather than be blamed for the dysfunction. In the case of the previous shutdowns, however, neither side blinked.
Yet this time around, there's an important difference. Unlike 1995 and 2013, when a Republican-led Congress and Democratic presidents were in the White House, Republicans now hold all levers of power. So it will be much more difficult to point the finger at the other side if the government does shut down. "It's hard to escape blame when you have one-party control," says Sarah Binder, a George Washington University professor who is an expert on Congress. "The public gets that" Republicans are running the government, "even if typically they don't know the details."
Binder says the situation isn't entirely unprecedented. In the 1970s under President Carter, Democrats controlled both Congress and the White House and "stumbled into essentially what were a couple of shutdowns." Still, it's highly unusual. As the party in charge of Washington, Republicans "have an electoral incentive to show that they can govern."
Democrats, meanwhile, certainly have some leverage in these spending negotiations. Republicans need to win votes from eight of them to avoid a filibuster of the bill in the Senate. And House Republicans will potentially need Democratic votes, too, given that the most fiscally conservative members of their caucus are likely to vote against a spending compromise. To that end, senior Democratic aides say that talks between leaders of both parties in Congress have been proceeding on a proposal that would fund the government through fiscal year 2017 (which ends in September), while avoiding any divisive provisions on issues like abortion or a border wall.
The president and his top budget official, Office of Management and Budget Director Mick Mulvaney, are now threatening to upend those negotiations, however. As Mulvaney framed it in an interview with Bloomberg News on April 21, "We've finally boiled this negotiation down to something we want very badly that the Democrats really don't like and that's the border wall. At the same time, there's something they want very badly that we don't like very much, which are these cost-sharing reductions in the Obamacare payments." He expressed hope that this would be "the basis on which a negotiated resolution could be achieved." On Sunday, Mulvaney declined to rule out a government shutdown if the spending bill does not include wall funding, even though other White House officials have been trying to play down that possibility.
The problem for Mulvaney and the White House is that it's not just Democrats who "really don't like" the idea of a border wall with Mexico—which had been one of Trump's foremost campaign promises. Plenty of Republicans don't want to spend the billions of dollars that would be necessary to construct such a barrier, especially when most experts are skeptical that it would even have much impact on illegal-border crossings. As The Wall Street Journal reported on April 21, no member of Congress representing the Southwest border region—Democrat or Republican—supports Trump's 2017 request for $1.4 billion in border-wall funding. The border wall proposal is also unpopular among the general public. An Associated Press-NORC Center for Public Affairs Research poll released on April 6 found that 58 percent of Americans oppose the financing of a border wall, while 28 percent support the proposal. That's consistent with other public polling conducted in recent months.
To Patrick Griffin, an American University professor of government, risking a government shutdown on an issue like the border wall—one that lacks support from the public and even the White House's own party—"seems really masochistic." It would be a different debate if Trump was going to the mat over, say, defense spending, says Griffin, who was former President Clinton's director of legislative affairs during the 1995 government shutdown. Griffin doesn't think Republicans in Congress really want to pick a fight over a losing battle like border funding, an idea echoed by several Republican aides on Capitol Hill. Ultimately, that means Trump is likely to be faced with either vetoing a bipartisan- spending bill—and bearing sole responsibility for grinding the government to a halt—or giving in.
Democrats certainly don't seem at all inclined to back down, even as Mulvaney has tried to paint them as the intransigent ones. "We think we've given them a reasonable set of choices—things that they want in exchange for what we want. That's how it's supposed to work, and for some reason, we think this Democratic obstruction is not working," Mulvaney said Sunday on Fox News. Democratic leaders in Congress weren't having it. On NBC's Meet the Press on Sunday, House Minority Leader Nancy Pelosi was asked if there was any scenario in which Democrats would vote for a spending bill that included funding for a border wall, to which she replied, "The Democrats do not support the wall.… The Republicans have the votes in the House and the Senate and the White House to keep government open. The burden to keep it open is on the Republicans." Matt House, a spokesman for Senate Minority Leader Chuck Schumer, was even more emphatic in an April 21 statement: "The White House gambit to hold hostage health care for millions of Americans, in order to force American taxpayers to foot the bill for a wall that the president said would be paid for by Mexico, is a complete nonstarter."
For a party that does not control a single branch of government, Democrats suddenly find themselves in a powerful position. And they can thank the president, whose decision to stake the funding fight on a border wall has put the minority party "in the catbird seat," says Griffin—at least "for the moment."