As a government shutdown looms and a deal has yet to be struck between President Donald Trump and Democrats on Capitol Hill, lawmakers are spending a long weekend back home.
The Senate will not be in session again until Monday night and the House will reconvene Wednesday. Some lawmakers were seen Thursday evening leaving the Capitol in a rush as they headed to board flights back home to their districts.
If Congress fails to pass some sort of spending bill by midnight on Friday then a partial government shutdown will commence, causing hundreds of thousands to stay on the job without pay while many others will be sent home.
On December 6, Congress avoided a partial government shutdown by passing a two-week continuing resolution to fund the government. The temporary spending measure allowed Trump and Democrats to further negotiate a plan to fund the government for fiscal year 2019. Two government shutdowns have already occurred this year: One in January that lasted a few days and another in February that lasted just a few hours.
But there's been no signs thus far that Democrats and Republicans have had any further discussions on hashing out a deal since Tuesday's fiery, tense meeting in the Oval Office between Trump, House Minority Leader Nancy Pelosi and Senate Minority Leader Chuck Schumer.
The president is prepared to own a government shutdown, should one commence, saying during his meeting with Pelosi and Schumer that he'd be "proud to shut down the government for border security. Because the people of this country don't want criminals and people that have lots of problems and drugs pouring into our country, so I will take the mantle," Trump added.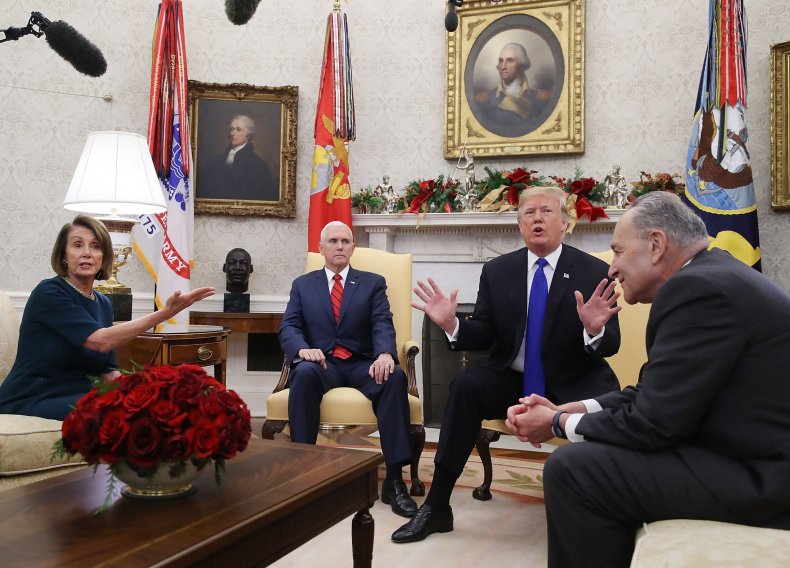 At the heart of the debate is funding for the president's long-promised border wall along the U.S.-Mexico border, a wall that then-candidate Trump pledged would be funded by Mexico. He is holding firm at demanding $5 billion worth of funding and Republicans in Congress have largely agreed to back that proposal.
But Democrats have said there is no way, no how that they're going to budge on funding Trump's border wall.
"Right now, Chuck [Schumer] and I are not in a negotiation [with Trump]. We're not going to provide $5 billion for the wall. We simply are not," Pelosi told reporters during her weekly press conference on Thursday. "It's really unfortunate that the president has decided he would shut down government at a time when the markets are in a mood, where people are losing their jobs in some industries, the auto industry is one."
Pelosi added that she had not spoken with the president since he called on Tuesday shortly after their Oval Office meeting.
Here's what a partial government shutdown would mean and who the hundreds of thousands of government employees are who would have to forgo paychecks during the holiday season.
Essential Personnel
More than 400,000 government employees classified as "essential personnel," such as U.S. Secret Service agents, Transportation Security Administration agents, Department of Homeland Security employees (which includes border patrol and immigration agents), most of the Department of Justice, air traffic controllers and the U.S. Postal Service employees would have to remain on the job without pay. Once the government is reopened, lawmakers will have to pass a measure to pay them retroactively, a practice that is typically not political and is done so without hesitation.
Lawmakers have already funded most of the government in a series of five bills, which includes funding for the Departments of Defense, Labor, Education, Energy, Veterans Affairs and Health and Human Services, and funding for the legislative branch.
Non-essential Personnel
Those deemed not critical to the operation of government, such as NASA, most of the Environmental Protection Agency, national parks and monuments, most of the National Transportation Safety Board, the Department of Agriculture and the Food and Drug Administration will be sent home. Similar to the essential personnel employees, non-essential employees will also receive backpay for their furlough.
Lawmakers have not yet passed funding for the Departments of Commerce, Agriculture, Interior, Justice, State, Transportation, Homeland Security, and Housing and Urban Development.
Correction: A previous version of this story incorrectly said "Federal Drug Administration" rather than "Food and Drug Administration."