Trump Potentially Using Government Shutdown as 'Diversion Away From Impeachment' is 'Very Worrisome,' Schumer Says
As President Donald Trump's impeachment inquiry progresses, Senate Minority leader Chuck Schumer admitted concern that Trump could cause a government shutdown as "a diversion away from impeachment."
"I'm increasingly worried that President Trump may want to shut down the government again because of impeachment, an impeachment inquiry. He always likes to create diversions," Schumer told reporters at a press conference on Tuesday.
"I hope and pray he won't want to cause another government shutdown,'cause it might be a diversion away from impeachment," the Democrat continued, "It's very worrisome to me."
Schumer has been fighting over government funding with Senate Majority Leader Mitch McConnell. While Democrats seek to remove Trump from office, Schumer is concerned that the president would reject a short-term spending bill.
Though Republicans say there will not be a government shutdown, the situation is similar to last December, when Trump shut down the government because Democrats would not allocate funding for his border wall. The 35-day shutdown was the longest in U.S. history.
The government is funded through November 21, and could shut down the following day without action from the White House or lawmakers.
Schumer opined that if Congress members were "left to our own devices," they "could work out an agreement to quickly fund the government."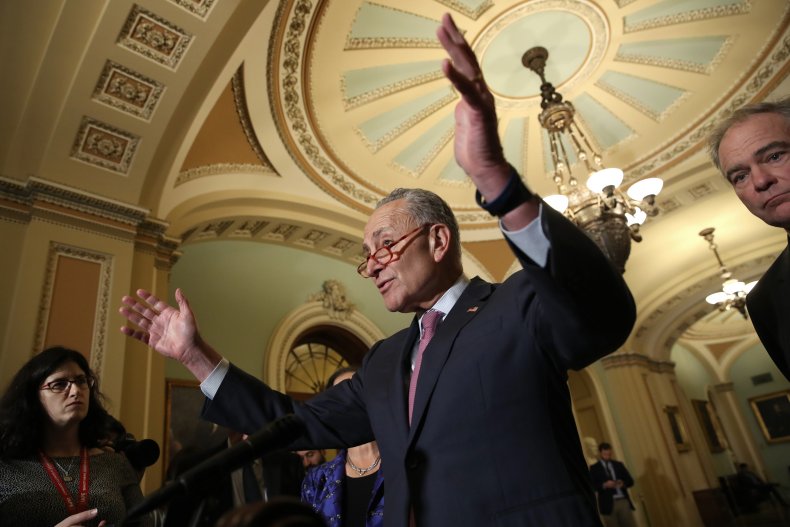 The minority leader said that Senate Democrats plan to reject a defense funding bill over levels of spending, a matter that McConnell took issue with on Tuesday.
"There's no small amount of irony associated with the fact the president is apparently being impeached over in the House for holding up aid to Ukraine," McConnell said, "And at the same time Democrats are going to filibuster the defense bill which would provide for the assistance to Ukraine."
Schumer said that McConnell "knows the truth, which is simply that unless you have a bipartisan negotiation on the appropriations bills, then nothing will happen."
The minority leader expressed hope that "our Republican friends, many of whom, because of cuts in defense, will realize now that it's time to negotiate."
White House Legislative Affairs Director Eric Ueland on Tuesday would not deny that there could be a shutdown.
"In terms of a shutdown, obviously there are many weeks between now and November 21, so we'll take it each day as it comes," Ueland said.
Trump on Tuesday morning blasted Democrats in relation to his impeachment inquiry.
"The Do Nothing Democrats are working hard to make everyone forget the Best Economy Ever, the monumental weekend raid, Tax Cuts, the Rebuilding of our Military, etc.," Trump tweeted. "The Impeachment Hoax is a disgrace."