President Donald Trump has been widely criticized for suggesting Jewish Americans who vote for the Democrats show either a "total lack of knowledge or great disloyalty."
Trump was condemned for the remarks he made in the Oval Office which critics say used the anti-Semitic trope of Jewish Americans having dual loyalty to the U.S. and Israel.
The remarks were made while the president was discussing Democratic congresswomen Ilhan Omar and Rashida Tlaib, whom the president has accused of anti-Semitism in the past.
Trump recently urged Israel to block the pair from entering the occupied West Bank and East Jerusalem following their criticism of the country. Tlaib, a Palestinian-American, was later granted permission to visit her grandmother in the West Bank, but declined the opportunity.
"Where has the Democratic Party gone? Where have they gone where they are defending these two people over the state of Israel?" Trump said. "I think any Jewish people that vote for a Democrat, I think it shows either a total lack of knowledge or great disloyalty."
Following the comments, tens of thousands of social media users condemned the president using the #DisloyalToTrump hashtag on Twitter. Many were Jewish people who accused Trump of being responsible for a rise of hate crime attacks and other anti-Semitic and racist incidents since he took office because of his rhetoric.
"As American Jews, we are proudly disloyal to President Trump and the white nationalism he enables and emboldens," Jewish political advocacy group Bend the Arc tweeted. "We know exactly who he is and what he stands for—and we reject it. His presidency and his party are marked by bigotry and fascism. We'll keep fighting against it."
Actress Rebecca Metz wrote: "I am an American Jew whose loyalty is exactly where it belongs—with the people of every race, religion, orientation, and ability who stand against white supremacy in all its forms."
Jon Cooper, chairman of the Democratic Coalition Against Trump, said: "I'm an American Jew and an American patriot, and I'm proudly disloyal to Trump."
Referencing the 2016 election, Rep. Omar added: "The popular vote was #DisloyalToTrump."
The Democratic Majority for Israel also condemned Trump's disloyalty comments, suggesting such language could lead to violence against Jewish people.
"Donald Trump has now attacked three quarters of American Jews who dare to disagree with him politically using one of the most dangerous, deadly accusations Jews have faced over the years," Co-Chair Ann Lewis and President and CEO Mark Mellman said in a statement.
"False charges of disloyalty over the centuries have led to Jews being murdered, jailed and tortured. This kind of cruel rhetoric inflames antisemitic passions and can lead to violence."
The Jewish Democratic Council of America Executive Director Halie Soifer said: "President Trump's repeating of anti-Semitic tropes, emboldening of hate groups, and use of anti-Semitism for political purposes have made us all less secure. Today's remarks are yet another example of Trump continuing to weaponize and politicize anti-Semitism for his own perceived political gain, and it won't work."
The graphic below, provided by Statista, illustrates the rise in anti-Semitic incidents in the U.S. from 2015-2017.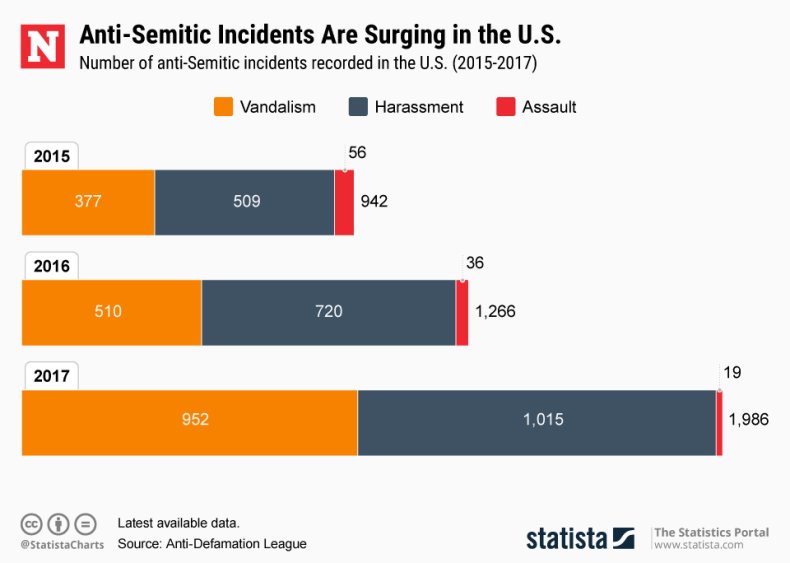 The Republican Jewish Coalition did defend Trump, arguing that the president was describing people being disloyal to themselves rather than Israel.
"President Trump is right, it shows a great deal of disloyalty to oneself to defend a party that protects/emboldens people that hate you for your religion," the group tweeted. "The @GOP, when rarely confronted w/anti-Semitism of elected members always acts swiftly and decisively to punish and remove."
This article was updated to include an infographic.