Trump Greets Supporters Gathered Outside Hospital Treating Him for COVID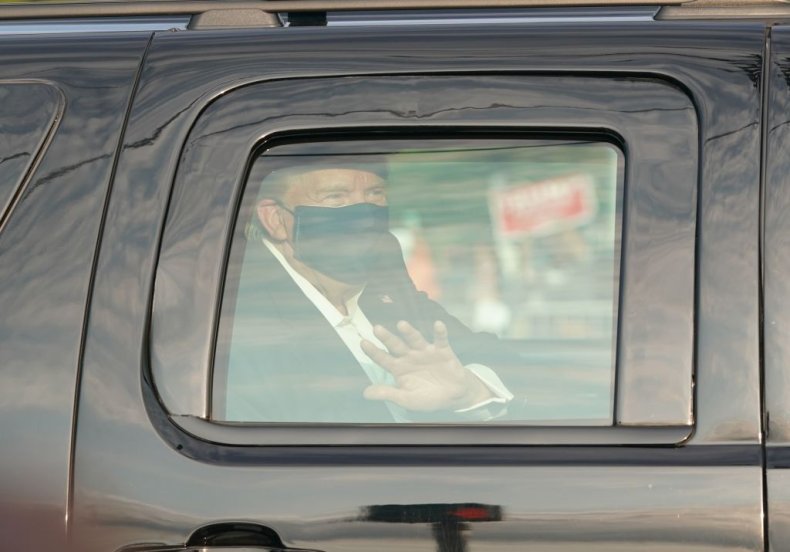 Two days after being admitted to Walter Reed National Military Medical Center for treatment of COVID-19, President Donald Trump surprisingly made a quick departure to greet his supporters.
On Sunday afternoon, Trump rode in a black Chevrolet Suburban and waved from the backseat. He was shown wearing a mask over his face.
Footage of the president riding in the vehicle and waving at supporters was only brief, and it's unclear if it was just a lap around the block to thank his supporters before returning to the hospital. He went back to the presidential suite at Walter Reed after being outside the facility for about 15 minutes.
Trump appeared to be the only person in the backseat. The driver and another front-seat passenger—perhaps Secret Service—were both seen wearing masks.
Supporters can be seen in the background holding signs and waving at the president as he rolled past them with the vehicle's windows up. Trump waved and then gave a thumb's up gesture before the video turned off.
Trump's temporary departure from the hospital came less than half an hour after he posted a video of himself thanking all of his supporters. In his message, the president said there had been "many great reports from the doctors" at Walter Reed.
"The work they do is just absolutely amazing, and I want to thank them all. The nurses, the doctors, everybody here," Trump said, shown wearing a white dress shirt, blue blazer and no tie from inside the hospital. It's the same attire seen in his motorcade.
The president said he has also met with some of the soldiers, first responders and other people inside the hospital.
"I also think we're going to pay a little surprise to some of the great patriots that we have out on the street, and they've been out there for a long time, and they've got Trump flags and they love our country.
"When I look at the enthusiasm...we have more enthusiasm than anybody," Trump said. "It's been an interesting journey. I've learned a lot about COVID. I learned it by really going to school. This is the real school. This isn't the 'let's read the book school.' And I get it. I understand it."
Dr. James P. Phillips, the chief of disaster medicine at George Washington University Emergency Medicine and an attending physician at Walter Reed, said the president put his Secret Service agents in danger of catching COVID as a result of the motorcade, and now they will have to quarantine for 14 days.
"Every single person in the vehicle during that completely unnecessary Presidential "drive-by" just now has to be quarantined for 14 days. They might get sick. They may die. For political theater. Commanded by Trump to put their lives at risk for theater. This is insanity," Phillips tweeted.
The president had tweeted late Thursday night that he and first lady Melania Trump had both tested positive for the coronavirus. On Friday afternoon, he was flown to from the White House to Walter Reed for further observation.
Although the president was first "fatigued" and in good spirits, he kept his social media lines open throughout the weekend, saying on Saturday he felt much better. Hours earlier during a press conference, a member of his medical team said that Trump could be out of the hospital as early as Monday if things go well.
"Today he feels well, he's been up and around and our plan for today is to have him eat and drink and be up out of bed as much as possible and mobile. And if he continues to look and feel as good as he does today, our hope is that we can plan for a discharge as early as tomorrow to the White House where he can continue his treatment course," Dr. Brian Garibaldi said.
The medical team, which includes White House physician Dr. Sean Conley, explained that Trump's blood oxygen level dropped once on Friday and another time on Saturday. The president received dexamethasone, an anti-inflammatory corticosteroid. His cardiac, kidney and liver function remain healthy, according to the briefing.
In a memo released the night before, Conley wrote: "While not yet out of the woods, the team remains cautiously optimistic. The plan for tomorrow is to continue observation in between doses of Remdesivir, closely monitoring his clinical status while fully supporting his conduct of Presidential duties."
Meanwhile, the president earlier on Sunday expressed his gratitude to his supporters who gathered outside of Walter Reed. "I really appreciate all of the fans and supporters outside of the hospital. The fact is, they really love our Country and are seeing how we are MAKING IT GREATER THAN EVER BEFORE!" he tweeted.
Updated 8:21 PM ET, with additional information.