Trump Gun Crafted by Reality TV Star Welder Jesse James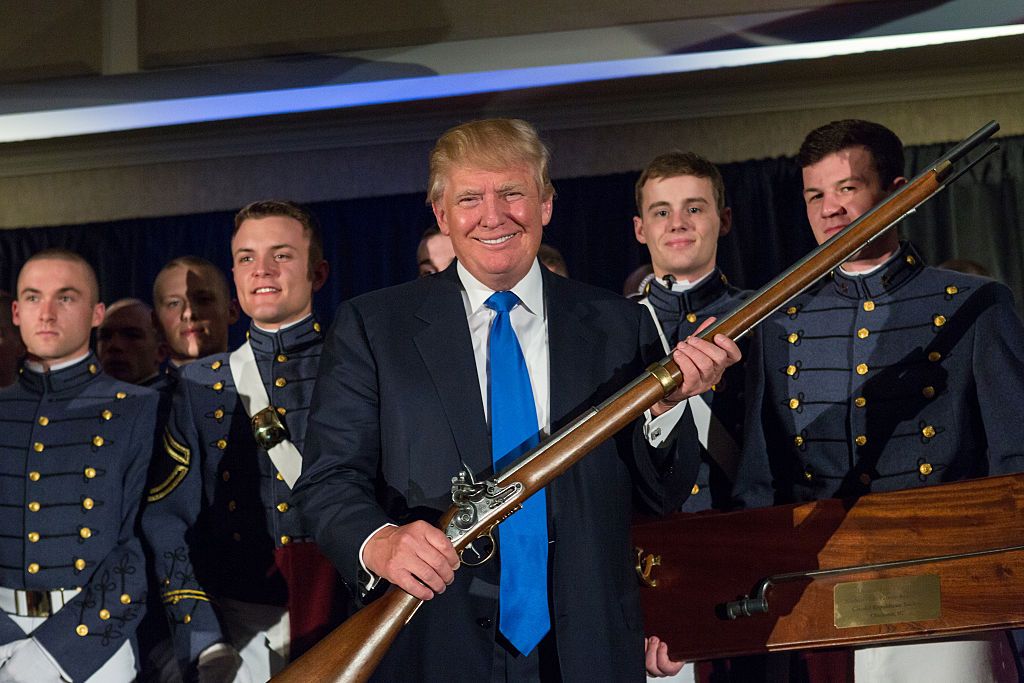 A welder and reality television star best known for customizing motorcycles and hosting the reality show Monster Garage has crafted a customized .45 caliber pistol that he's hoping to sell to President Donald Trump.
"I think it's pretty much the Law. If you build guns and your friend becomes President. You build him a Badass gun!" wrote Jesse James, who also appeared on the second season of Trump's The Celebrity Apprentice, on Instagram Thursday.
James got to know Trump during taping of the show and placed third in the contest after being eliminated in the second-to-last episode that aired in May 2009.
"Build that wall" is written on the pistol muzzle facing anyone its aimed at.
The "Build the wall!" slogan became a staple of Trump's campaign events during the 2016 election, underscoring his tough immigration policies. Trump is currently seeking money from Congress to begin building more physical barrier on the southern border.
"Dirty Harry always had that long .44 Magnum. So it seemed kinda obvious that we should do a .45 caliber since he's the 45th president, right?" James told the men's magazine Maxim in an interview that appeared Thursday.
The .45 caliber ammunition was first standardized in 1872 by the Colt Patent Firearms Manufacturing Company. The pistol has 24-karat gold plating and is relief engraved.
Read more: Plot to kill Trump foiled: Utah man charged with threatening mass shooting against president, police and moviegoers
In the interview James explained why he doesn't want to just give the gun to Trump but rather sell it to him instead.
"I could sell it to him so he could own it," James said. "A couple friends of mine that are governors want me to take it to the White House and present it to him as like, a formal thing. I mean, I guess that would be cool, but then it becomes property of the people and it'll go to the [Presidential] Library when he's not president anymore, which I guess is cool for the gun because it'll be on display, but I kinda think he should keep it and shoot it, because it's an awesome gun."
James, who founded the West Coast Choppers custom motorcycle shop in 1992, said that he began making guns after moving to Texas eight years ago. He first took apart a weapon that he bought and re-welded and machined custom parts for it.
Besides us being friends and me building guns for a living, as soon as I knew he was gonna win, I was like, "Oh, I'm gonna build him a gun." I wanted to really do something special. Even without the presidency, I wanted to do something that was a little on the flamboyant side.
Trump is not known for owning weapons, but following several mass shootings—including the deadliest in U.S. history in Las Vegas last October—he has sided firmly against gun control measures.
"I think that mental health is your problem here," Trump told reporters last November following a shooting spree inside a Texas church that left 26 dead, including many women and children.
"This isn't a guns situation," Trump continued. "I mean, we could go into it, but it's a little bit soon to go into it. But fortunately, somebody else had a gun that was shooting in the opposite direction, otherwise it would have been—as bad it was—it would have been much worse."
Following the massacre in Las Vegas that left 58 dead and 546 injured last October, Trump said he would look at restricting devices called bump stocks, which allow high-powered semi-automatic rifles to be modified to perform almost like fully-automatic weapons, after one was used to carry out the attack. Fully-automatic weapons are restricted by law.
There is no evidence he has yet followed through with a look at gun laws he proposed in the wake of the Las Vegas shooting.