Trump Gun Slump: Sales Plummet as Americans Don't Buy Gun Control Threats
Consumer demand for guns is plummeting because Americans are no longer scared that the president will take away their guns.
American Outdoor Brands Corp, maker of Smith & Wesson firearms, has said demand is falling to "new, lower levels," after years of increasing sales under President Barack Obama, Bloomberg reported.
The company recorded a 32.6 percent drop in net sales compared with last year, while its rivals have also been struggling. In February, 200-year-old gun maker Remington filed for bankruptcy, beset by reduced sales and ongoing lawsuits linked to the Sandy Hook Elementary School Massacre, during which shooter Adam Lanza used one of the company's weapons.
In light of the new figures, American Outdoor Brands lowered its annual sales target by $63.5 million, to $599 million.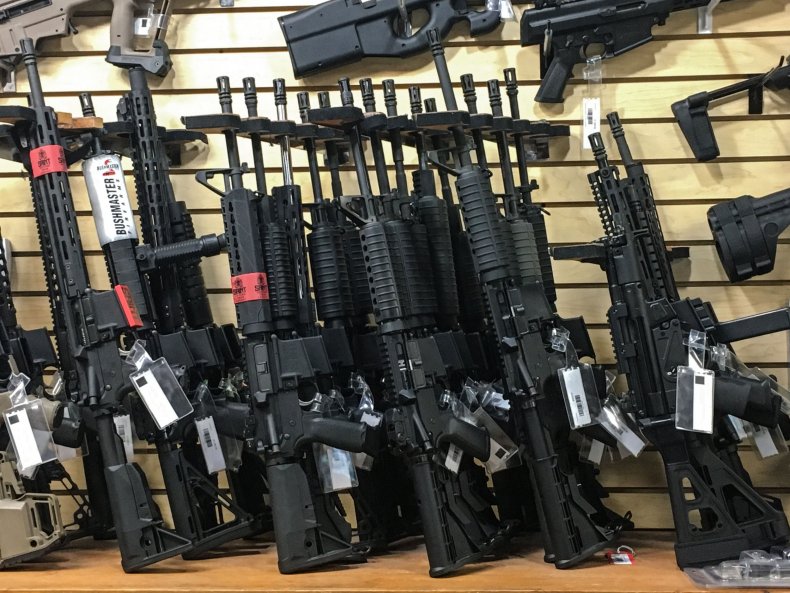 In December, company CEO Jack Debney warned that "fear-based buying" was no longer buoying the market under Trump. Falling demand was forcing gun makers to discount heavily. Despite events such as 2017's Black Friday, which set a record of 203,000 background checks in one day, sales remain subdued.
FBI firearm background checks are used as a proxy for national gun sales. The number of checks performed have increased in 13 of the last 14 years, reaching a record 27,538,673 in 2016. This fell 8.4 percent to 25,235,215 in 2017.
The falling trend looks likely to continue this year. The number of checks in January 2018 was 2,030,530, down from 2,043,184 in January 2017.
The U.S. has the highest gun ownership rate in the world, with 101 guns for every 100 Americans. Although gun sales rose consistently during the Obama years, most of these sales were to existing owners, reacting to his appeals for more stringent laws after several mass shootings during his time in the White House.
Gun ownership in the U.S. is highly concentrated. Only around 30 percent of Americans say they own a firearm, but 66 percent of owners have more than one. Of these multiple gun owners, 29 percent own more than five guns. Just 3 percent of Americans own 133 million guns between them.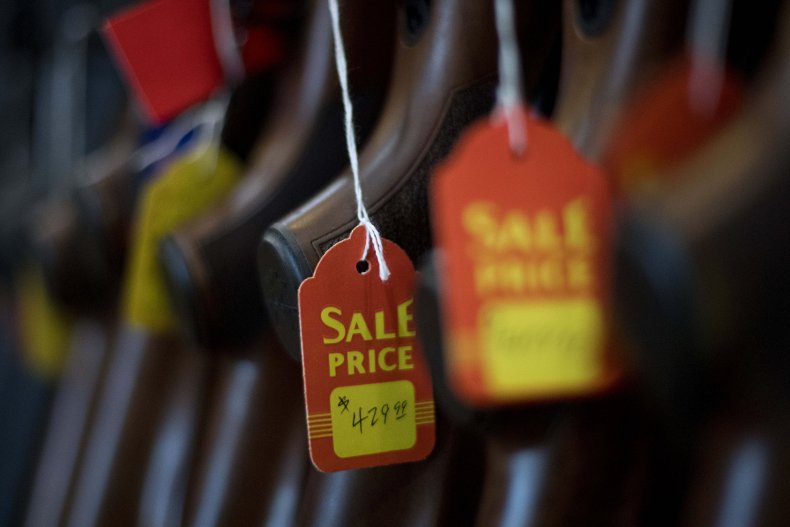 Gun enthusiasts' confidence in a Republican president may yet turn out to be misplaced. During his presidential campaign, he assured voters, "I love the Second Amendment." However, his stance on gun control—if he had one—might have changed.
This week, Trump stunned his party and the National Rifle Association (NRA) gun lobby by coming out in favor of tighter gun controls. At one point, he even suggested that authorities should be able to "Take the guns first, follow due process second," when disarming people considered to be a threat, such as those with mental health issues.
Trump has been considering gun law reform following the February 14 Marjory Stoneman Douglas High School shooting in Parkland, Florida, that killed 17 people.
The NRA has come under considerable public pressure for the influence its lobbying has cultivated in Washington, D.C. The NRA spent $5,122,000 on its lobbying efforts in 2017, the highest ever annual total.
Several large companies have severed their ties with the organisation following the Florida tragedy, and large gun retailers have been taking assault-style rifles off their shelves.