Trump Hails 'Great Jobs Numbers,' but Permanent Unemployment Is Rising
President Donald Trump has celebrated "great jobs numbers" after U.S. employment rose by 1.4 million in August and the jobless rate fell below 10 percent. But underlying figures show the number of permanent layoffs climbed by more than half a million.
Releasing the jobs report for August earlier today, the Bureau of Labor Statistics revealed that the unemployment rate fell to 8.4 percent last month, down from a pandemic peak of 14.7 percent in April.
The federal agency also found there had been "notable job gains" in the retail, leisure, and hospitality sectors, among others, thanks to the relaxing of lockdown restrictions and resumption of economic activity. A boost to government hiring was further found to have supported the rise in employment numbers.
Reacting to the report, President Trump celebrated the boost to employment, claiming the report turned out better than anticipated.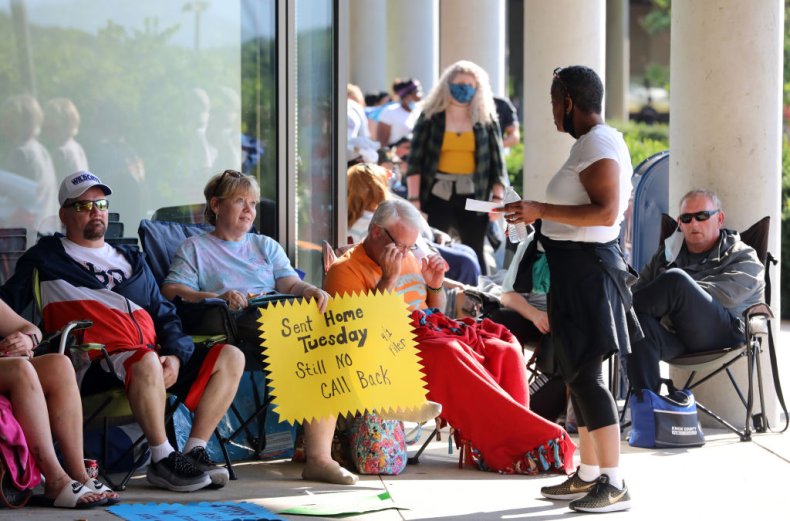 "Great Jobs Numbers! 1.37 Million Jobs Added In August. Unemployment Rate Falls To 8.4% (Wow, much better than expected!)," he tweeted. "Broke the 10% level faster and deeper than thought possible."
But beneath the positive topline numbers in the new Bureau of Labor Statistics report, the agency said the number of "permanent job losers" rose by 534,000 in August. This took the national total to 3.4 million, or an increase of 1.3 million from February this year.
The bureau added that the number of people reentering the U.S. workforce dropped by 263,000 last month to 2.1 million. Labor force re-entrants are Americans who have previous work experience, but were unemployed when they began their hunt for a new job.
"It is clear that the pain is nowhere near over for millions of workers and their families across the country," Economic Policy Institute senior economist Elise Gould said in a statement on the report.
"This Labor Day, we will hear a lot of rhetoric from policymakers about helping workers, but it is important that they take real action that will help working people in this recovery."
Mark Hamrick, a senior economic analyst at Bankrate.com, had a similarly cautious reaction to the latest unemployment data.
"The job market broadly is something like a whirlpool, where beneath the surface there are swift cross-currents including job loss," he said. "Many of the recent large company announcements regarding furloughs and job cuts have yet to hit, indicating that the economy continues to face challenges in the months to come."
Newsweek has contacted the White House for comment and will update this article with any response.