Trump Hails 'Terrific Relationship' With Kim Jong Un, Says Meeting Went 'Better Than Anybody Could Have Expected'
President Donald Trump has spoken positively about his meeting with North Korean leader Kim Jong Un, commenting it was his "honor" to say he believed the pair would have a "terrific relationship."
The leaders met Tuesday for a historic summit that Trump had touted in recent weeks as a chance for the pair to get to know one another.
"I feel really great," Trump said as he sat with Kim.
"We're going to have a great discussion and I think tremendous success. We're going to be tremendously successful, and it's my honor, and we will have a terrific relationship," he added.
And speaking several hours into their meeting, Trump said it had been: "A really fantastic meeting. A lot of progress. Really very positive. I think better than anybody could have expected. Top of the line. Really good."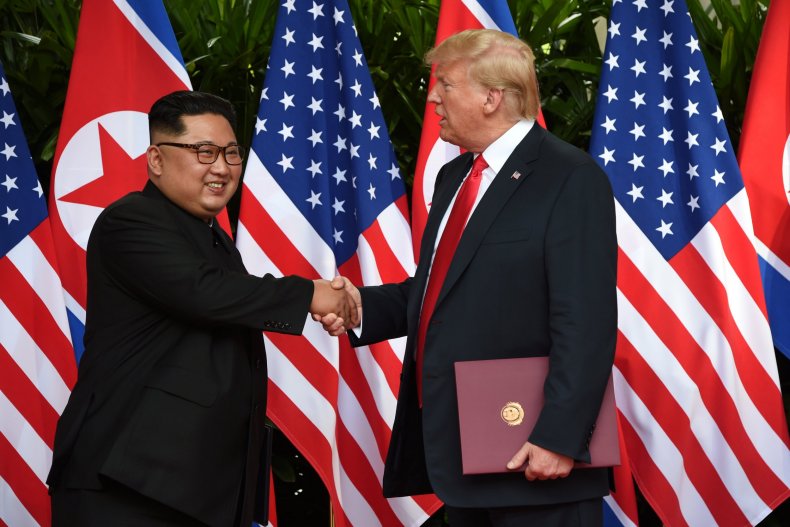 And for his part, Kim, speaking via a translator, said he believed he and Trump had overcome past obstacles, The Hill reported.
"The old prejudices and practices worked as obstacles on our way forward, but we've overcome all of them, and we are here today," he said, after which the pair shook hands and Trump gave his famous thumbs-up to the cameras.
It was not clear from the outset whether the leaders would get on well when they met, with Trump issuing a stark warning to Kim ahead of the meeting that this was a one-time shot for North Korea to engage in talks.
"I feel that Kim Jong Un wants to do something great for his people and he has that opportunity," NBC News reported Trump saying at a press conference in Canada at the weekend, prior to his departure for Singapore.
"He won't have that opportunity again," the U.S. president added.
In Pictures: Key Moments in North Korea-U.S. Relations
The president had also commented that he would know within minutes of meeting Kim whether or not North Korea was serious about scrapping nuclear weapons.
But Kim did not respond to press questions on whether he would give up nuclear weapons, Mediaite reported, while President Trump stated he looked forward to lifting sanctions on the isolated nation.
"The sanctions will come off when we are sure the nukes are no longer a factor," The Guardian reported Trump saying.