President Donald Trump on Tuesday announced that the U.S. government would suspend funding for the World Health Organization while his administration conducts a review to determine whether the organization "covered up" the initial spread of COVID-19.
Trump, who on January 24 praised Chinese President Xi Jinping for his government's "efforts and transparency" in containing SARS-CoV-2 and claimed that "it will all work out well" because of Xi's efforts, said the U.S. would be suspending funding to the organization because officials opposed the partial travel ban he imposed on foreign nationals coming from China in late January, and because WHO officials "defended the actions of the Chinese government even praising China for its so called transparency."
Since taking office, Trump has regularly railed against international, multilateral organizations in which the United States is treated the same as other large countries, particularly China. In the case of the WHO, Trump claimed that the U.S. was "not treated fairly" because the group is "very China-centric" and took the word of Chinese officials who, in December, said there was no evidence that SARS-CoV-2 could be transmitted between people.
"The world depends on the WHO to work with countries to ensure that accurate information about international health threats is shared in a timely manner," Trump said during the White House Coronavirus Task Force's daily briefing. He added that the organization "must be held accountable" if it did not "independently tell the truth about what is happening."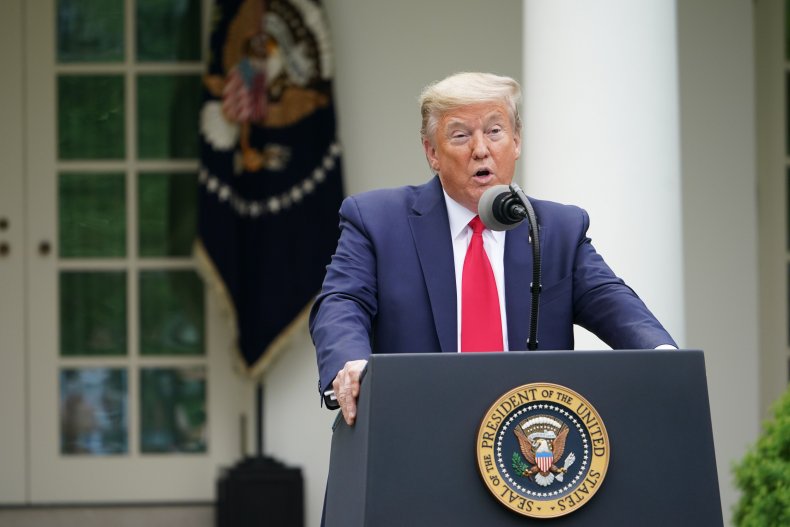 While the U.S. has given the WHO approximately $58 million so far this year, Trump said the group's handling of COVID-19 has raised "deep concerns" over "whether America's generosity has been put to the best use possible, and accused it of failing to "adequately obtain vet and share information in a timely and transparent fashion."
Trump said the WHO's opposition to the use of travel restrictions to fight COVID-19—a view shared by many epidemiologists—"one of the most dangerous and costly decisions" the group's leadership has made.
When confronted on his previous statements praising China and Mr. Xi for the same things he criticized the WHO for saying about China, Trump said he had been "respectful" because of his desire to complete a trade deal with China. He then repeated a frequently-made false claim that China is paying "billions of dollars" in tariffs, despite the fact that tariffs are taxes paid by American companies and consumers.
Pressed further on the matter, he denied having praised Xi or China for being transparent and claimed to have been "the only leader of a country" to have "closed our borders tightly against China," despite the fact that his travel restrictions had 11 separate exemptions and according to The New York Times, have permitted over 40,000 people to enter the country from China since they were imposed.