Sean Hannity says Savannah Guthrie was 'Joe Biden's Surrogate' in Trump Town Hall 'Ambush'
Fox News host Sean Hannity accused the chair of Donald Trump's televised town hall of acting as Joe Biden's "surrogate," claiming the president had been "ambushed" when challenged over previous comments he made on the subject of white supremacy.
Trump appeared alone in Thursday night's town hall, moderated by Savannah Guthrie, a co-anchor of the NBC News Today show, after he refused to take part in a virtual debate with his Democratic rival following his coronavirus diagnosis.
In an often-fractious exchange with Guthrie, Trump was asked to clarify comments made during the first presidential debate when he dodged the chance to explicitly condemn white supremacy groups, simply telling members of one far-right organization—Proud Boys—to "stand back and stand by."
He was widely criticized for the move, which became a stand-out moment of the first debate, but has since condemned all white supremacist groups and did so again on Thursday evening.
When repeatedly pressed on the issue by Guthrie, Trump responded: "Here we go again, in fact my people came [and said] 'I'm sure they'll ask you the white supremacy question.'"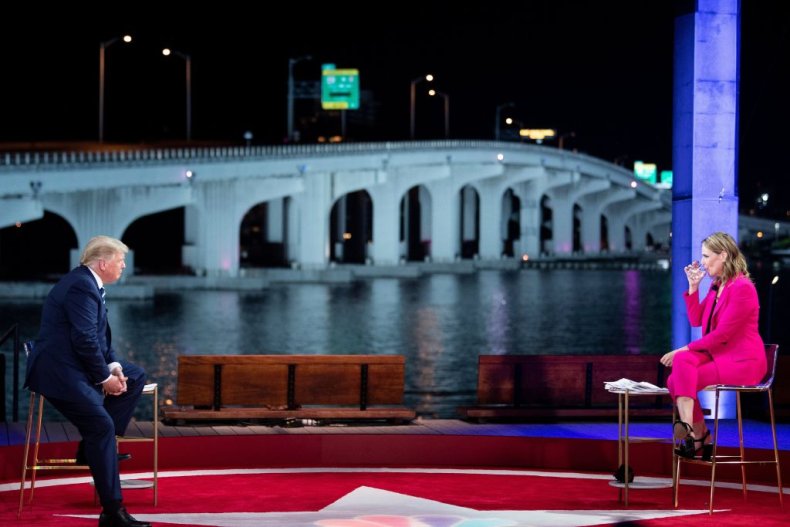 After the town hall had concluded, Hannity told viewers of his show: "NBC fake news did their best to just ambush President Trump.
"He pretty much just debated Savannah Guthrie and what we all witnessed was not journalism, it was a political debate with the morning host of the Today show serving as, well, Joe Biden's surrogate. And it didn't really work out well for her. Questions, topics, tactics, all reeking of nothing but pure political bias.
"The president was once again asked for the 400,000,000th time to repeat what he has said over and over again, to condemn white supremacy.
"Savannah, you need to get out of the New York, liberal, elitist, out of touch bubble that you're living in and maybe read some other news, or take a step outside the far left enclave that is conspiracy TV MSNBC DNC."
In a direct address to Guthrie, Hannity said: "President Trump has condemned white supremacy over and over and over and over again and if you didn't know, you should have known."
Newsweek approached NBC News for comment.
Having sought to quell anger over his earlier equivocal remarks about white supremacists, Trump sparked further controversy during Thursday's town hall when he avoided denouncing the QAnon conspiracy group, which claims Satan-worshipping pedophiles have infiltrated areas of the US government.
"Let me ask you about QAnon," Guthrie said. "It is this theory that Democrats are a satanic pedophile ring and that you are the savior of that. Now can you just once and for all state that that is completely not true and disavow QAnon in its entirety?"
"I know nothing about QAnon," Trump said. "I know nothing about it. I do know they are very much against pedophilia, they fight it very hard, but I know nothing about them."