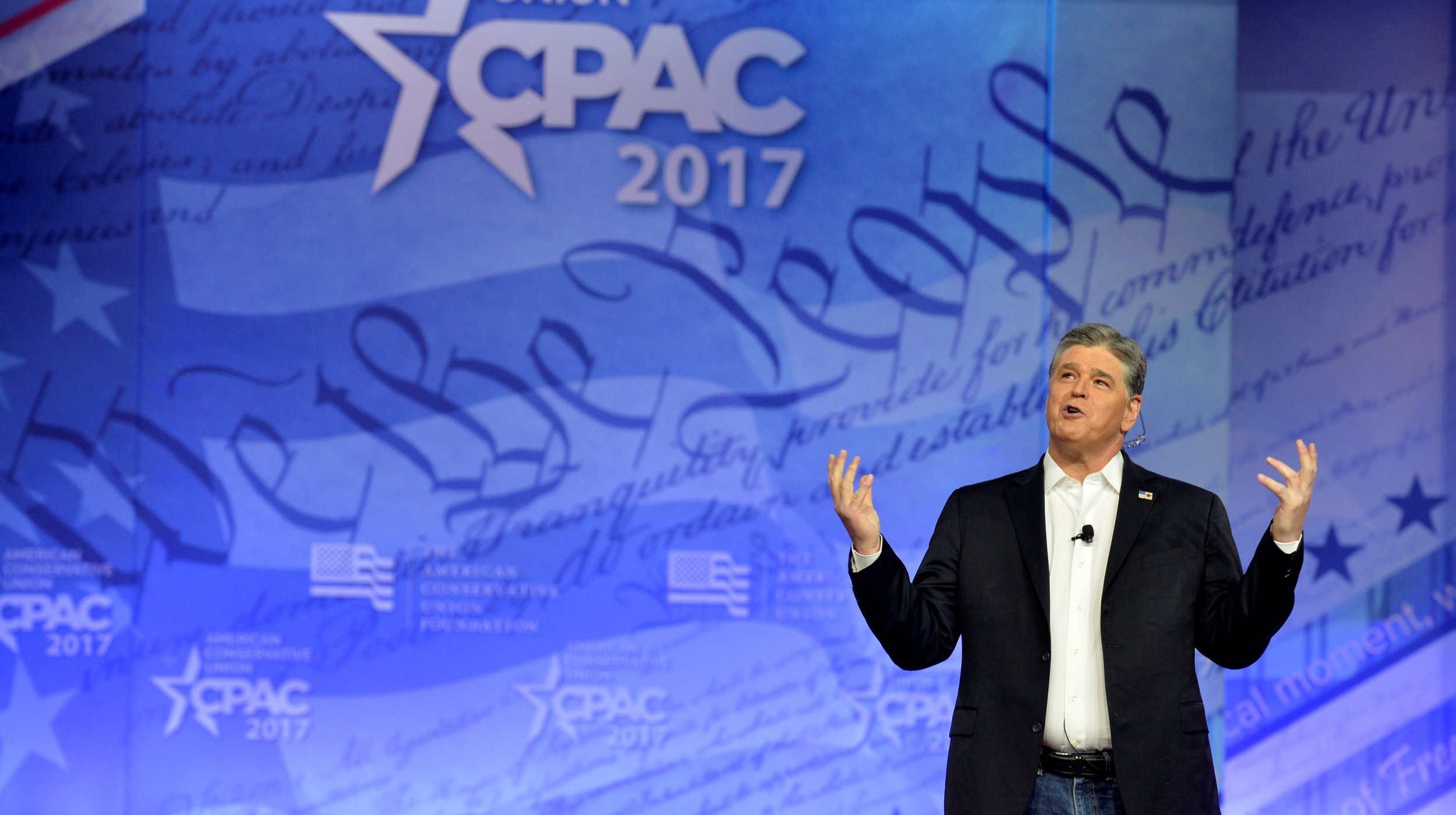 A number of conservative media outlets have stated the belief that President Donald Trump's administration is being subverted by the media and/or the intelligence community, reasoning each is bitter about Trump's victory in November.
Fox News anchor and host Sean Hannity went a step further on Tuesday night, suggesting a "soft coup" is taking place in the country. He claims it is being led by the mainstream media and the intelligence community, which he said are attempting to undermine the Republican Trump's agenda.
Hannity's accusations come only weeks after Fox News was forced to retract conspiracy claims about the murder of former North Carolina Democratic National Committee staffer Seth Rich.
During the monologue for his self-titled program, Hannity expounded on his theory with five points. First, he stated that top media outlets like The New York Times, The Washington Post, NBC News and many others are using "lies" to push the ongoing coverage of the Trump campaign's alleged links to Russia.
"Here in America, we are at a turning point tonight with forces now forming an alliance to try and remove President Trump from office, it's that serious," Hannity said, according to Media Matters. "Now, here are the five dangers we are facing, especially the president. One, you have the 'destroy Trump media' that has been lying to you now, provable lies for 11 months. Non-stop. Trump, Russia, collusion, black helicopter theories. No evidence whatsoever."
Hannity claimed the "deep state," a name often used for members of the intelligence community, and the military and other government agencies are leaking information about the president in order to damage him.
Third, Hannity suggested that Robert Mueller, the former FBI director and current special counsel leading the Justice Department's investigation into Russia's meddling in last year's election, is leading a "political witch hunt," as Trump has called it. Hannity called Mueller's probe, which has recently been in the headlines after some other top attorneys were hired and a meeting was held with members of the House of Representatives Intelligence Committee Tuesday, the "mission creep."
Hannity then turned to his fourth point, which he labeled "manufactured turmoil, putting President Trump's agenda in jeopardy." Though he didn't expand on that point, it is possible Hannity was referring to the numerous mishaps that have plagued the Trump administration, especially those following his tweets. A day after the Times published a report that Trump asked recently fired FBI Director James Comey for a loyalty pledge during a dinner in January, for example, Trump tweeted that Comey had "better hope" there were no tapes of their conversation.
Lastly, Hannity came full circle and linked the media's coverage of Trump to what he dubbed a "national security crisis," stating that major outlets had been "exposed" and "were nothing more than left-wing idealogues."
"This effort to override the will of the American people, change the results of a presidential election, is now creating a national security crisis," Hannity said. "America is now suffering from a massive informational crisis, because, I call them the 'destroy Trump media,' has routinely been exposed now. Agenda-driven, propagandist, more than happy to push, debunk tinfoil hat conspiracy theories."
Hannity's claims follow his self-made controversy from last month, when he pushed the conspiracy theory that DNC staffer Rich was murdered because of alleged ties to WikiLeaks. He doubled down on Twitter, saying that if true, it meant the Trump-Russia collusion story was false.
Fox News initially ran with the claim on May 16, but later retracted it after inaccuracies were discovered.