Trump Has Appointed 216 New Federal Judges and it Could Be 230 By Election Day
Since the start of his presidency, President Donald Trump has appointed at least 216 new federal judges to U.S. federal courts, and it could reach 230 by election day.
The Republican-led Senate has helped Trump appoint federal judges at a historic pace, and just this past week, six new judges nominated by Trump, were confirmed by the Senate. Among the six judges, three filled vacancies in Los Angeles courts, one filled a vacancy in San Diego and two were appointed to courts in the Southern District of Illinois.
Senate Majority Leader Mitch McConnell has pushed the upper chamber to approve nominations, and told The Hugh Hewitt Show in February, that his "motto for the year is 'leave no vacancy behind.'" On average, the Senate has approved 6.75 judges per month since the 116th Congress convened in January 2019. If that pace continues, an estimated 13 to 14 vacancies would be filled by November 3.
Trump has appointed far more federal judges than his predecessors. Data from Heritage.org shows former President Barack Obama appointed 158 federal judges among 188 nominees, while George W. Bush and Bill Clinton both appointed 203 judges, on 239 and 221 nominees, respectively.
When taking office in 2017, the president inherited 108 federal judicial vacancies -- the most of any incoming president since Clinton in 1992.
There are currently 68 Article III vacancies in the federal judiciary system among 870 total Article III judge seats, according to BallotPedia, while there are 74 vacancies among non-Article III judges from the U.S. Court of Federal Claims and the U.S. territorial courts.
Article III of the Constitution "governs the appointment, tenure, and payment of Supreme Court justices, and federal circuit and district judges," according to USCourts.gov. Article III judges are nominated by the president, confirmed by the Senate and have a lifetime appointment.
Ballotpedia reported that these judges serve on courts authorized by Article III, which created the powers of the judiciary system. While they are appointed to life terms, a vacancy occurs when a judge resigns, retires, passes away, or takes senior status, which is a classification for judges who are semi-retired, after meeting eligibility through age and service requirements.
Non-Article III judges, sometimes referred to as federal judges, are given power through Article I of the Constitution. They are not appointed by the president, nor confirmed by the Senate. These judges work in many aspects of the pre-trial process and preside over most non-felony trials. They are not given a life term and include Bankruptcy judges, who hold a 14-year renewable term, and Magistrate judges, who hold a four to eight-year renewable term. According to Ballotpedia, Bankruptcy judges are appointed by the judges in the corresponding Circuit Court of Appeal, while Magistrate judges are appointed by a majority vote of active district judges on the court.
According to data from USCourts.gov, there are currently 42 nominees pending, which include 35 in U.S. District Courts, six in the U.S. Court of Federal Claims and one in the U.S. Court of International Trade.
There are also three future judicial vacancies, which include U.S. Court of Federal Claims Judges Thomas C. Wheeler and Margaret M. Sweeney, whose seats will become vacant in October. Northern District of Indiana District Court Judge Theresa Lazar Springmann's seat will also become vacant on January 23, 2021.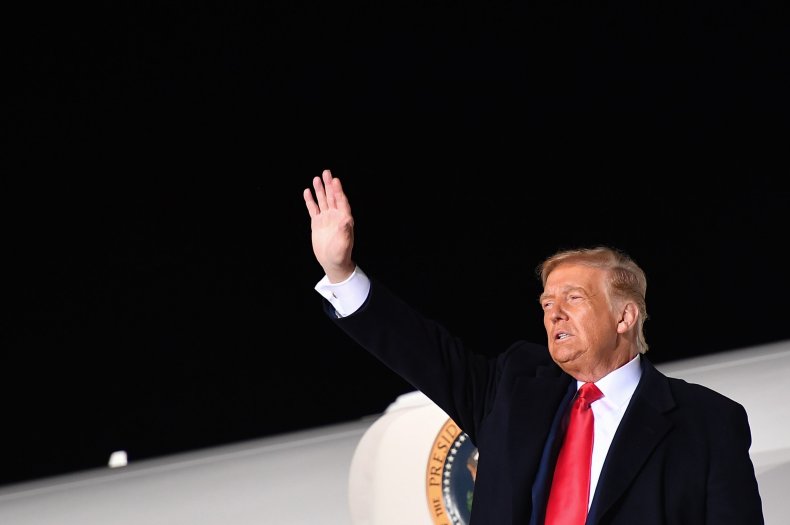 Earlier this month, Trump announced an updated list of potential Supreme Court nominees of 20 names, which included three Republican Senators; Texas Senator Ted Cruz, Arkansas Senator Tom Cotton and Missouri Senator Josh Hawley.
"That is why today I am announcing 20 additions to my original list of candidates for the United States Supreme Court. Should there be another vacancy on the Supreme Court during my presidency, my nominee will come from the names I have shared with the American public, including the original list and these 20 additions," Trump said while speaking at the White House on September 9.
Trump has nominated two U.S. Supreme Court Justices during his presidency—Brett Kavanaugh, who was confirmed in October 2018, and Neil Gorsuch, who was confirmed in April 2017.