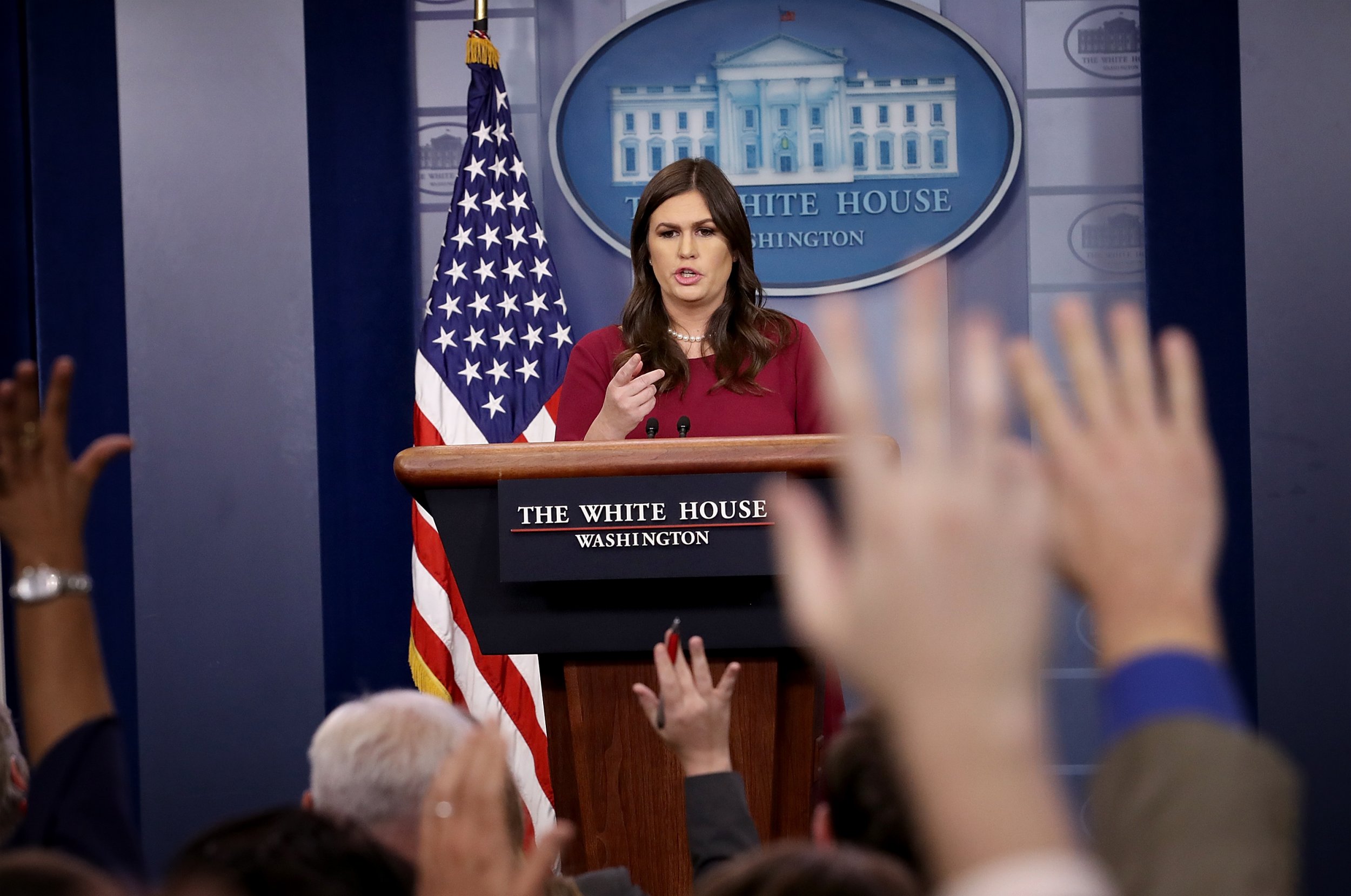 White House press secretary Sarah Huckabee Sanders lauded President Donald Trump on Monday, tweeting that it was an "indisputable" fact that the U.S. leader has done more to defeat the Islamic State militant group (ISIS) and cut North Korea off from the world in comparison with the work of his predecessor Barack Obama.
The president entered the Oval Office after pledging to "eradicate completely from the face of the Earth" radical Islamist militant groups. And last month he said he has already had greater success than Obama.
But is Huckabee Sanders's assertion really "indisputable"? Experts and former officials have cast their doubts on both claims.
Fact check: ISIS
It is a near-certainty that Trump will be the president who presides over the end of ISIS's territorial hold, or self-proclaimed "caliphate," in Iraq and Syria. The militant group no longer controls Mosul, Hawija or Tal Afar in Iraq after defeats in recent months; it is close to losing the eastern Syrian city of Raqqa, which served as the group's de-facto capital, and its fighters are surrendering en masse.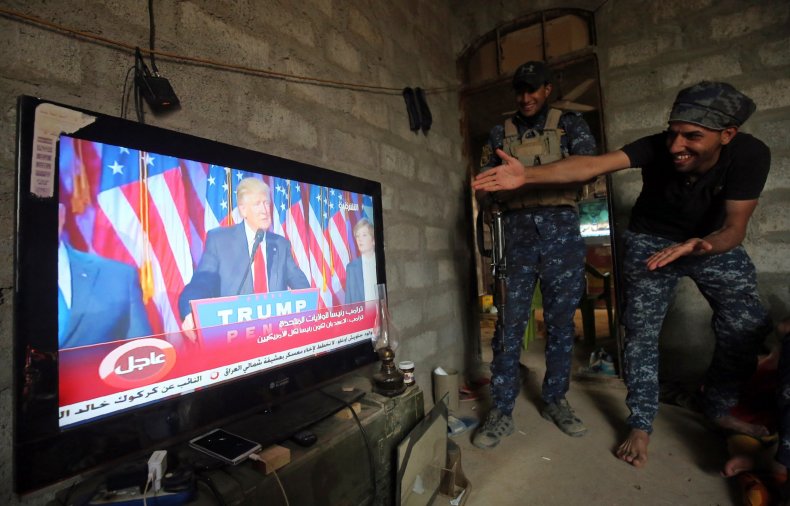 But has Trump really done more than Obama to defeat ISIS? Some say Obama initiated the U.S.-led coalition bombing campaign against ISIS and support of local actors that laid the foundations for the next president to come in and finish the job.
Defeating the Caliphate
After the jihadi group's rise in mid-2014, Obama launched airstrikes against the group in August 2014 and supported Iraqi forces and Syria's Kurds in battling ISIS on the ground. Forming a wide, 73-member international coalition, the strikes helped to slowly wrest back territory from ISIS. Tikrit, Ramadi, and Fallujah were liberated in Iraq, with American training playing a key role in the effectiveness of the Iraqi battalions, while the Yazidis were helped by a U.S. airlift after ISIS's 2014 massacre in Sinjar. Kobane was protected in Syria, and gains were made in the preparations for the final battle for Raqqa.
Trump has accelerated the campaign to retake ISIS-held territory, according to officials, and the U.S.-backed forces captured almost 30 percent of it within six months. The rest of ISIS's land was liberated under Obama's two-plus years overseeing the campaign. The coalition under Obama squeezed ISIS, while Trump has traveled the annihilation route, giving greater autonomy for his generals to call in strikes.
But it has come at a price for civilians in the region, with more killed under Trump than Obama, and rights groups have criticized Washington for the increase in civilian deaths. Experts have also warned of the risk of inflaming anti-American sentiment and drawing new recruits to ISIS and Al-Qaeda.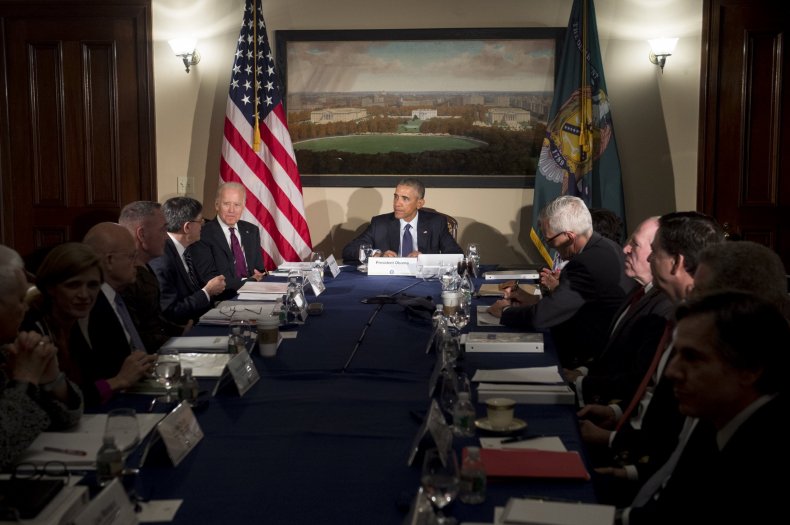 While the strikes may differ, the broader strategy of the Trump administration remains largely the same. Obama's former chief of staff Ben Rhodes tweeted in response to Huckabee's claim: "By continuing Obama's ISIS strategy?" Former Defense Secretary Ash Carter argued this point in an essay published for Harvard's Kennedy School of Government this month.
"It was not possible to complete the job on President Obama's watch, but I was confident as I departed the Pentagon that I was handing to my successor a military campaign plan capable of dealing ISIS a lasting defeat," Carter wrote.
"And despite a presidential promise of a 'secret plan,' the coalition campaign under the Trump administration is largely on the same track we laid out for it over Christmas of 2015."
As Andrew Exum, scholar of the Middle East, wrote in The Atlantic: "Donald Trump will defeat ISIS, and it will be mostly due to the work of his predecessor."
What About Bin Laden?
Trump is lauding his campaign against ISIS before it is over, and former Obama administration officials have taken offense at the president's claim, given that the first counter-terror operation he ordered was a botched raid in Yemen that resulted in the death of a Navy SEAL and failed to kill or capture a top Al-Qaeda operative.
Former White House deputy chief of staff Alyssa Mastromonaco pointed out last month that Obama was the man who took down the mastermind of the 9/11 attacks, Al-Qaeda leader Osama Bin Laden.
"Let us know when you kill Bin Laden," she tweeted, in reference to the 2011 raid on Bin Laden's Abbottabad safe house.
The killing of Osama Bin Laden represented the biggest U.S. counterterrorism coup, and the most daring operation, in recent history.
But whether any defeat against radical Islamist groups and its leaders—be it taking out Bin Laden or liberating an ISIS-held city—will benefit U.S. national security and make the country safer, both administrations have played their part in the retreat of ISIS. But the jihadi group that has caused so much pain worldwide has now become a punchbag between two presidents.
Fact check: North Korea
On North Korea, observers say that if anything, the crisis on the Korean Peninsula has only been made worse by Trump's arrival, leaving Japan and South Korea more anxious about war than under Obama.
As his inauguration beckoned, the Trump administration's policies on North Korea remained an unknown—until April, when the president said that the U.S. would happily go it alone and respond unilaterally toward North Korea's nuclear weapons program.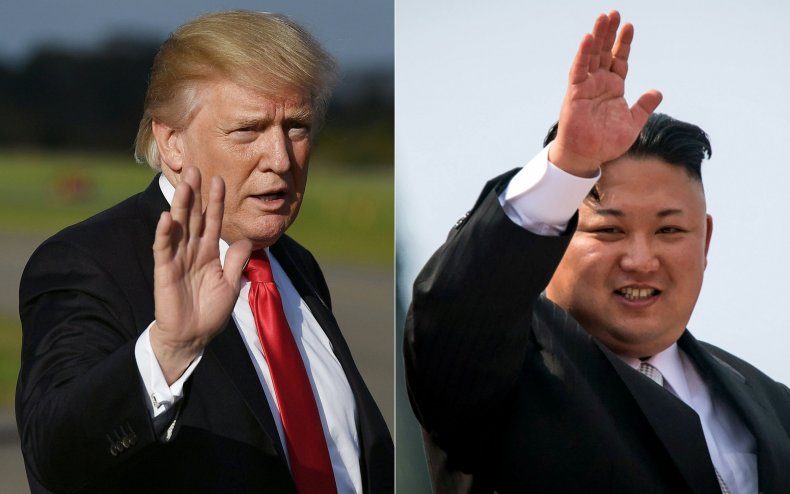 Obama had not threatened the regime of the youthful North Korean leader Kim Jong Un in such terms, but instead opted for a strategy of containment and diplomacy, pressuring the rogue state through sanctions and dialogue with its only diplomatic ally, China.
Trump's administration helped to pass the strongest sanctions yet against Pyongyang in the face of repeated missile tests, a foreign policy win for the billionaire and in that sense, a move that "isolates" North Korea more than before. Trump's policy has followed a similar path to that of Obama's, bar his rhetoric toward the regime, and this is what makes the situation so dangerous—if Pyongyang decides to retaliate against the president's barbs.
"Fire And Fury"
Ever since the new sanctions were voted in, the situation has continued to escalate; North Korea launched an intermediate missile over Japan and a war of words has literally threatened war, and in fact nuclear annihilation, on both sides.
Trump said he would hit the country with "fire and fury like the world has never seen." Kim, responding in kind, called Trump "mentally deranged" in a rare television appearance. His Foreign Minister Ri Yong Ho also threatened a nuclear test over the Pacific, in addition to its sixth nuclear test last month, five times the size of its last test in September 2016.
As Jamie Metzl, a senior fellow of the Atlantic Council, put it last month, Trump "has made a bad North Korea situation even worse" in the region.
"Despite Donald Trump's absurd, dangerous, and extremely unhelpful huffing and puffing (and tweeting), there is no preemptive military option for the United States other than all out war," Metzl wrote for CNN.
The crisis has threatened to spark a regional conflict, an event that both the Japanese and South Koreans have long feared, which could result in one of the most catastrophic wars that Asia has ever witnessed. So, observers are confused by the Trump team's apparent pride in where it has brought the situation.
Jeffrey Lewis, expert in nuclear non-proliferation and geopolitics, said that the Trump team's apparent celebrations that it had confronted the North Korean regime could be premature, given the escalation in words—and soon perhaps actions—witnessed in recent months.
"[It is] also indisputable that North Korea tested its first ICBM (Inter-Continental Ballistic Missile) and thermonuclear weapon on his watch," he tweeted. "It's a little early for a victory lap."