Trump Has Military Poised to Intervene in Burning Cities, Whether Governors Want It Or Not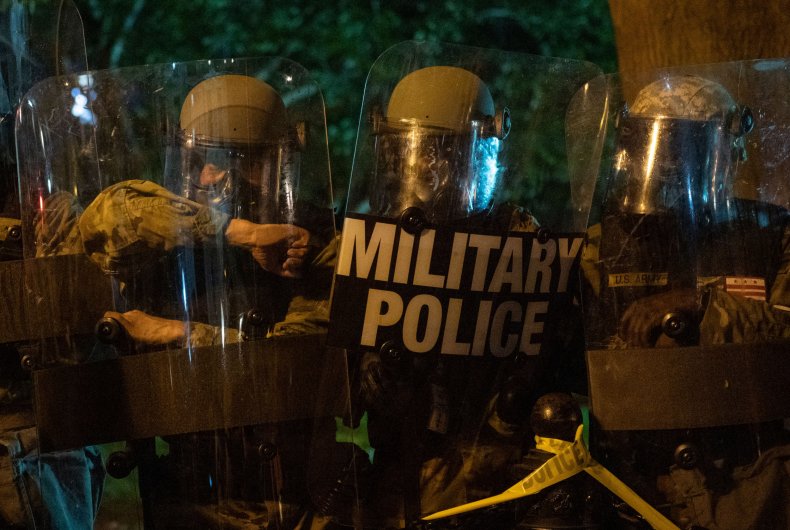 In a period of less than 72 hours, National Guard units in 15 states and the District of Columbia mobilized over 7,000 troops in response to protests and demonstrations across America, the largest deployment of military forces in what are called "civil disturbance operations" in over 30 years. That number is expected to double by Monday night.
The federal government has additionally directed thousands of law enforcement and intelligence officers—from the FBI and various components of the Department of Homeland Security—to assist state and municipal authorities.
"Our coronavirus response program, which has been stabilizing and even winding down since the first week of May all of a sudden has turned into a frenzy of activity," says a senior military officer assigned to NORTHCOM, the military command that is responsible for domestic military intervention.
"Not only do we have to handle the stresses of an already tired Guard, one that has been on continuous duty for three months," the officer told Newsweek in an email, speaking on background because he is not authorized to talk to the news media, "but we also have to navigate multiple state governors and city mayors, as well as competing federal entities that also are muscling their way in."
The officer says the deployment of Guardsmen and women to assist local law enforcement in a dozen states simultaneously is unprecedented. And he cautions that while federal troops have not been deployed, they are being readied in response to White House requests.
"A wild card right now is POTUS, what he will order," the officer says. With armed soldiers already on the streets of America with multiple curfews instituted in cities and states, the officer says that military officials at the command level and in the field are grappling with the actual law enforcement role that the armed forces will play.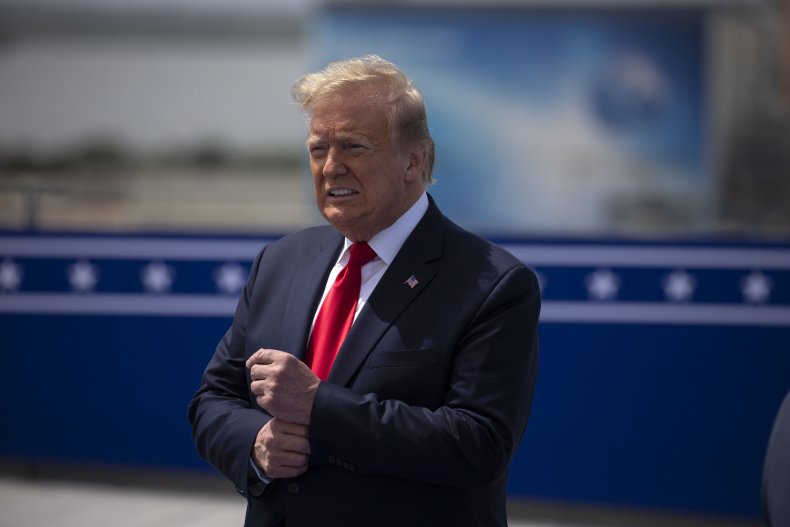 NORTHCOM—U.S. Northern Command, located in Colorado Springs—maintains the contingency plan "Civil Disturbance Operations," called CONPLAN 3502. The plan, hundreds of pages long, describes tasks where military forces could be called to assist civil authorities in response to civil disturbances. It allows for the use of military forces when the president determines that a civil disturbance—"riots, acts of violence, insurrections, unlawful obstructions or assemblages, group acts of violence, and disorders prejudicial to public law and order" exceed either the capabilities or willingness of state and local authorities to restore law and order.
The plan applies only to the employment of federal forces on U.S. soil. National Guard forces under the control of individual governors have their own state-level civil disturbance plans and rules of engagements modeled after CONPLAN 3502. But unless Guard forces are placed under federal control, they remain under the command of each governor (and in the case of the District of Columbia, under the mayor).
Thursday evening, national security principals including Secretary of Defense Mark Esper had a video teleconference with President Donald Trump to discuss unrest in Minnesota and potential federal intervention. There, according to reporting from the Associated Press, the president ordered the Pentagon to prepare active duty forces to intervene if the situation continued to spiral out of control or if National Guard resources were exhausted.
The NORTHCOM officer says that the Pentagon then issued warning orders to approximately 2,400 military policemen and women at four domestic bases: Ft. Carson, Colorado; Ft. Riley, Kansas; Ft. Drum, New York; and Ft. Bragg, North Carolina. The order: be prepared to deploy in as soon as four hours, starting on Friday afternoon.
On Thursday as well, Minnesota Governor Tim Walz signed an executive order activating the Minnesota Guard. President Trump spoke to Gov. Walz in the hours following his national security meeting, saying Friday morning that he "told him that the military is with him all the way."
That's when the president also now famously tweeted, "Any difficulty and we will assume control but, when the looting starts, the shooting starts. Thank you!"
Upon activating the Minnesota Guard, Governor Walz stressed that those in military uniform were "not a police force."
However, Maj. Gen. Jon Jensen, commander of the Minnesota Guard, said that guardsmen and women were being armed based upon "intelligence" received from the FBI that indicated "a credible threat."
Though continuing to maintain that the armed troops were not enforcing the law, he said that local commanders "retained the right of self-defense."
According to the classified Standing Rules for Use of Force (SRUF) for operations inside the United States, a document viewed by Newsweek: "Commanders retain the inherent right and obligation to exercise unit self-defense in response to a hostile act or demonstrated hostile intent, including defense of other [Department of Defense] forces in the vicinity."
Given the explosive nature of domestic use of military forces—even National Guardsmen and women under the command of governors—the SRUF are long-standing and far more restrictive than Rules of Engagement (ROE) used during combat operations abroad.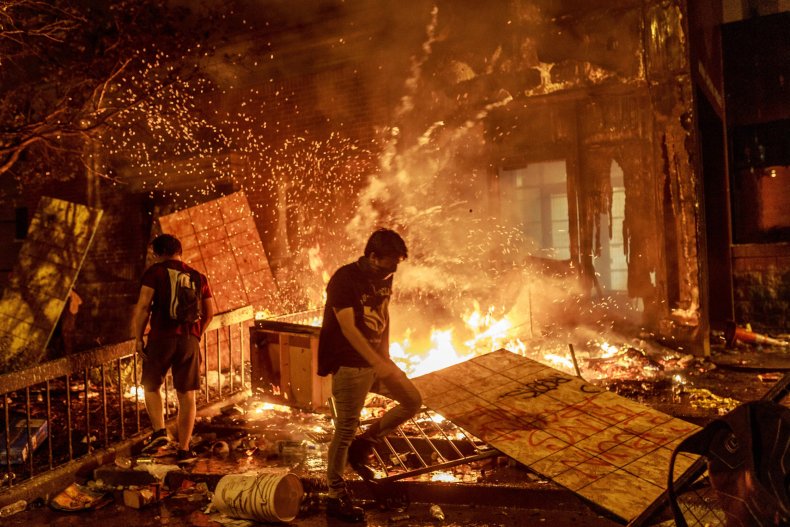 The senior NORTHCOM officer says that the standing rules and the warning orders put into effect for this week's riots state unequivocally that "force is to be used only as a last resort."
By Saturday, Governor Walz had authorized the full call up of Minnesota's 13,200 guardsmen. That night, National Guard troops were deployed to the streets of Minneapolis and St. Paul with gas masks on, anticipating the use of tear gas and other non-lethal weapons.
By Saturday night, destructive and deadly protests had also broken out in numerous other states, including Arizona, California, Georgia, Indiana, Kentucky, Nevada, Oregon, Tennessee, in Utah. Across the country, additional National Guard forces were activated by their government. In almost every state, the Guard were given the dual mission of securing government buildings while also "restoring order and limiting the destruction of property."
As of Sunday morning, the Minnesota Guard had activated 5,025 troops, stating that it was "quickly moving toward 10,800." In Georgia, authorities say 3,000 will be activated, the second-largest current anticipated force.
While the Pentagon insists that there has been no "request" from state authorities to deploy federal troops, if President Trump invokes the Insurrection Act, or if local commanders invoke self-defense, a governor's wishes can be circumvented or overruled.
The Act was invoked in Los Angeles in May 1992, when protests turned violent after a jury acquitted the officers involved in the arrest and beating of Rodney King. In that case, then-Governor Pete Wilson requested federal military assistance from President George H.W. Bush. The Insurrection Act also authorizes the president to deploy the federal and state forces whenever he believes it is necessary "to suppress an insurrection, domestic violence, unlawful combination or conspiracy."
Retired Navy judge advocate general officer Mark Nevitt wrote in Just Security on Friday that "invoking the Insurrection Act remains a rare occurrence in U.S. history, used in the most extraordinary circumstances, such as the complete disregard for enforcing federal civil rights laws or massive unrest in the nation's second largest city."
There is a third condition under which military forces can be employed—National Guard and active duty—and that is what is called "Emergency Authority" as stated in both the SRUF and CONPLAN 3502.
The CONPLAN states: "A Federal military commander's authority, in extraordinary circumstances where prior authorization by POTUS is impossible and duly constituted local authorities are unable to control the situation, to engage temporarily in activities that are necessary to quell large-scale, unexpected civil disturbances ... to prevent significant loss of life or wanton destruction of property."
A commander can invoke emergency authorities, the SRUF and the CONPLAN state, "necessary to restore governmental function and public order or [if] ... State, or local authorities are unable or decline to provide adequate protection for Federal property or Federal government functions."
In each state and community, determining a need in theory originates with the governor and is done in coordination with a federal officer who is appointed to represent the "lead federal agency." According to multiple sources familiar with the rapidly developing planning, the FBI has been appointed the LFA in each state, with the senior FBI official for each field division responsible at the state level.
Sunday, the FBI stated that it was working with law enforcement partners at the state and city level, both to restore order and to protect federal facilities and interests.
"We take our responsibility to protect the civil rights of all people seriously," the FBI said in a statement.
The FBI is also the lead federal agency for investigating what are called "color of law violations." That includes, according to an FBI statement, "acts carried out by government officials operating both within and beyond the limits of their lawful authority"—including excessive force used by law enforcement.
The FBI field office in Chicago tweeted on Saturday night: "Law enforcement & other officials are given tremendous power & preventing abuse of this authority is a responsibility we take very seriously."
Acting Department of Homeland Security Secretary Chad Wolf also tweeted Saturday, "As the nation's largest law enforcement organization, DHS's top priority is protecting the American people and our workforce."
A Federal Protective Service contractor in Oakland, California, was killed on Saturday and another was critically injured. Neither of the two officers were directly involved in law enforcement.
Wolf also decried attacks on Secret Service personnel by "criminals," saying that broken bones had occurred as a result of thrown rocks in protests at the White House. "These 'protesters' committed such acts of violence while hiding behind the 1st Amendment right of lawful protest," he tweeted.