Trump Has Narrowed Down Search for Op-Ed Author, Claims Kellyanne Conway
President Donald Trump believes that the author of an anonymous New York Times op-ed alleging turmoil and dysfunction in the White House works in national security.
The president made the claim speaking to reporters on board Air Force One Friday, and called for Attorney General Jeff Sessions to launch a Justice Department investigation to unmask the author of the piece.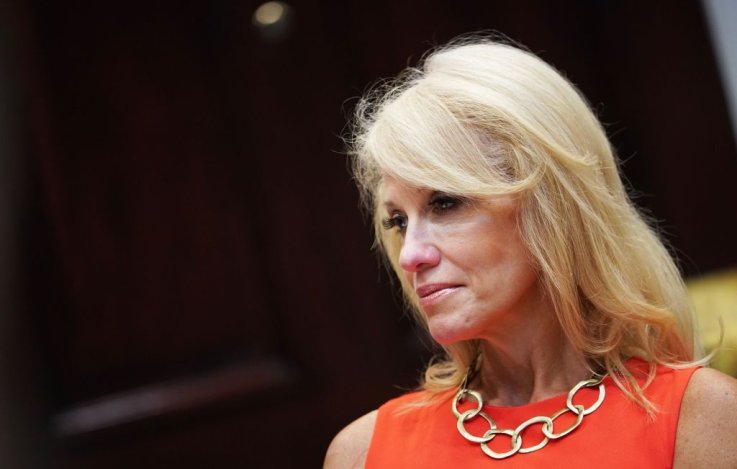 "I would say Jeff should be investigating who the author of that piece was because I really believe it's national security," said the president.
In an interview with CNN's Christiane Amanpour later Friday, White House counsellor Kellyanne Conway confirmed that the president suspects the author is in national security.
Asked by Amanpour whether the author is someone inside the White House, Conway responded, "Most of us don't think that."
"The president just today said he believes it's somebody in national security," she continued.
Trump and supporters have long alleged that a "deep state" of hostile security service officials are determined to undermine his presidency, and are behind the Justice Department investigation into allegations of Russian collusion.
The Times reported Thursday, citing an outside adviser to the president, that the White House has compiled a list of 12 people who it believes could be the author of the article.
Published on Thursday by a top Trump administration official, the op-ed paints a picture of an administration in which officials struggle to limit the impact of Trump's erratic behaviour and impulsiveness.
"The root of the problem is the president's amorality. Anyone who works with him knows he is not moored to any discernible first principles that guide his decision making," the anonymous official wrote.
"Meetings with him veer off topic and off the rails, he engages in repetitive rants, and his impulsiveness results in half-baked, ill-informed and occasionally reckless decisions that have to be walked back."
Dozens of top government officials, including Vice President Mike Pence, have denied being the author of the op-ed.
White House press secretary Sarah Huckabee Sanders called the writer an "anonymous coward" and a "gutless loser" who is "recklessly tarnishing the reputation of thousands of great Americans who proudly serve our country and work for President Trump."
Trump Has Narrowed Down Search for Op-Ed Author, Claims Kellyanne Conway | U.S.