Trump Has 'No Idea' If The Las Vegas Shooting Was ISIS, Despite Expert Doubts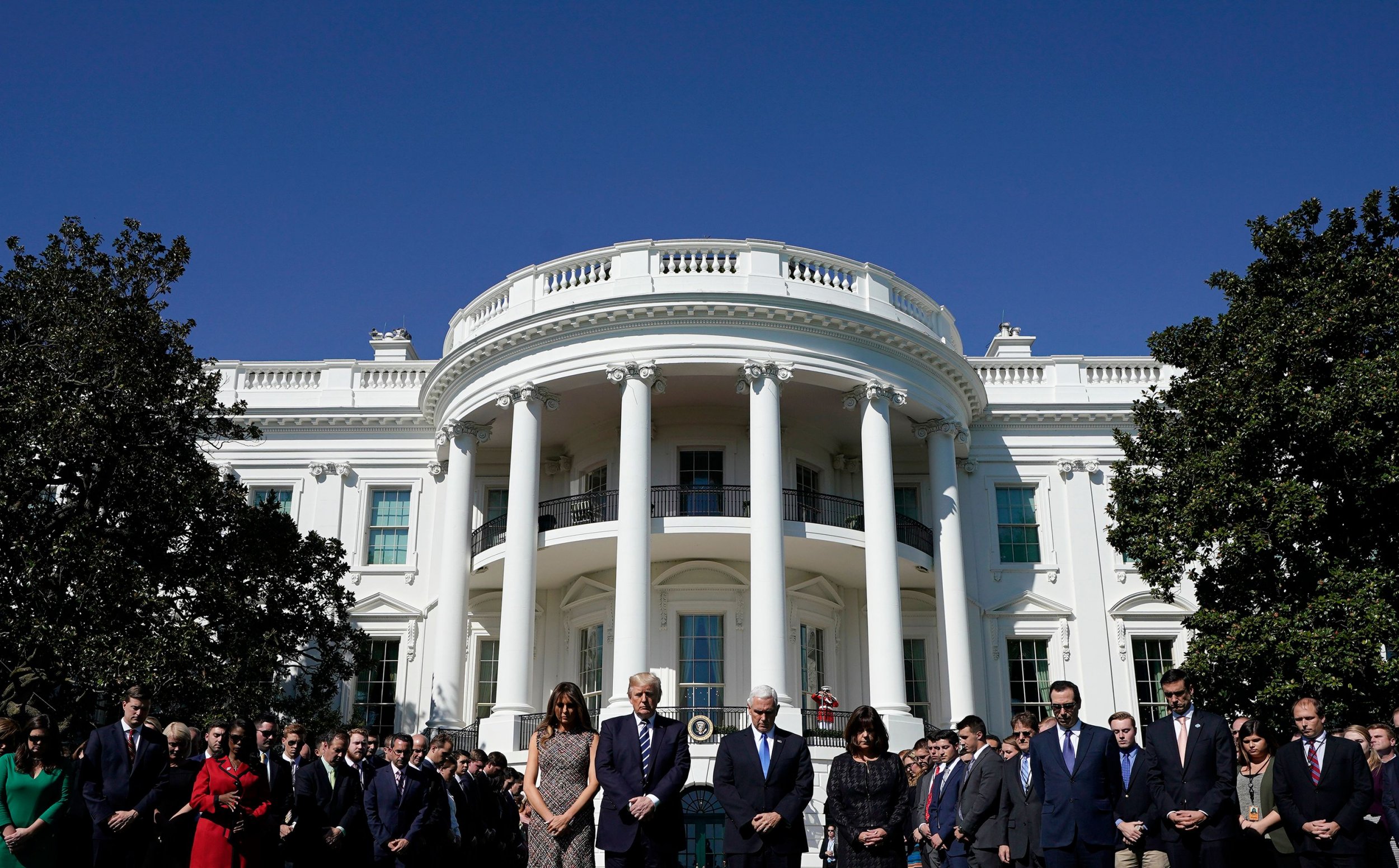 President Donald Trump said Tuesday that he has "no idea" if the Las Vegas shooting was linked to the Islamic State militant group (ISIS), appearing to ignore expert and official assertions that there is no indication or evidence that the jihadist faction played a role in the assault.
A reporter on board Air Force One asked the president if he believed that the link between ISIS and the deadliest shooting in U.S. history was true. He responded: "I have no idea."
Stephen Paddock, a 64-year-old retired accountant, killed 58 people and injured more than 500 in a mass casualty shooting of concertgoers at the Route 91 Festival late Sunday from the 32nd floor of Las Vegas' Mandalay Bay Hotel and Casino before killing himself.
ISIS claimed the attack a day later, releasing the claim on its self-styled news agency Amaq, on the encrypted messaging app Telegram. It typically uses the platform for official claims of responsibility.
The statement, in Arabic, read, "Attacker of the #Las_Vegas shooting is a soldier of the Islamic State and carried out the operation in response to targeting coalition countries."
A second post, which experts say is a rare occurrence for an ISIS claim, said that the "attacker of Las Vegas converted several months ago." It usually posts a single message when it claims responsibility for an attack.
Trump called the shooter "a sick man, a demented man," in an address from the White House in reaction to the attack on Monday, and did not mention ISIS or radical Islamism. He said of renewed calls for greater gun control that "we'll be talking about gun laws as time goes by."
But extremism experts and U.S. officials have cast doubt on the claim as Paddock appeared to have no link to radical Islamism, nor did he appear to be a practicing Muslim. Attackers inspired by ISIS have previously sent videos pledging allegiance to leader Abu Bakr al-Baghdadi before their assaults. No such video has yet emerged from Paddock.
A U.S. official, speaking on condition of anonymity because he's unauthorized to speak publicly, told Newsweek, "There is no indication that there is any link whatsoever. They claim a lot of things."
The FBI said that "no connection" between Paddock and radical Islamist extremism had been found.
Authorities are still trying to find a motive for Paddock's shooting, which was meticulously planned. He placed surveillance cameras around him, in his suite and in the hallway outside his room to show him approaching threats as he continued to shoot into the crowd below.
Police discovered 23 guns, many of them modified with "bump-stocks," scopes, and hundreds of rounds of ammunition in the room. They are now interviewing his girlfriend, 62-year-old Marilou Danley, who has flown back from the Philippines.
Paddock had transferred $100,000 to the Philippines in the days before the shooting. Sheriff Joseph Lombardo said that police "anticipate some information from her shortly," and that they were "absolutely" sure of finding out what made Paddock launch his massacre on Sunday night on Las Vegas' famous strip.