Trump Has Now Struck Out Three Times With Republicans He's Backed for Elections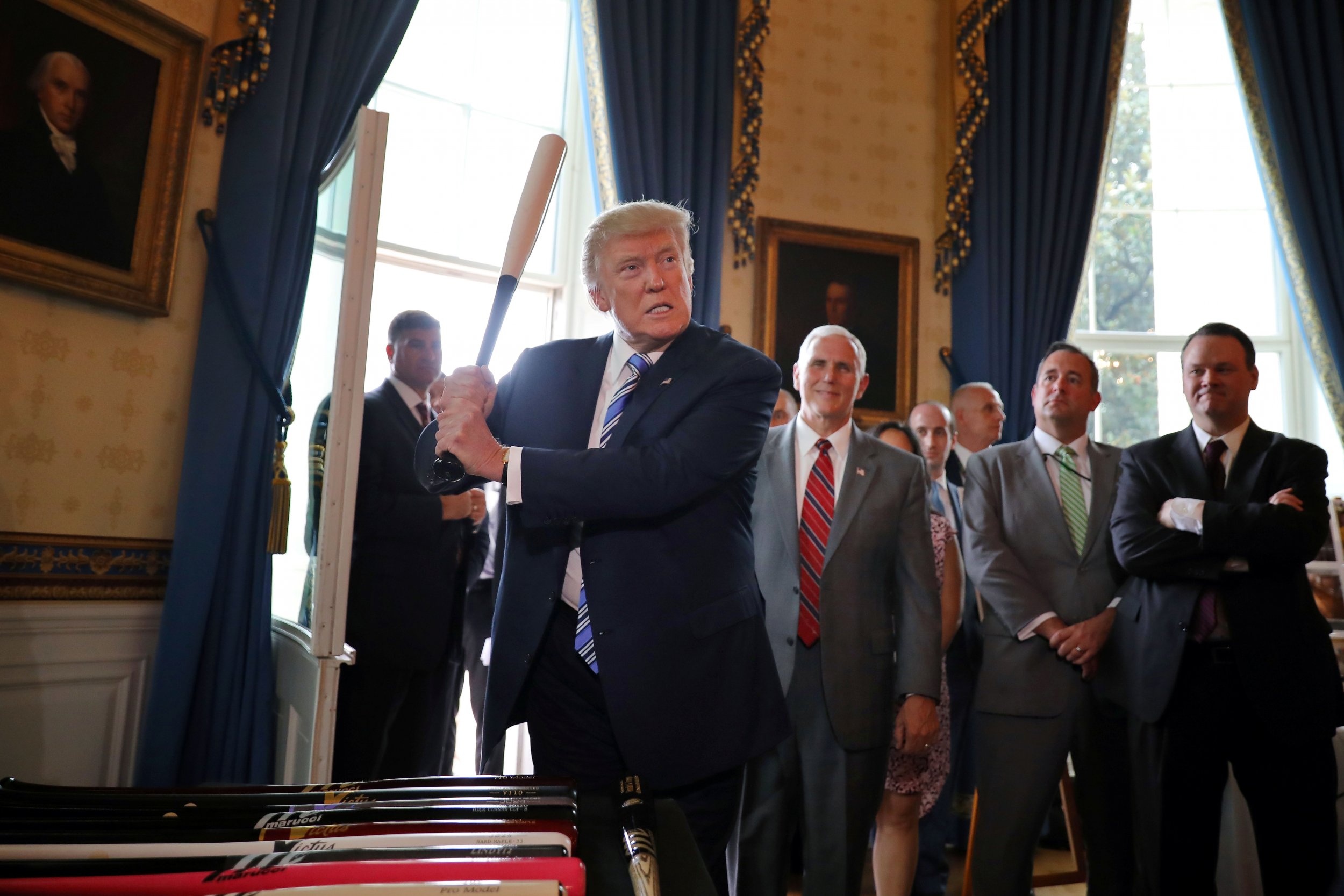 Each of the last three Republicans backed by President Donald Trump have lost in the election races they were running. The latest, GOP Senate candidate Roy Moore, was defeated in Alabama by Democrat Doug Jones in the state's special election Tuesday.
Trump originally didn't back Moore. Rather, he supported Republican Senate incumbent Luther Strange who Moore defeated in the state's primaries in September. After Strange lost, Trump deleted a series of tweets supporting him.
Then the president got behind Moore. "The last thing we need in Alabama and the U.S. Senate is a Schumer/Pelosi puppet who is WEAK on Crime, WEAK on the Border, Bad for our Military and our great Vets, Bad for our 2nd Amendment, AND WANTS TO RAISES TAXES TO THE SKY. Jones would be a disaster!" Trump tweeted in late November, referring to Moore's rival Jones.
On Tuesday Jones edged out Moore with 49.9 percent to the Republicans' 48.4 percent share of the vote. Although the votes have been tallied, Moore has refused to concede to his opponent.
With Moore's defeat, both the Republicans Trump backed in Alabama's Senate race have lost in one of the most Conservative states in the U.S.
The third Republican with Trump's blessing who lost in as many months was Ed Gillespie, who was defeated by Democrat Ralph Northam during Virginia's race for governor in early November.
Read more: Alt-right movement despairs after Roy Moore's loss, blames "Cuckservatives"
Some are blaming Steve Bannon for the losses that Trump's political picks have racked up because he has been advising Trump despite being ousted as the White House's chief strategist in August.
Bannon, who espouses hard-right views, campaigned heavily for Moore, even after multiple women came forward and accused the former Alabama Chief Justice of sexually assaulting them when they were in their teens and he was a district attorney in his thirties.
"I'd just like to thank Steve Bannon for showing us how to lose the reddest state in the union," tweeted Josh Holmes, the former chief of staff for Republican Senate leader Mitch McConnell.
"It's not easy to go 0-2 in the same race with two different candidates but @realDonaldTrump just pulled that off. He has Bannon to thank for that 2nd loss," tweeted NBC News host Chuck Todd after the results were in Tuesday.
"Not only did Steve Bannon cost us a critical Senate seat in one of the most Republican states in the country, but he also dragged the president of the United States into his fiasco," said Steven Law, the CEO of the Senate Leadership Fund, a political action committee aimed at increasing the Republican share of the Senate, in a statement. "This is a brutal reminder that candidate quality matters regardless of where you are running."
Bannon continued to back Moore after many Republicans—including House Speaker Paul Ryan and McConnell in the Senate—dropped their support after he was accused of assaulting the women.
In September Bannon declared "war" on establishment Republicans who are critical of what he views as the president's agenda. At the time, he said he would work to upset the seats of at last 15 establishment Republicans and replace them with hard-right figures like Moore who share his views.
In addition to the women's accusations against him, Moore said the last time America was "great" was during the era when white Americans could own black slaves and advocated for doing away with amendments to the Constitution that gave women the right to vote and abolished slavery. On the eve of the election a Moore spokesman said Moore believes Muslims should not be allowed in Congress in America because, he claimed, they have to swear an oath on a Bible.
Despite these statements and the damning allegations against him, Trump and Bannon both continued to push for Moore to win. In a recent phone call with Moore Trump reportedly said "Go get 'em, Roy!"
"Suck it, Bannon," Republican Senator John McCain's daughter tweeted after Moore was defeated.