Trump Has 'Repeatedly' Denounced White Supremacists, Says Mike Pence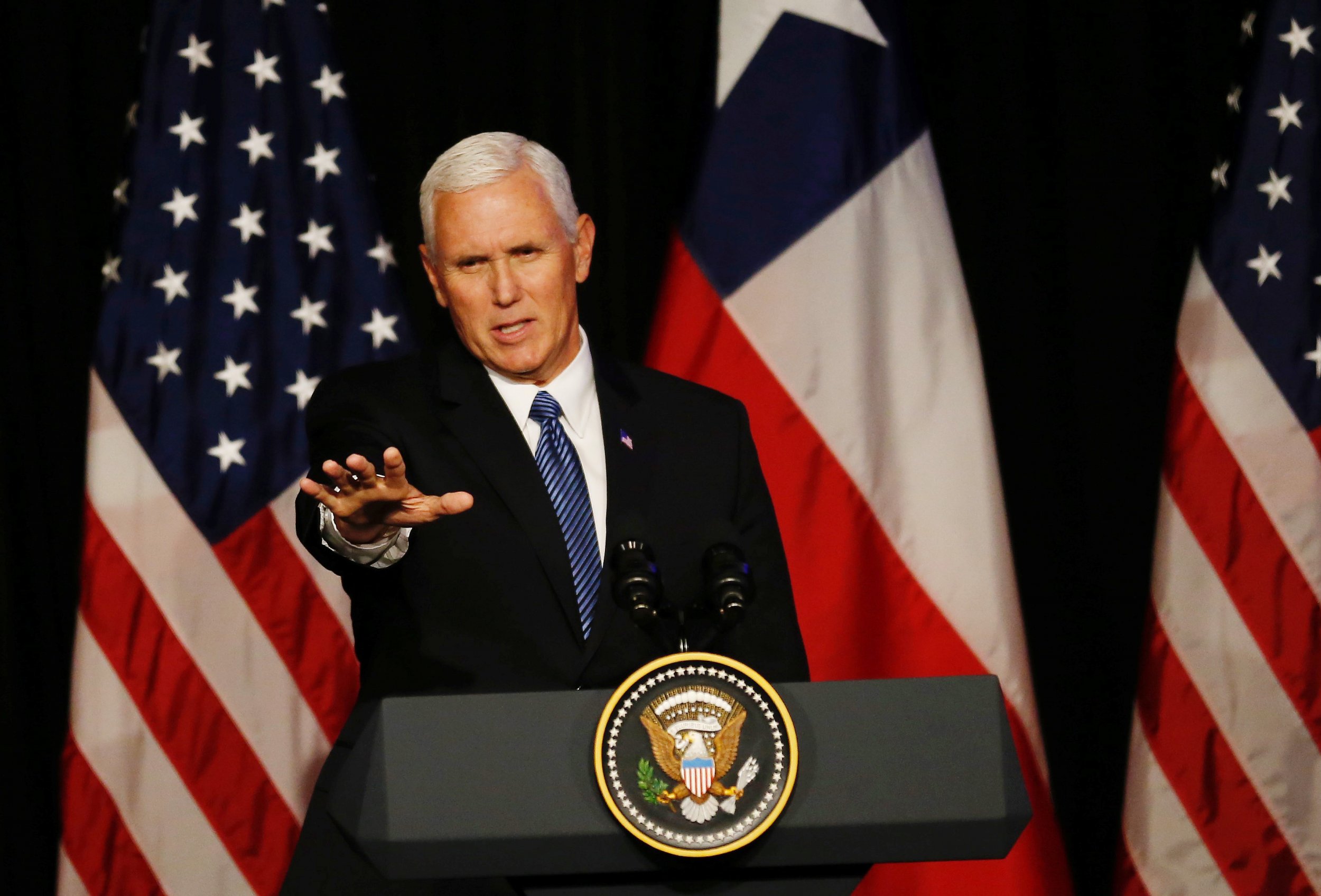 Vice President Mike Pence said Tuesday that President Donald Trump has "repeatedly" denounced white supremacists, neo-Nazis and the KKK, despite Trump saying there were "very fine people" on opposing sides of a violent rally in Charlottesville, Virginia.
"The president and I were very clear last weekend, in the wake of the terribly tragic events in Charlottesville, that we denounce hatred and bigotry and violence in all of its forms," Pence told NBC's Today show host Matt Lauer.
"He denounced hate and violence on Saturday, he did it in his address to the nation Monday, and he did it again in the press conference Tuesday," Pence said.
Demonstrator Heather Heyer died and 19 others were injured when they were rammed by a car that police say was driven by a white supremacist activist at the march.
The white supremacist rally was held ostensibly to protest the proposed removal of a statue of Confederate Army General Robert E. Lee, who fought in the Civil War to protect Southern states' rights to keep slaves.
During a press conference at Trump Tower on August 15, Trump said there "were very fine people" marching in the white supremacist rally and among the counterprotesters. Trump said he opposed the removal of monuments to the Confederate army throughout the U.S. because "you are changing history, you're changing culture."
Related: Can Trump recover his neo-Nazi-tainted brand?
"You had many people in that group other than neo-Nazis and white nationalists. OK? And the press has treated them absolutely unfairly," he said. The march was billed as a white supremacist rally.
Following Trump's comments, former KKK grand wizard David Duke praised Trump's condemnation of "leftist terrorists" in the Black Lives Matter movement.
During the rally, Duke called it a "turning point" to "take our country back" and "fulfill the promises of Donald Trump. That's what we believed in. That's why we voted for Donald Trump."
During his interview on the Today show, Pence said, "I can't account for the views of that person or their opinions. The president disavowed David Duke." Last week, Pence said the American media spend more time criticizing the president than they do hate groups.
Immediately after Heyer was killed, Trump issued a statement saying there was violence "on both sides" between white supremacists and counterprotesters. A number of white supremacists were pepper-sprayed and beaten by members of the anti-fascist movement.
Neo-Nazi Andrew Anglin of the website Daily Stormer has praised Trump's reaction to the Charlottesville rally for not singling out white supremacists.
Republican House Speaker Paul Ryan told a CNN town hall on Monday night that some of Trump's comments on the Charlottesville violence were "morally ambiguous."
When former neo-Nazi Christian Picciolini was asked last week about whether he considered Trump's comments a racist dog whistle to white supremacist groups on the podcast Reveal from the Center for Investigative Reporting, he said: "Oh yeah."
Picciolini said he "heard dog whistles all throughout the campaign and even as recent as two days ago," referring to the Trump Tower press conference. His nonprofit Life After Hate seeks to deradicalize and support those trying to leave the white supremacist movement. In 2016, Life After Hate received a $400,000 grant from the federal government's Countering Violent Extremism Task Force.
"After Trump administration took office, we learned that our grant was being pulled," Picciolini said. "Of the pool of 33 organizations that were awarded this grant, we were the only organization that was rescinded the grant," he added, "and also the only organization that focused on white extremism."
Pence told Lauer that accusations of racism and courting white supremacists against the president and Trump administration are not true. "As the president has made clear, we have denounced those organizations," he said. "There was no moral equivalency drawn by the president" between hate groups and counterprotesters who opposed them.