Trump Has Said Nothing About Putin's Satan 2 Video of Nuclear Missiles Aimed at the U.S.
President Donald Trump's silence in the face of Russian President Vladimir Putin's unveiling of the Kremlin's new Satan 2 nuclear missile, and a video showing it targeting the U.S., is "scary," said a former American ambassador to Moscow.
Putin unveiled a new hypersonic intercontinental ballistic missile—which cannot be shot down by antimissile systems—Thursday during his annual address to Russia's Federal Assembly in Moscow.
Other countries listen to Russia only when it comes out with new weapons, Putin said, adding, "You will listen to us now." He showed a video of nuclear missiles raining down on what appeared to be Florida's Tampa Bay area, home of the U.S. military's Central Command.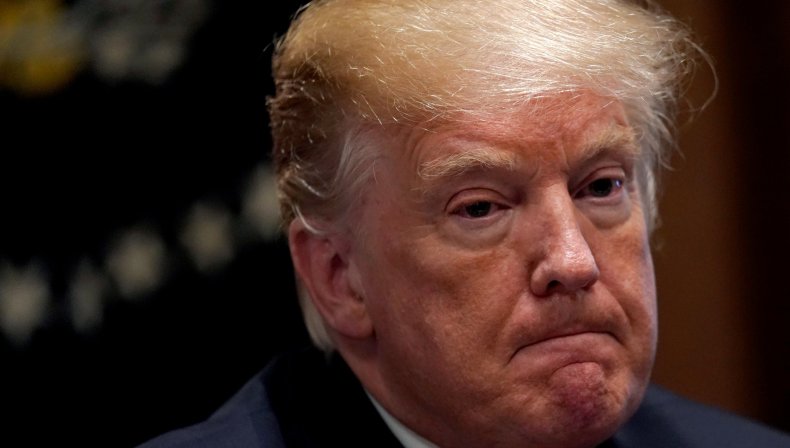 "A Kremlin leader announced today several new nuclear weapon systems designed to attack America in novel, scary ways, and our commander in chief (unless I missed it?) did not say one word in response. Amazing," wrote Michael McFaul, U.S. ambassador to Moscow under President Barack Obama.
McFaul wrote that "even 10 years ago, Putin's speech today threatening to attack America in new ways with nuclear weapons would have been sensational news, demanding a response from our president.
"Today? Nothing. Amazing. Disappointing. And scary," he wrote.
While the U.S. shouldn't discount "all that Putin said on nukes," tweeted Steven Pifer, a former foreign service diplomat in Moscow and U.S. ambassador to Ukraine, the message was "aimed first & foremost at #Russian public."
Related: Satan 2: Putin Tells U.S. "You Will Listen to Us Now" as He Deploys Hypersonic Nuclear ICBM
Last month, special counsel Robert Mueller indicted several Russians linked to the Kremlin for waging "information warfare" on the U.S. during the 2016 election. Trump's campaign is being investigated by Mueller following allegations that it aided Russia. The president has come under sharp criticism for not implementing the further sanctions against Russian intelligence and military enacted by Congress last year.
Last month, American intelligence officials told Congress that Trump had not given them instructions to stop or blunt Russian information warfare. Trump's National Security Agency Director Admiral Mike Rogers reiterated that during a Senate Armed Services Committee hearing Tuesday.
Trump did not mention the video or Russia's new missiles in several early-morning tweets that took aim, variously, at actor Alec Baldwin and criticism of the president's decision on Thursday to enact severe tariffs on steel and aluminum.
The president has expressed little public criticism of Putin since the 2016 election campaign and his inauguration, even at times defending Russia's authoritarian leader.
"We're not going to react to every word or idea that world leaders express," said State Department spokeswoman Heather Nauert when asked about Russia's weapons by reporters in a briefing Thursday.
"It was certainly unfortunate to have watched the video animation that depicted a nuclear attack on the United States," she said. "We don't regard that as the behavior of a responsible international player."
When asked about the White House reaction to Putin's speech, Trump's press secretary Sarah Huckabee Sanders said the president "understands the threats facing America and our allies in this century, and is determined to protect our homeland and preserve peace through strength."
Sanders said Russia is developing weapons "in direct violations of its treaty obligations," and pointed out that the administration has undertaken a Nuclear Posture Review to "modernize our nuclear arsenal and ensure our capabilities are unmatched."