Trump Says He's Taking Hydroxychloroquine Every Day to Prevent Coronavirus
President Donald Trump has been taking taking daily doses of a controversial drug that he claims could help prevent people from contracting coronavirus.
"I happen to take it," Trump told reporters Monday of his decision to try hydroxycloroquine as a coronavirus prophylactic after weeks of touting the medicine's virtues as a possible treatment for COVID-19.
Medical experts have questioned the unproven effectiveness of the drug on coronavirus and warned of potential side effects.
"Yeah, I've taken it for one and a half weeks now," Trump said unprompted. "And I'm still here. I'm still here."
The president has not previously disclosed that he has been taking the disputed medicine. Trump said his White House physician approved his plans to take the drug, which requires a prescription, after he inquired about it. He had previously indicated that he may start using the drug.
"You'd be surprised at how many people are taking it, especially the front-line workers before you catch it," Trump said Monday. "The front-line workers—many are taking it."
Hydroxycloroquine is commonly used to treat malaria and lupus.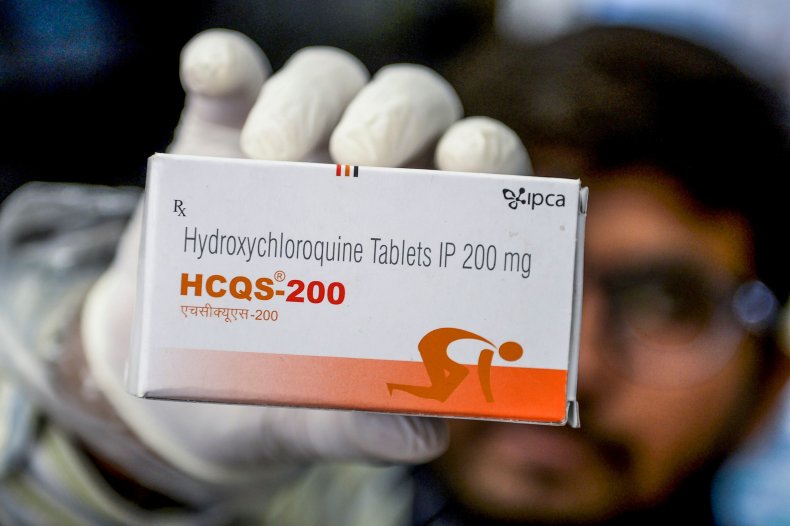 Some health care workers, including those at Detroit's Henry Ford Health System, are voluntarily taking part in clinical studies of the anti-malarial drug use to treat or prevent coronavirus.
The Food and Drug Administration recently warned that it shouldn't be used outside of such studies as it has "not been shown to be safe and effective for treating or preventing COVID-19," noting reports of "serious heart rhythm problems" among some people who have taken it in relation to coronavirus.
"We understand that health care professionals are looking for every possible treatment option for their patients and we want to ensure we're providing them with the appropriate information needed for them to make the best medical decisions," FDA Commissioner Stephen M. Hahn said in a statement when the advisory was released.
"While clinical trials are ongoing to determine the safety and effectiveness of these drugs for COVID-19, there are known side effects of these medications that should be considered."
Trump, who is regularly tested for coronavirus, said he's never tested positive and hasn't experienced side effects from taking hydroxycloroquine. His decision to begin taking the medicine as a preventive measure comes after multiple people in the White House recently tested positive—including his personal valet and the press secretary to Vice President Mike Pence. Pence appeared alongside Trump during Monday's public events.
Trump said a Westchester, New York doctor, who he didn't name, wrote a letter to him about the response he's seen in patients who he prescribed hydroxychloroquine to combat coronavirus.
"Here's my evidence," Trump said. "I get a lot of positive calls about it."