Trump Has Visited Golf Clubs on 237 Days of His Presidency—That's 23 Percent of the Days he's Been in Office
President Donald Trump has visited golf clubs on 237 of the 1022 days since he took office on January 20, 2017—23.2 percent of the days of his presidency, at the time of publication.
This is despite his insistence during his presidential election campaign that he wouldn't have time to play golf when in office and claims that he rarely—if ever—takes holidays. "I'm going to be working for you. I'm not going to have time to go play golf," the presidential hopeful said at the time.
Since he won the election three years ago, on November 8, 2016, Trump has showed no signs of dropping his golf hobby. The president has largely visited his own golf properties on the days that he has presented himself at a golf club, with the number of games and amount of time spent on the green unconfirmed, according to NBC News, largely due to his staff's reluctance to confirm golfing trips.
Trump made numerous attacks on his predecessor Barack Obama over the latter's golfing habits. Trump is now on course to far exceed the amount of time Obama spent golfing during his time in office. Obama played golf 333 times during eight years in office, according to CBS News' White House correspondent Mark Knoller.
As far back as 2011 Trump was sending tweets about Obama's love of golfing and questioning the Democrat's work ethic.
"@BarackObama played golf yesterday. Now he heads to a 10 day vacation in Martha's Vineyard. Nice work ethic," Trump wrote in August 2011, in what would become a habitual criticism of the then president's hobby.
"I play golf to relax. My company is in great shape. @BarackObama plays golf to escape work while America goes down the drain," Trump wrote in December the same year. On another occasion he offered Obama free lifetime membership at any of his golf clubs if he agreed to resign from office.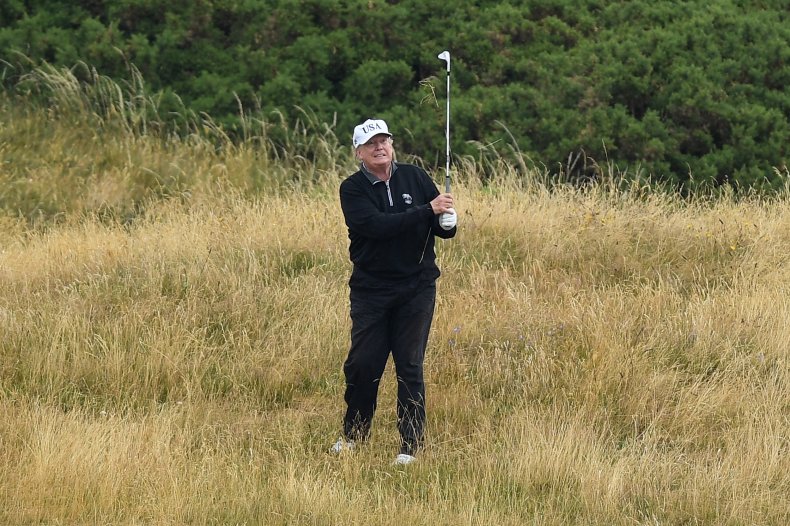 Trump himself has been criticized for playing golf when more pressing matters needed attention, with London Mayor Sadiq Khan lambasting the president in September for playing a round of golf as Hurricane Dorian approached the U.S.
"The incompetent Mayor of London, Sadiq Khan, was bothered that I played a very fast round of golf yesterday," the president tweeted at the beginning of September.
"Many Pols exercise for hours, or travel for weeks. Me, I run through one of my courses (very inexpensive). President Obama would fly to Hawaii. Khan should focus on 'knife crime,' which is totally out of control in London. People are afraid to even walk the streets. He is a terrible mayor who should stay out of our business!" he added, once again citing Obama's travel habits.
Obama, who did not play golf for the first four months of his presidency (unlike Trump who waited just two weeks into his time as commander-in-chief before hitting the links), saw his golfing hobby defended by Republican former President George W. Bush, who told the Golf Channel: "I see our president criticized for playing golf. I don't. I think he ought to play golf.
"I know what it's like to be in the bubble. I know the pressures of the job, and to be able to get outside and play golf with some of your pals is important for the president. It does give you an outlet… I think it's good for the president to be out playing golf."